276 three-pointers later, Wohrer makes history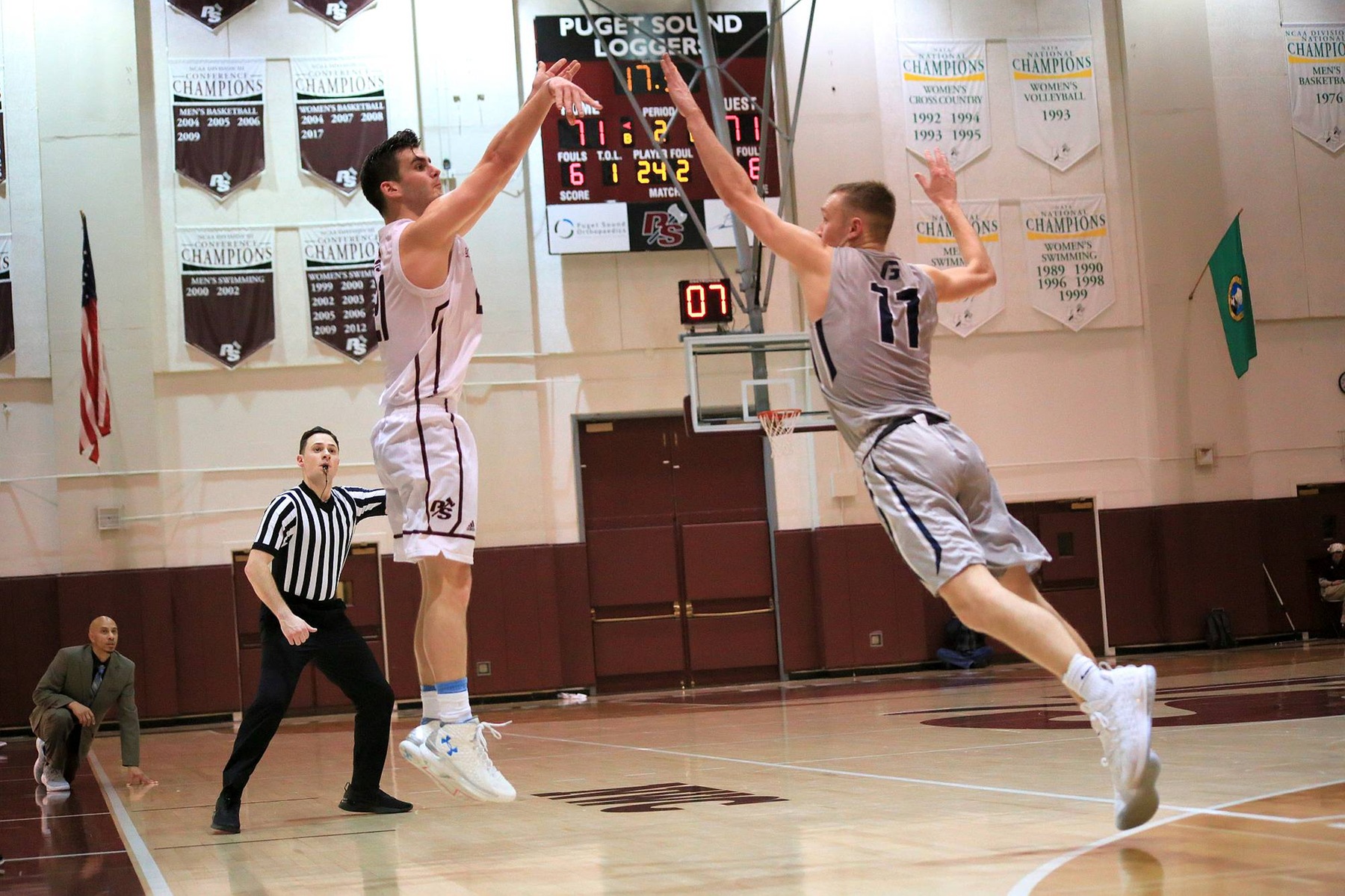 Wohrer (left) shoots a three-pointer during a Feb. 2 game — Photo courtesy of Logger Athletics
The Puget Sound basketball programs continue to bring in a multitude of accolades. This week Jimmy Wohrer, senior men's basketball player, beat the University's three-point record. Chase Curtis held the three-point record of 275 until Wohrer hit his 276th career three-pointer on Feb. 9 during a game against Lewis & Clark (Oregon).
Wohrer describes the major influences that have gotten him to where he is today: "I would say that several things were helpful to get to this point. I've had great coaching that contributed greatly to my growth by teaching strong work habits and mechanics in basketball. Next, I'd say that confidence in my abilities helped a lot too. When it comes to shooting, you have to believe every shot you shoot is going in."
Not only does Wohrer receive accolades weekly through the Northwest Conference (NWC) and school, but Wohrer is also described as a true teammate by head coach Aubrey Shelton and fellow senior teammate Gabe Chaikin.
Chaikin described Wohrer's qualities as a teammate on and off the court: "On the court, Jimmy is someone that you always want on your team. Not only is he one of the best three-point shooters I have played with, but he is very versatile in many other aspects of the game. He has a great basketball IQ, attacks the basket well and has a great feel for the sport. Having known him for the last four years, I have seen him grow as both a person and a basketball player."
Wohrer is averaging 20.2 points per game, which is the third-best in the NWC. The star continues to grow as a player offensively and defensively.
New head men's basketball coach Aubrey Shelton described Wohrer's best qualities as a player on the court: "What impresses me even more is that he is not just a shooter. He has played the point guard position at a high level this year, constantly working to get his teammates involved and handling the ball versus other teams best defenses every night," Shelton said. "Jimmy is also a very good defender, which often gets overshadowed by his offensive greatness. His overall ability as a complete basketball player again comes back to how hard he plays, his confidence and athletically his tremendous footwork and balance."
The Loggers have finished their conference play but will be continuing to the conference tournament. Depending on the outcome of the conference tournament, the Loggers may be able to extend their season and move onto the NCAA tournament, an ultimate goal of Wohrer and the rest of the team.
Wohrer's fellow senior teammate Gabe Chaikin described the expectations decided by the team and coaching staff at the beginning of the season.
"As a team, our expectations have always been to put out our best effort. Whether the team is winning or losing, our goal is to never let a team out-work or out-hustle us," Chaikin said. "We have faced several challenges this season, but we try to stay focused on the things that we can improve. As the season is coming to an end, we want to leave a lasting impact and legacy for the basketball program."
Wohrer has been a major contributor to the Loggers' success throughout the last four years. The Loggers have placed fourth in the conference for the majority of the 2018-2019 season. Additionally, Wohrer has been honored as The Logger of the Week and Northwest Conference Student-Athlete of the Week numerous times throughout this season.
Wohrer described his confidence and his drive to succeed in the game he adores: "I would say that I'm not surprised by my success just because I always believe in myself no matter what, and I'm confident that I can handle any struggles I face in the course of a game or season."
Tags :
Basketball
three-pointer
Wohrer