Annual basketball tournament honors alumnus and former athletic director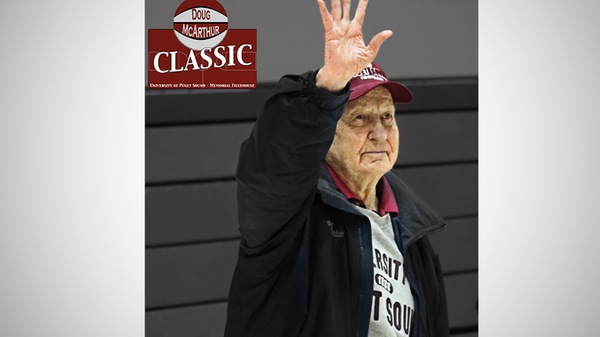 Pictured: Doug McArthur — photo courtesy of Logger Athletics
Most Puget Sound students are not aware of the purpose of the name of the McArthur classic. However, Doug McArthur, the tournament's namesake, is a well-known man throughout the Tacoma community as well as the Puget Sound community. McArthur has been a participant in Pierce County's athletics since he was a high school student until now.
McArthur attended Puget Sound and was a sports writer for The Trail and student-athlete for the baseball team.
Since then, he has influenced the community in several ways. Current Puget Sound athletic director and friend of McArthur Amy Hackett describes how he has influenced the community: "He is very much engaged in the Tacoma community. He helped raise money for TAC, which provides aid for youth programs or high schools. He is also on the Tacoma metro parks board. In the next couple months, there are going to be ball fields that will be named after Doug through the Tacoma metro parks."
Other than being a sports writer during McArthur's time as a student, he was also mentioned in The Trail numerous times for being the athletic director and publicity chief. In 1955 Frank Ron mentioned McArthur in an article regarding a baseball game while discussing available knowledge on players: "It so happened that CPS's publicity chief, Doug McArthur was stationed at a nearby fort." "CPS" stands for "College of Puget Sound," the school's name at that time.
In 1969 McArthur became the Puget Sound athletic director and served for many years. Hackett spoke highly about McArthur as an athletic director and the impact he made on the school: "He was here during a very important era of time and for the green and gold era. He was here when the basketball team won the national championship. He was the first fast pitch women's softball head coach. He brought a new level of organization and helped with a lot of success. He also understood the need to engage the greater Tacoma community."
The McArthur classic was named after McArthur in 2012, 6 years ago. This year's classic was a little different because Pacific Lutheran University hosted their own games and one of the women's teams dropped out of the tournament. This meant the Puget Sound women's team only competed in one game, whereas the men competed in two.
Senior captain of the women's basketball team and Student Athletic Advisory Committee (SAAC) copresident Elizabeth Prewitt describes the game against Trinity University: "The game against Trinity was a good test for this team. Even though it was a tough loss, it showed a lot of promise for this team. It is still very early in the season and to see how close we were to beating a solid Trinity team showed us just how slim the margins are and that we are right there."
At halftime, the Loggers were up by three points, outplaying Trinity. The final score of the women's game was 57-55. Prewitt scored the most points for the Loggers with 16 and Raeann Allen had eight rebounds.
The men's team competed in two games against Old Westbury (New York) and Sul Ross St. (Texas). The men beat Old Westbury in overtime 101-100 and lost to Sul Ross St. 86-77. Jimmy Wohrer scored his 1,000th point during the Old Westbury game and 24 points total.
McArthur attended all three games and was honored. Prewitt describes the influence McArthur's presence has: "As a SAAC president, having this tournament in honor of Doug McArthur is a great reminder for myself and others about the importance of legacies and what it truly means to leave a lasting impression on your community."
McArthur will continue to influence the players and students at Puget Sound and others within the Tacoma community.
Tags :
alumnus
Basketball
tournament