The News team aims to cover events and stories pertaining to the University of Puget Sound and, on occasion, the city of Tacoma. This section will often cover campus news concerning the administration, ASUPS (student government), the Greek system, student clubs and organizations, individual student achievements, Faculty Senate, extraordinary campus events and more much. The News desk may also choose to cover local and national issues, as they pertain to students.
If you have an idea for a potential story for the News team, email the News section editor (​trailnewseditor@gmail.com) or the Trail editor (trail@pugetsound.edu).
News Staff: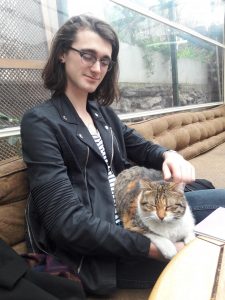 Aidan Regan is this year's News Section Editor for The Trail. She is a senior studying Religion and German and just returned from a year abroad in Berlin. She spent her last two years writing for The Trail's News and Features sections, and besides The Trail, she is involved with Marketing and Promotions for KUPS 90.1 FM and stage carpentry for the Norton Clapp Theater.