The A&E team is responsible for making sure campus events related to arts and entertainment are covered in an interesting, creative, and thoughtful manner. A&E section will often cover previews, reviews and features of student musical groups, artistic groups and exhibits, theater productions, performers visiting the university, local off-campus A&E events, and reviews of movies, albums, concerts, restaurants, books and entertainment venues.
If you would like to contact the A&E editor, send email to: trailartsandevents@gmail.com.
Arts & Events Desk Staff:
Nayra Halajian is the A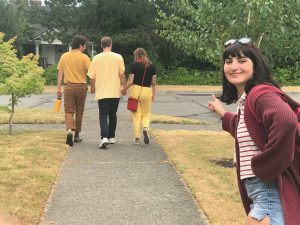 rts & Events Section Editor this year. This is her third year working for The Trail and her second year as a section editor. She is a junior, a Communication Studies major, and a Politics and Government minor. She is also the Programming Director for KUPS 90.1 FM The Sound and a member of the Cellar staff. Last summer, Nayra interned at the City of Tacoma's Office of Arts and Cultural Vitality, and is excited to share stories about Tacoma's budding art scene.