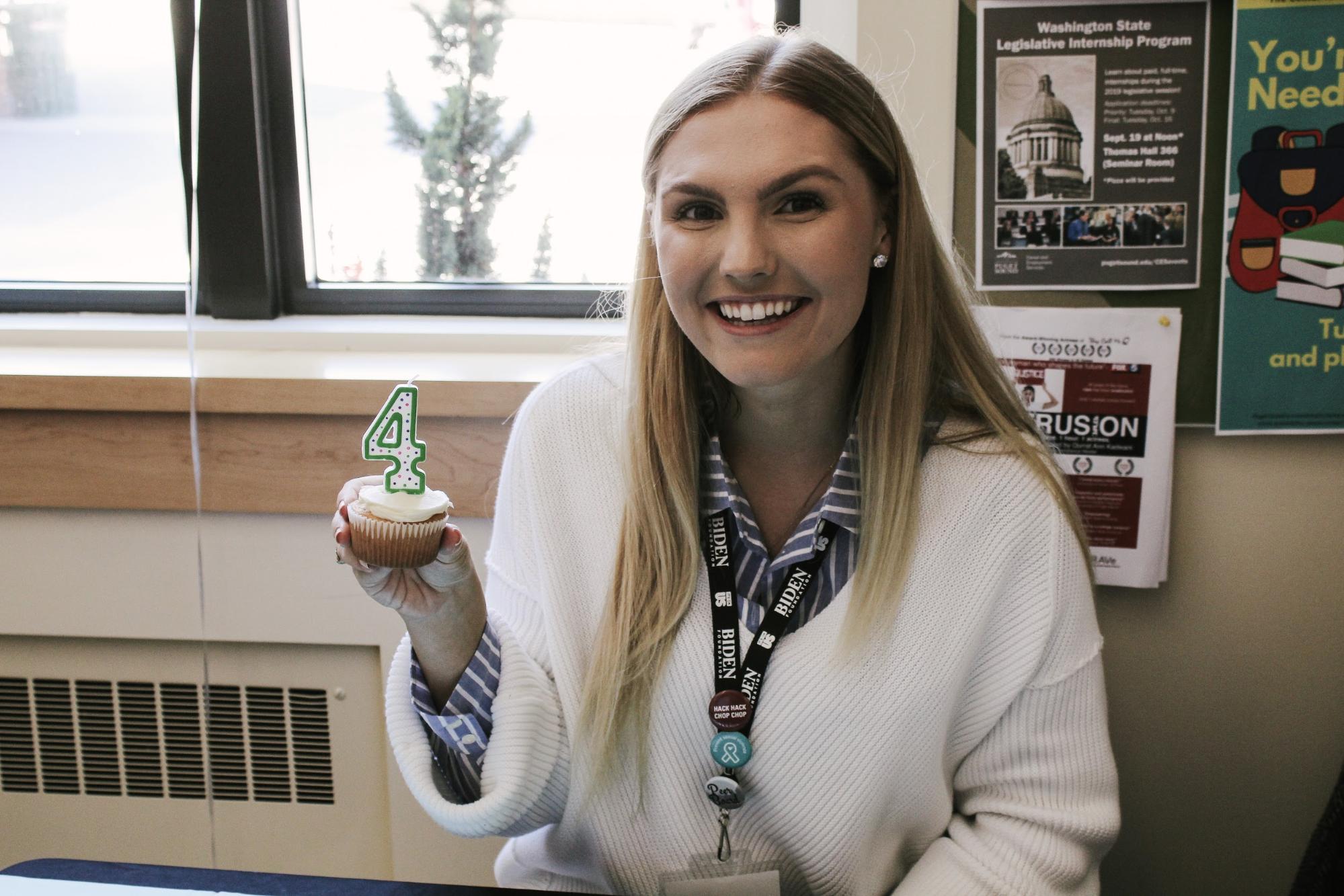 Chapter President Carly Dryden celebrates the fourth anniversary of It's On Us — Photo credit to Claire Weckl
On Sept. 19, 2018, It's On Us celebrated the fourth anniversary of its founding. It's On Us is a national movement that works toward ending sexual assault, collaborating with over 500 college campuses, including the University of Puget Sound.
The organization was founded by former Vice President Biden under the Obama administration, though it has been funded by the Biden foundation since the program lost funding under the Trump administration.
Biden founded It's On Us in order to create an engaging social movement that specifically targeted young people between the ages of 16 and 24. In a 2014 address that announced the launch of It's on Us, Biden explained that one out of every 10 women in this age range are sexually assaulted. This number has not changed in 20 years, despite the fact that overall domestic violence rates have fallen 64 percent in the same time period. To target this age group, It's On Us focuses on engaging college campuses.
Puget Sound's chapter was founded in January 2017. This ASUPS club works to engage the campus community, and the Greek community specifically. The group works closely with other campus organizations such as Peer Allies and BRAVE, and puts on events such as consent education and the Fall and Spring Weeks of Action.
"We try to create education that we feel our campus is asking for the most," chapter president Carly Dryden said. This includes events such as a Greek day of action, bystander training and survivor support.
The organization works with Greek communities to open up the conversation surrounding sexual assault.
"Greek members have an opportunity as leaders within their own organizations and leaders on their campuses. They can really step up and say something," Dryden said.
It's On Us encourages people to join the movement by taking a pledge to "commit to helping create a culture of consent, bystander intervention and survivor support," as their official website states. President Crawford is one of many on campus who have taken the pledge. "It's amazing that President Crawford is so supportive of this," Dryden said.
On Sept. 13, President Crawford sent out an email to the campus about preventing sexual assault. The email lists campus resources and explains Title IX protections.
Title IX is a federal law passed in 1972 that bans discrimination on the basis of sex in any educational program or activity that receives federal funding. Almost all public and private universities in America receive some federal funding via federal financial aid programs. Survivors of sexual assault have successfully used Title IX in recent years to sue universities for "indifference to known situations of harassment," according to the American Civil Liberties Union.
The Obama administration created many sexual misconduct policies for college campuses on the basis of Title IX. According to the New York Times, current Education Secretary Betsy DeVos is preparing more lenient campus sexual assault policies which would reduce liability for schools, and increase the rights for those accused of sexual assault. She has rescinded a 2011 letter from the Obama administration that addressed the responsibilities of colleges in regard to sexual assault.
"I hear from so many of my fellow advisors of their struggles with their campus presidents, that they openly acknowledge that they are for all of these new Title IX changes," Dryden said, who also serves as an advisor to colleges throughout the country.
In the midst of these proposed changes, Dryden expressed that she is glad to have a university president who "will not allow our campus to follow DeVos' proceedings."  
   Some of Dryden's eventual goals for Puget Sound's chapter of It's On Us are increased engagement from the campus community and the Greek community, as well as collaboration with more groups such as the Queer Alliance and the Black Student Union.  
Tags :
ASUPS
greek
it's on us
sexual assault