Puget Sound faces fluctuating Title IX standards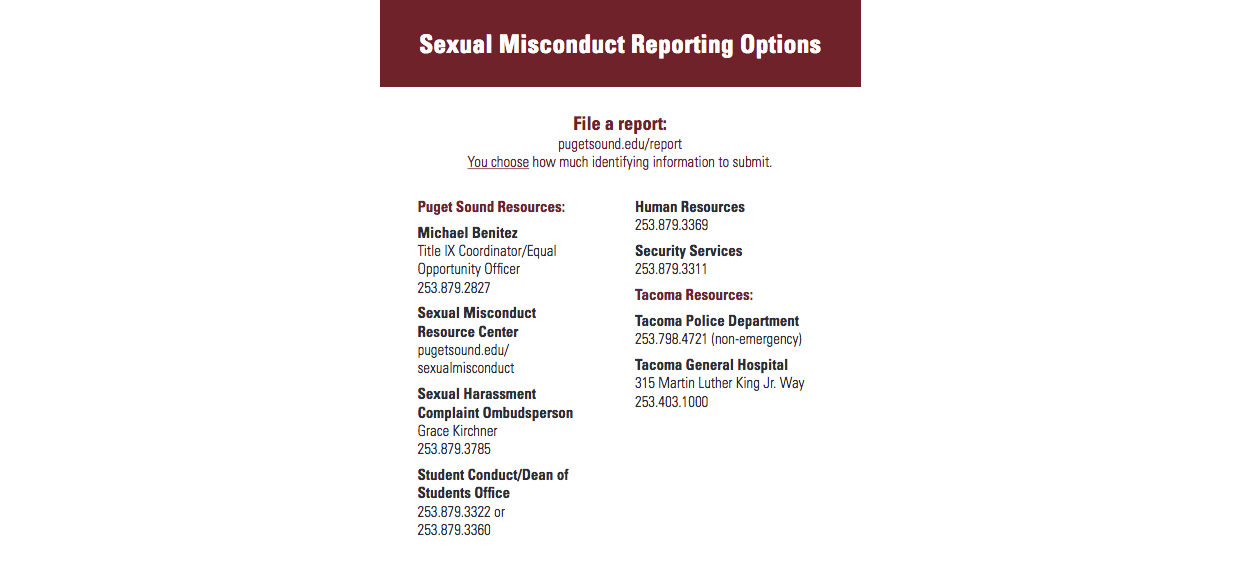 In Nov. 2018, the Department of Education announced that there would be some changes to Title IX that would affect college campuses across the country.
"No person in the United States shall, on the basis of sex, be excluded from participation in, be denied the benefits of, or be subjected to discrimination under any education program or activity receiving federal financial assistance," Title IX of the Education Amendments of 1972 reads.
Title IX is an important piece of legislation that guarantees equal treatment of all students at colleges that receive federal funding. These rules would replace the Obama administration changes to Title IX, which called for more protections for victims in instances of sexual assault, according to the Chronicle of Higher education.
"Students accused of sexual misconduct would gain greater protections and colleges investigating complaints could face reduced liability under sweeping new regulations proposed on Friday by the U.S. Secretary of Education, Betsy DeVos," a Chronicle of Higher Education article, "What You Need To Know About The Proposed Title IX Regulations," read.
DeVos's changes to Title IX would mean more protections for the accused in instances of sexual assault. They could also make it more difficult for campus' to investigate instances of sexual assault, especially campuses that rely heavily on federal funding. Sexual assault cases have become an increasingly more important aspect of the protections that are provided to people of all genders under Title IX.
"Although frequently associated with allowing women to participate in sports, Title IX more broadly protects all members of the campus community from discrimination on the basis of sex, ranging from sexual harassment to gender-based discrimination to sexual violence such as rape (including attempted rape), stalking, verbal abuse, and more. Title IX protection applies to students, faculty, and staff of all genders," University of Puget Sound's website reads.
These changes to Title IX are primarily in the vein of sexual assault and misconduct guidelines. It's On Us, an organization whose purpose it is to reduce instances of sexual violence on college campuses, sent an email out to University students in November explaining the changes and telling students what might happen next.
"My job within It's On Us is to advise any campus in the country that has Greek life. Just reading that, it sounds like a huge job, and in a sense it is. But within It's On Us, the entire country is broken into regions with their own advisors so I work closely with those advisors to determine which parts of the country need the most advising in the specific community of Greek life. It helps make the work a little less daunting," It's On Us Regional Advisor at Large Carly Robertson Dryden '19 said.
According to Dryden, the changes to Title IX might impact campus in two different ways.
"1. If we follow DeVos' exact plan, we would then allow the University to select only certain cases to investigate, we would allow only true on-campus spaces to be protected, and we would disregard a survivor's right to safety, privacy, and justice for the acts committed against them. Sadly, many state schools that get funding from the U.S. Department of Education [are] currently facing this dilemma. But because we are a private university we can follow a different path," Dryden said.
"2. The University of Puget Sound has the ability to add extra protections over Title IX to give more protection to our students. While we have not had many conversations about this recently, seeing that DeVos has changed her policies multiple times over the last year and a half or so that she has been changing Title IX, this is still a possibility for our campus that was discussed in depth in the fall of 2017 when the initial change to Title IX was proposed. I think because of this, it is important for students to take some time to study what exactly is happening within Title IX so they can be best prepared when and if those changes actually take place," Dryden continued.
According to Dryden these changes would originally affect Greek Life more, because Betsy Devos excluded Greek spaces as being protected under Title IX. This would have been a massive change, given the statistics around Greek spaces and instances of discrimination or sexual misconduct.
"Last fall, a few of my fellow advisors and I had an amazing opportunity to speak with the Office of Management and Budget in the White House about the proposed changes within Title IX. Little did we know, Candice Jackson (Deputy Assistant Secretary for Strategic Operations and Outreach in the Office for Civil Rights of the U.S. Department of Education) was in on the call and was making note of policies we flagged. Being the Regional Advisor at Large for Greek Life, I flagged the policy regarding the relationship between off-campus spaces and Greek Life," Dryden said.
"If you think about it, Greek houses are considered on-campus spaces, regardless of ownership. We are students first and members of Greek Life second. Greek Life is a school-sanctioned activity; it must be protected under Title IX because we cannot be members of that community unless we are students," Dryden continued.
DeVos changed that part of the policy, and now Greek spaces are protected under Title IX. This is important, as it shows that student voices and responses to these changes have made an impact in the process.
"While the policies are still horrible, this was a small victory that I know will make a huge difference in the long run. This affects my job in a few different ways. While I am relieved that Greek houses are protected, it does NOT protect off campus spaces occupied by Greek students. These conversations will need to continue within Greek Life, regardless of what is and is not protected. Greek members have a duty to themselves, to their organization, and to their campus community to be active participants and leaders in this conversation," Dryden concluded.
While these changes to Title IX may make students nervous, there are plenty of resources for students who are concerned about these important rights and protections. KnowYourIX.org is a great resource for those with questions. Students can also meet with Michael Benitez Jr, the on-campus Title IX coordinator, should they have any questions. Reports can be filed online through the University website. Students who are concerned about a violation of their Title IX rights are encouraged to file a report as soon as possible.
Tags :
sexual assault
Title IX