The Secret World of Arrietty has nothing to hide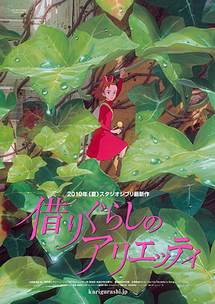 Yonebayashi's first effort is a poignant tale.
On Friday, Feb. 17, Japan's anime powerhouse Studio Ghibli released another emotional tour-de-force to American audiences with its adaptation of Mary Norton's children's novel The Borrowers.
The film's screenplay was originally written by Ghibli's iconic storyteller, Hayao Miyazaki, who was also responsible for internationally-acclaimed hits such as My Neighbor Totoro, Princess Mononoke and Spirited Away.
However, since The Secret World of Arrietty marked the debut of Ghibli's youngest director, 36-year-old animator Hiromasa Yonebayashi, the film sparked a couple of questions from loyal fans of the studio: would Yonebayashi's directing live up to the high standards already set by Miyazaki? Would his film do justice to the original novel or expand upon the existing film adaptations?
Although a screening in Japanese with subtitles may have been more truthful to the film's intended effect, Disney's dubbed version of Arrietty proved to be an aesthetically playful, masterfully composed and unique adaptation of the story.
The film's plot hinges around a family of "Borrowers," tiny people no more than four inches tall, and their struggles to survive beneath the floorboards of an isolated house in western Tokyo as they quietly tap from the humans' food supply.
The Borrower family's 14-year-old daughter, Arrietty, experiences her first encounter with humans in the opening segments of the film, as she meets the pensive gaze of the house's sickly 12-year-old boy, Sean.
Informed by the stories of "little people" that he had been told as a young child, Sean consistently tries to befriend Arrietty and help her family.
Arrietty's startling revelation to the humans sparks her sense of fear but also her curiosity, much to the dismay of her deliberative parents.
Since exposure to humans had proven fatal in the past, Arrietty's father, Pod, suggests leaving the area with the help of his friend – a comically rugged, bow-wielding Borrower named Spiller.
However, when Arrietty ventures to tell Sean the sad news, his pernicious housekeeper, Hara, discovers the existence of the Borrowers and does all in her power to remove them from the house, hiring pest control and even confining Arrietty's mother, Homily, to a glass jar.
But as any well-intentioned children's film should, Arrietty resolves with a simple yet powerful lesson, that friendship is an eternal virtue regardless of the years or miles apart that may seem to weaken it.
Grossing almost $9 million dollars in the US according to IMDb.com, apparently Arrietty's charm has appealed to a wider audience than just children.
As someone who has watched and admired every Miyazaki film since the age of 10, I can safely say that Yonebayashi's directing for Arrietty rivals Miyazaki's, largely because of his tendency to utilize shots that instill the viewer with the wonderful sensation of feeling like a four-inch person.
The lovingly animated scenes of Arrietty running through towering columns of vibrantly-hued flowers and grass, playing with dog-sized rolly-polies and scaling the walls of an enormous human kitchen personify the exciting adventure of a Borrower's life.
Yonebayashi's subtlety also proves to be one of his strengths as he encourages certain moods throughout the film—for example, his focus lingers on the ground as spots of rainfall start to bleed into each other in order to emphasize Sean's loneliness.
The score of Arrietty, composed by French musician Cécile Corbel, is also worth noting. Corbel's ethereal harp melodies accentuate the film's more dramatic moments as well as its more uplifting ones, which is especially true of the film's catchy theme song.
Nervous about his abilities as a director, Yonebayashi sought the advice of Miyazaki often in the first stages of production but continued largely without his help later on, according to IMDb.com.
In spite of his initial self-consciousness, Arrietty more than affirms Yonebayashi's ability to direct for Studio Ghibli in Miyazaki's stead. Additionally, with a more forgiving portrayal of the humans, Yonebayashi improves upon the applicability of the original novel, as well as its film adaptations, to a 21st-century child audience.
As they once felt for Miyazaki, Studio Ghibli fans should now look forward to what Yonebayashi has to offer for Studio Ghibli in the coming years due to this excellent film.
Tags :
anime
film
review
Studio Ghibli