Rise Up: The Hamilton Tribute Band live review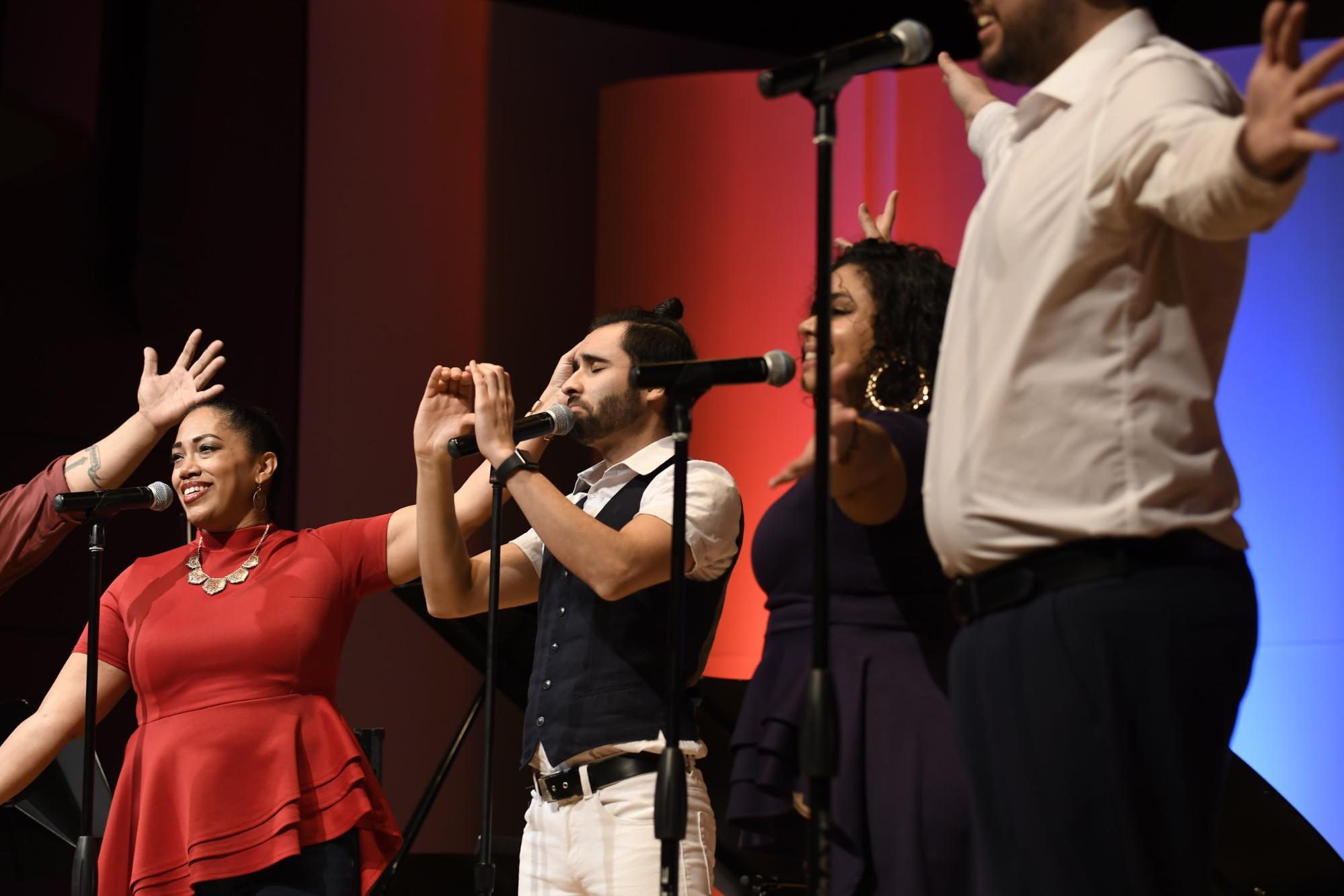 Rise Up: The Hamilton Tribute Band performing in Schneebeck Concert Hall — Photo credit to Rowan Segura
Tribute bands have never really been my thing, but on Friday in Schneebeck Concert Hall, the Seattle-based "Hamilton" tribute band Rise Up put on a wonderful performance that got the audience moving in their seats and sent them home singing refrains from their favorite "Hamilton" songs.
It's a difficult task constructing a setlist of songs that, originally, are very purposefully placed within the narrative of a play — and it is hard to know how songs will sound when they are performed out of chronological order and without the same cues of intricate choreography and lighting.
When the artifice of intricate stage design and the context of the play's narrative are stripped from musical theater songs, the songwriting and performances become the things that stand out most. The performances were all well done — however, it was, at times, difficult not to compare the members of Rise Up to their Tony-winning inspirations — and each song in the setlist was performed with a lot of enthusiasm and energy.
Rise Up's show really showcased how well-written the music to "Hamilton" is, even when they were offering slightly different interpretations to these incredibly popular songs. The inclusion of a synthesizer and some more contemporary drum beats on some tracks made them stand out from the original cast recording that many people are accustomed to. Even with the songs being performed out of their natural order, the show never felt like it was disjointed or incoherent.
The second half of the show felt a bit more lively than the first; all of the performers felt a little more settled in and the crowd was more open to interaction.
Rise Up is, at its core, a "Hamilton" tribute group, but their performances of songs outside of that catalog made for some highlights. Their rendition of "The Song That Goes Like This" from "Spamalot" was lighthearted and joyful enough to get the crowd to pull out their phones for the 21st-century version of lighters illuminating the concert hall. The group also gave a beautiful performance of the mash-up song "Found/Tonight," that includes pieces from the plays "Hamilton" and "Dear Evan Hansen," and was originally written for the "March for our Lives" movement.
It feels odd saying that Rise Up did a good job of picking "the hits" from a Broadway musical play, but the group's selection highlighted the fan favorites and got the crowd singing along and dancing, including the concert closer, "The Schuyler Sisters," and the encore, "Yorktown (The World Turned Upside Down)."
While I don't believe this could stand in as a substitute to seeing the real thing, Rise Up offers up a wonderful evening that will be sure to please fans of "Hamilton" and Broadway musical theatre of all kinds.
Tags :
Hamilton Tribute Band
review
Rise Up