Concert Review: Jazz Orchestra featuring Danilo Pérez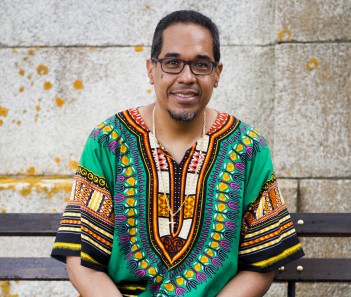 Pictured: Danilo Pérez — Photo credit to John Abott
When you attend a concert, you always hope to see something more than just a concert; one hopes to have a unique experience, to be in the room for an event that's singular. On April 5 in Schneebeck Hall, the Jazz Orchestra welcomed pianist Danilo Pérez and offered one of those unique experiences.
"If we allow [Pérez's music] in, it speaks far, far louder than words. What Danilo does is something very different than anything we've presented at this school before," Ian Crocker '19, a member of the Jazz Orchestra, said.
Before Crocker gave his introduction, the orchestra opened the show with a performance of a Dizzy Gillespie piece, which felt like it fit within the group's modus operandi. On a typical concert evening, the orchestra will perform a collection of mostly high-energy, swinging big-band jazz tunes.
The compositions performed with Danilo Pérez on April 5 were certainly outside the Jazz Orchestra's typical fare, and in my opinion, some of the most interesting pieces they've ever tackled.
"This is 21st-century big-band music," Jazz Orchestra Director Tracy Knoop said. The Latin grooves, subtle instrumental layering and expanded improvisations made for an introspective set that did, indeed, feel much more modern than the standard collection of Ellington and Strayhorn songs.
Perhaps it was that subtlety and focus on individual improvisation in composition that made this particular Jazz Orchestra performance feel unique. Many of the songs felt like they were constructed with a smaller ensemble in mind, even with the full orchestra performing.
Danilo Pérez is an accomplished jazz pianist, earning Grammy nominations for his solo material as well as working alongside some of jazz's biggest names. Throughout the night, Pérez showed himself to be not only a virtuosic pianist but a compulsory tinkerer; he is always listening for additional layers of complexity to add to the performance.
During the introduction to his first song, "Native Soul," Pérez used one hand to strike the keys while the other was inside the piano, plucking at the strings to give a metallic ring to each note. He then added some hums to bring some warmth and balance  to the soundscape of the solo. He returned to this tactic later on in the performance during another solo.
Some highlights from the evening's performance included a section of dueling pianos between Gabe Grabovac '19 and Pérez, and some fantastic solos from saxophonist Aric MacDavid '20, trumpeter Kate Hart '19 and Pérez throughout.
"When we rehearse, whatever we plan to do, it gets all changed by the magic of the spirit of the audience, 'cause that's what Jazz is — the power of music is now," Pérez said, mentioning how the performance didn't necessarily follow the exact roadmap set forth in the rehearsals and soundcheck.
It was apparent in some of the performances that audibles were called, and the orchestra had to adjust in the moment to some extended improvisational movements, but all in all, the performances from everyone on stage were top notch.
After what was an already great show, Pérez left the stage for a moment and returned to perform one last song. He said that the band had no more charts left to play, so this final hurrah would feature only Pérez, or so the audience thought.
The encore performance quickly shifted from solo piano performance into something unlike anything I've ever seen before. Pérez began to urge the crowd to sing, to find a powerful note representative of unity. After some typical reluctance from the crowd to participate, Schneebeck Hall began to fill with different melodies from each section of seats. Pérez then began, by ear, playing the crowd's naturally selected melodies. This eventually led to a singular, enthusiastic member of the audience singing improvised melodies, fairly well, by herself with Pérez riffing off of her energy and tune.
I've attended many Jazz Orchestra concerts during my years at Puget Sound, and their performance with Danilo Perez will surely stand out as one of the most adventurous, singular concerts I have ever seen.
Tags :
Concert
jazz
review