Jazz combo groups bring their talent to the Museum of Glass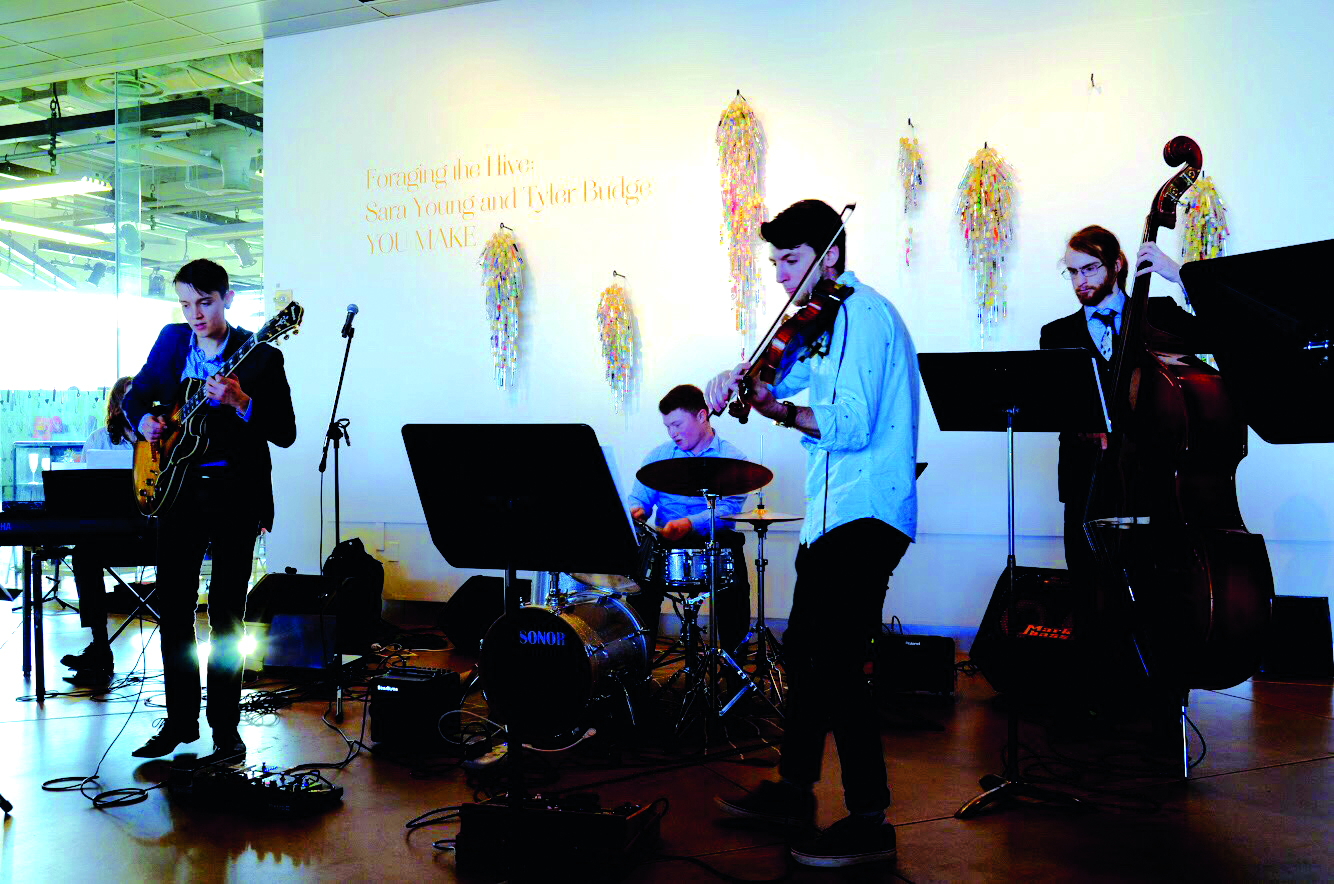 Pictured: Puget Sound students performing jazz at the Museum of Glass in Downtown Tacoma — photo credit to Rowan Segura
The sound of musical notes could be heard throughout Tacoma's Museum of Glass on Sunday afternoon. A group of jittery musicians warmed up their instruments in front of a wall of hanging glass sculptures.
The musicians are part of University of Puget Sound's jazz combo groups, which typically perform twice per semester in the Rotunda at the Wheelock Student Center. However, on Sunday, Nov. 18, the ensemble performed for the Tacoma community at the Museum of Glass from 2 p.m. to 4:30 p.m.
While the performers may have seemed bashful during their warm up, once they began their set of bold and slinky jazz renditions, they exuded playful confidence. They laughed and joked between songs and beamed at the audience of students, friends and curious onlookers.
The infectious energy of the musicians was not lost on the audience, who remained hooked throughout the two and a half hour concert.
"They're usually sold out," jazz orchestra director Tracy Knoop said of the jazz concerts. "It's the highest-drawing performing group for the past couple of years on campus and I think part of that is because … they can see them interacting and enjoying themselves."
What makes the jazz band seem so close and cohesive is their ability to communicate with one another. After every solo the group would congratulate and cheer for each other.
"I just think the sheer nature of improvisation is considered a musical conversation. It relies on close-knit communication and trust — the same thing that all families rely on," Knoop said.
Using the word "family" to describe the group of talented student musicians is not an exaggeration. However, this spirited environment was not always the reality for the jazz band.
"When I first got to UPS it was not happening and the band was barely alive so we're trying hard on building that kind of culture and with that said, high musical demands also," Knoop said.
The demand for musical excellence was apparent in the quality of the performances at the Museum of Glass. The group handled an array of different musical sounds and included improvised solos from each member of the combo.
The Museum of Glass was the perfect location for the lazy Sunday afternoon. Audience members could explore the exhibits and see glass being blown in the hot room before or after the program.
Luckily, performing off campus at a unique venue is part of the future plan for the combo group. "I promise you, we will be out in the community somewhere probably more than once next semester," Knoop said. With a combination of great music and a friendly and supportive atmosphere, the Jazz/Glass concert was well worth attending.
Tags :
jazz
Museum of Glass
music