Music Department 'Noonies' offer mid-week musical getaway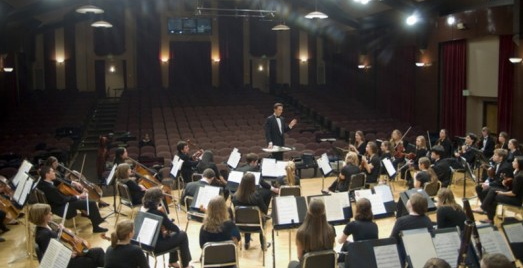 The view from Schneebeck's stage — Photo courtesy of the University of Puget Sound
The Noon Recital Series, affectionately known around the Music Department as "Noonies," is an opportunity for all Puget Sound music students to perform at Schneebeck Concert Hall in front of an audience of their instructors and peers during the Wednesday common hour. The Puget Sound community can expect three or four "Noonies" per semester, even though there is no set number on the performances.

Noonies are not held together by any coherent theme. Each recital could feature any variety or combination of musical performance.

"Some of them are solo performances … sometimes you'll have chamber music as well. … You see a little bit of everything," Interim Director Dr. Gerard Morris said.

Noonies' lack of adherence to a strict theme, style and format for each recital is what makes them such a unique musical experience on campus.

"You don't necessarily know what you're gonna get … there's variety. … There's never ever a repeat performance on a Noonie," Dr. Morris said.

Performing in a Noon Recital is required for musical performance majors in their junior and senior years. If you're not a performance major, not to worry; students who are registered in private lessons through the school of music can also showcase their skills on the Noonie stage.

Dr. Morris is hoping to highlight how accessible the school of music is to the campus community. He hopes that in the future more people will take advantage of the incredible, free performances happening on campus, nearly at all times, and get involved in lessons and hopefully performances.

"Everything I do philosophically has the students at the core. I think we can do a better job promoting what opportunities there are for students on campus within the School of Music — you don't have to be a performance major to be involved in what's going on here," Dr. Morris said.

The recital on Feb. 27 featured four students. Vocalists Patrick Zimmerman '19 and Melissa Young '19 exhibited their talents in both operatic and theatrical modes. Karina Cheriske '21 and Sydney Morgan '22 gave delightful classical performances on cello and double bass, respectively.

During the common hour, Noonies offer a musical getaway highlighting some of the incredible musical talents on Puget Sound's campus. They are a wonderful way to experience the highly impressive performances of Puget Sound musicians that people may be used to seeing when attending a concert by any one of the many musical groups on campus in a concise format, featuring a diverse selection of musical styles and performers.

From now until the end of the academic year there are three more Noonies available to attend and possibly participate in, on March 27, April 17 and May 8. There's no way of knowing what selection of campus talents will be on display for these performances until one picks up a program, but it can be assured that they will be worth attending.
Tags :
music
Noonies
talent