Loggers start winter season with five straight wins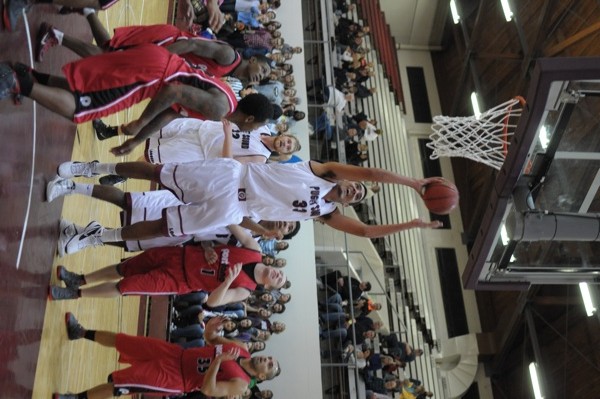 The Logger Men's Basketball team continued their hot start over Thanksgiving break, winning both of their games in the PLU Thanksgiving Classic tournament in Parkland, Wash.
Their first matchup came on Friday, Nov. 25 against winless Evergreen State.  Despite struggling out of the gate, the Loggers found their stride with about 12 minutes left in the first half, where they stretched a slim 15-14 lead into a commanding one by scoring 15 unanswered points over the next three and a half minutes. The run started when senior forward Kaleb Shelton-Johnson (Tacoma, Wash.) nailed a three-pointer and five different Loggers scored during the streak.
However, Evergreen State was able to trim the Logger lead to seven at halftime, and a second-half run brought them within four points, as they trailed Puget Sound 60-56 with just over 11 minutes to go.  They would get no closer, however, as senior guard Edric Egberuare (San Jose, Calif.) nailed two free throws to start a 15-5 run by the Loggers that essentially put the game out of reach for Evergreen State.
The team eventually won 88-77, thanks in part to Egberuare, who lead the team with 18 points.  Three-point shooting was a major factor throughout the game, as the Loggers collectively made 60 percent of their three-point attempts.
The Loggers were in for more of a challenge in their next game, as they faced off against UW-River Falls Falcons, ranked 23rd in the nation.  It was the Loggers' first game against a ranked opponent, and the team came out of the gate fired up.
The Loggers took the lead just over one minute into the game and did not trail again in the first half. The Loggers led by as many as nine in the first half, but the Falcons refused to go away, tying the game several times in the first half in what would be a preview of things to come. Though the Loggers led 36-30 at halftime, they could hardly feel comfortable with their advantage.
Despite this, after a solid opening to the second half that saw senior forward Anthony Gittens knock down a free throw to give the Loggers a 45-35 lead with 16 minutes to go, it looked like the Loggers might have put away the Falcons for good. UW-River Falls stayed strong, however, as they battled back for the rest of the second half. They finally put themselves in position to win the game at the very end, as a Taylor Peterson layup gave the Falcons a 64-63 lead with just over a minute to play. Shelton-Johnson was fouled on the next Logger possession, and was able to nail two free throws to put the team back on top. The Loggers ultimately held on to defeat the Falcons 67-64.
The Loggers couldn't have asked for a better start to the season, as their 5-0 record puts them in fantastic position as they enter conference play. This Loggers team is deep and experienced, with four senior starters, and it has shown the ability to light up inferior opponents, averaging 83.2 points per game in their five wins.
They have a real chance to make some noise in their conference schedule, which begins on Friday, Dec. 2 against Pacific University
Tags :
Basketball
Puget Sound