Mary Lambert draws crowds from within and beyond Puget Sound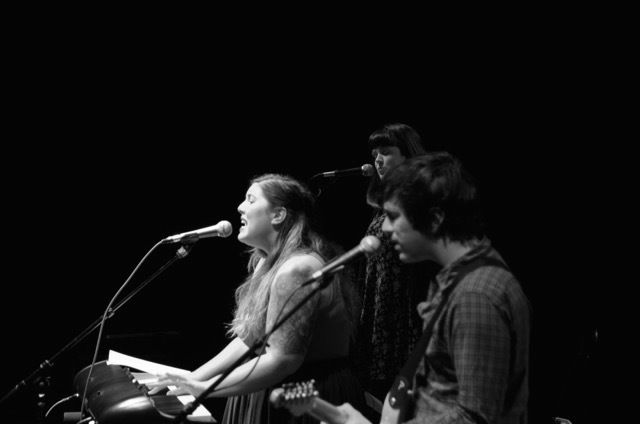 Mary Lambert singing live on the University of Puget Sound.
From the moment that Mary Lambert's fingers first touched the keys of her onstage piano, her bubbly demeanor vanished, replaced by one of somber tenderness.  As she played sad, soft chords, her first words were not in song, but spoken word poetry: "Where did you come from bright star?/What heaven did you leap from, dear love?"
They are the opening lines of her short poem entitled "Dear One," and it is with this quiet and vulnerable piece that she opened her concert in the Memorial Fieldhouse on Nov. 6.
Based in Seattle, Lambert is a singer-songwriter and spoken word poet who first began to make waves when she was featured on the chorus of Macklemore and Ryan Lewis' gay rights anthem "Same Love." She released two EPs—Letters Don't Talk (2012) and Welcome to the Age of My Body (2013)—before releasing her 2014 album Heart On My Sleeve, which debuted at number 29 on the Billboard 200. Known for their extreme vulnerability, many of Lambert's songs deal with dark themes of her past, including sexual abuse, homophobia and body image.
"I was searching for acts to bring to campus as the ASUPS Popular Entertainment Programmer that would not only be entertaining for students, but also have a deeper meaning and reflect the values of our campus," junior Hailey Hyde said. Hyde coordinated Lambert's performance on campus as well as the meet-and-greet between Lambert and several randomly selected attendees.
Hyde says that, while she enjoys Lambert's music and thought that Lambert would provide an entertaining performance for the university and Tacoma community, she also brought Lambert to campus because of Lambert's painful, but ultimately positive messages. "Our school prides itself on working towards being inclusive and safe for all people," Hyde said, "and this is a message that Mary helps promote."
Senior Lauren Park was one of the people randomly selected to meet Lambert, and expressed sentiments similar to those of Hyde. "Her work incorporates themes of body positivity, sexuality, mental illness and sexual abuse," Park said, "and she shares her own raw and personal experiences through a masterful blend of melody and spoken word."
In spite of the often dark nature of Lambert's music and poetry, however, Park noted how positive her presence was both on stage at the concert and off stage at the meet-and-greet.
"Meeting Mary backstage was exactly like seeing Mary from the crowd," Park said. "She was as vivacious, charming and vibrant when talking with my mother and me as she was on stage telling funny anecdotes about her last workout."
Lambert interspersed several stories between her songs, many of them demonstrating her self-deprecating humor and cheerful nature. At the same time, so many of these humorous tangents were about her struggles with issues like mental illness, such as her stories of being unable to perform "Same Love" at the 2014 Grammys without crying. "It's not often that someone struggling with mental illness is confident enough to share their story with others," Park said, "let alone through beautiful, heartbreaking prose on stage in front of hundreds of strangers."
Those hundreds of strangers were not limited to Puget Sound students, however; they included many members of the larger Tacoma and Puget Sound community. Lambert closed the show with the warm ballad "She Keeps Me Warm," a song written from the chorus she initially wrote for "Same Love." It was during this song that all those strangers—both from within the campus community and from without—came together unexpectedly.
"A really special moment during the show that made all of the blood, sweat and tears worth it was when Mary invited everyone to come up to the edge of the stage to slow dance to the hit 'Same Love,'" Hyde said. "Dozens of couples, of all ages, genders, races and sexualities were dancing together, showing their love and enjoying the music."
The show didn't end with "Same Love," but instead with an encore during which Lambert performed her newest hit, the single "Secrets." As if in defiance of the delicacy with which she opened the show, Lambert's final song was a brassy, purposefully obnoxious pop song in which Lambert declares "I don't care if the world knows what my secrets are." Lambert invited the entire audience to sing the choruses with her, and with each chorus, the audience became louder and more exuberant.
"Wow, we've never had a crowd that was this into it!" Lambert said. "This is awesome!"
Lambert's performance was a rare one that not only captured the attention of the campus community, but also of the larger Puget Sound community. It speaks to the widespread nature of Lambert's appeal, as well as the pervasiveness of the subjects she discusses, that a crowd so diverse in age, ethnicity and background was present for her. Whether it be through the tender beauty of "Dear Love" or the carefree liberation of "Secrets," Lambert is sure to have touched many hearts.
Tags :
Mary Lambert
music
musician
Puget Sound
Puget Sound Life