Curtain Call Cabaret hosts a night of musical theater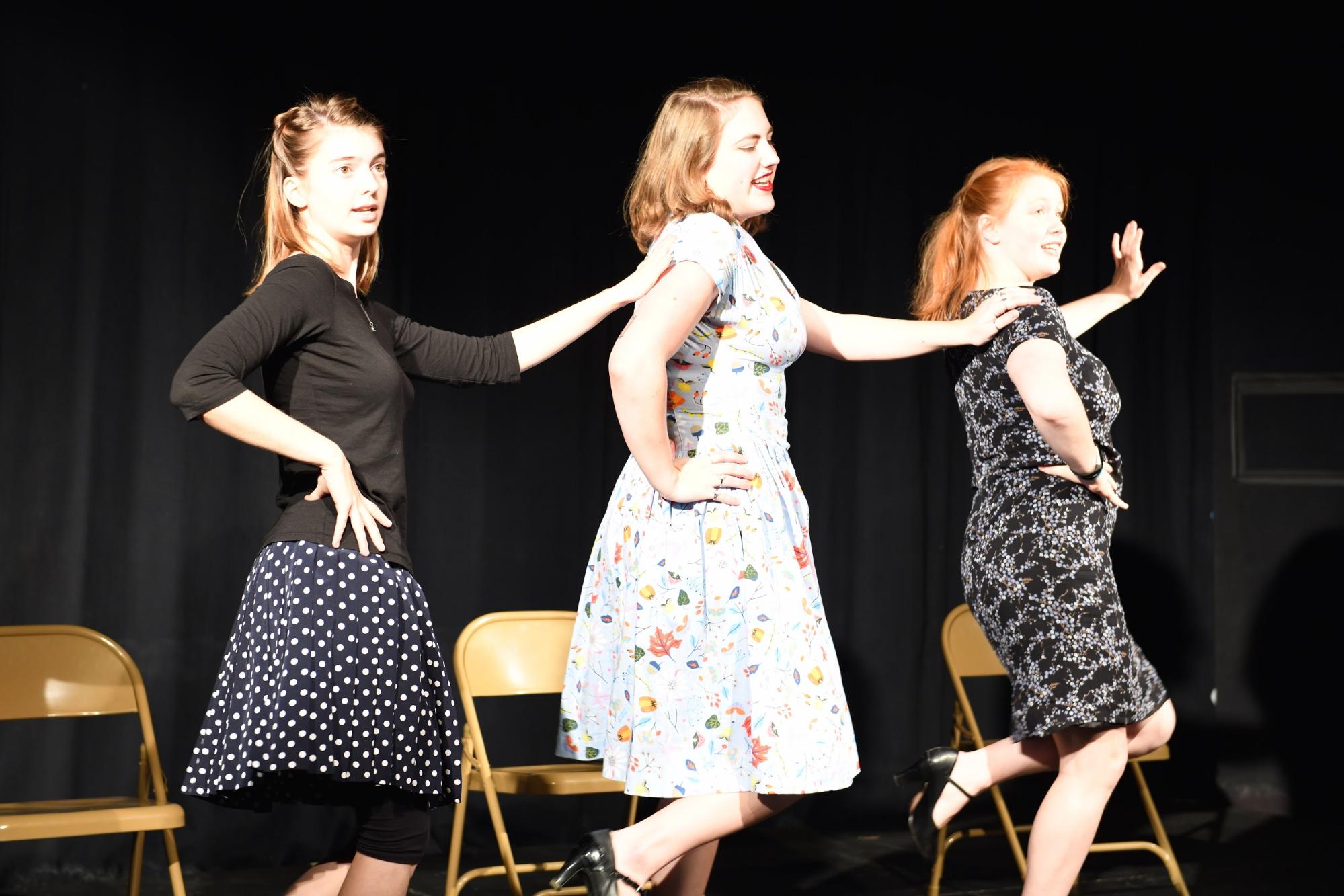 Pictured: Puget Sound Students performing in Curtain Call. — photo credit to Alec Dionne
Curtain Call's Fall-ing Out Cabaret was a night of musical theater fun.
On Saturday, Nov. 17, the University of Puget Sound's very own Curtain Call put on their biannual Curtain Call Cabaret, an informal show organized and put on almost entirely by students.
Curtain Call organizes one cabaret each semester. Each show consists of roughly 15 mini performances of individual scenes from various musicals ranging from "Les Miserables" to "Chicago." For the most part, each scene is directed and performed by University of Puget Sound students and features students managing the lights, sound and piano accompaniment.
"The idea is that we take a bunch of different songs from a bunch of different musicals and put them all together on one night for one show, cabaret style," Sabrina Close '19, president of Curtain Call, said.
This year's show boasted 14 scenes from 13 different musicals spanning a variety of genres. The show kicked off with the iconically triumphant number "Do You Hear the People Sing?" from the emotional "Les Miserables" and ended on a completely different note with "Totally F—-d" from "Spring Awakening."
Each scene featured anywhere from two to 10 actors, including Curtain Call President Close, who stated that the role of president was mainly coordinating events and rehearsals and reserving stage space.
"The biggest role that I do is when it comes down to the show and having show time is organizing everyone's schedules," Close said.
"I am also a director because everyone gets to kind of do everything, which is really fun," she added. One special thing about Curtain Call is that everyone gets to try their hand at every aspect of musical theatre, from performing to directing, meaning people could be acting in multiple scenes while also directing others.
"Our goal is really just to get people all of the experience that they want so they can experience directing, they can experience acting, they could be singing, they could be on a stage for the first time in their life," Close said.
The simple set, which Close described as "black-box style," consisted of all black walls, black floors and very minimal props such as a chair or a table here and there.
"Your imagination kind of has to fill in the rest of the pieces, but what we can't fill with physical props, we use a lot of lighting," Close said. "Essentially to set the stage, we have the bare minimum and then lights, and some of the lights get really really cool and technical," she said.
The lighting was dramatic and helped to direct the audience's attention where it needed to be. It was used to focus in on specific people and block out the rest of the stage or actors, while adding to the intended atmosphere of each scene as well.
Each scene was emotionally potent and beautifully executed. In the span of about an hour, the members of Curtain Call managed to capture an incredible range of emotion, from the sorrow and determination of Jean Valjean to the sassy humor of Shrek and Fiona.
Tags :
Curtain Call Cabaret
show
Theater