Public Art for Public Action showcases new projects in the Tacoma Mall neighborhood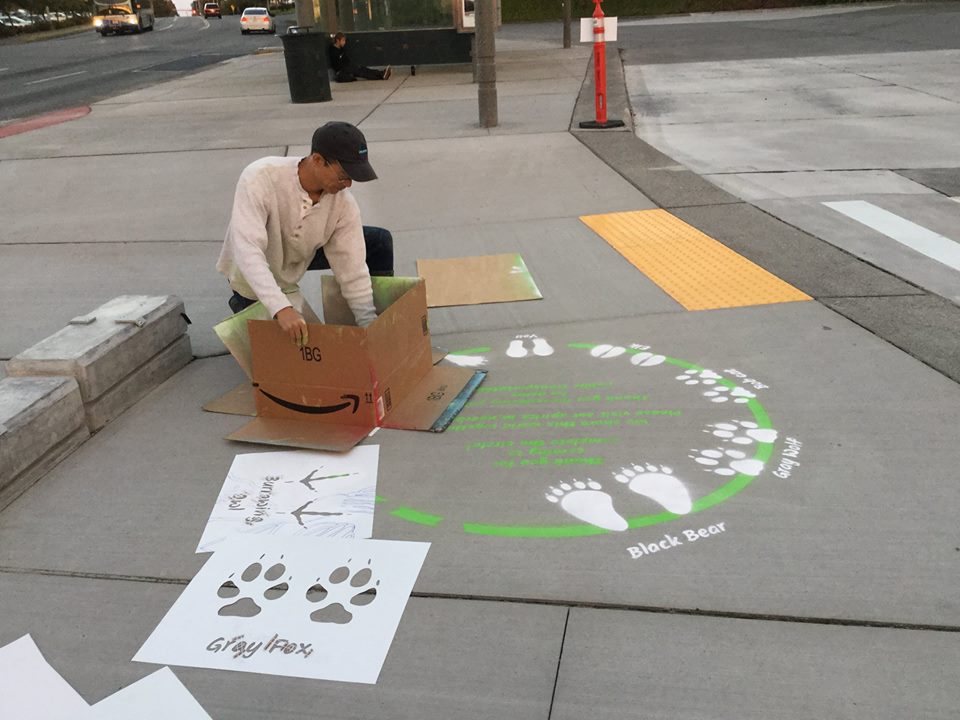 Pictured: One of the public art projects in progress — photo credit to Asia Tail
The Tacoma Mall neighborhood is an "art desert," meaning that there is little to no public or private funding for the arts there, making artistic engagement less accessible for the community as a whole. However, the City of Tacoma Office of Art and Cultural Vitality sought to change that with the Public Art and Public Action Program.
"The Public Art Public Action Fund is a context-based training and project series designed for artists who are interested in working on socially engaged projects in the Tacoma Mall Neighborhood," lead artist and mentor Ryan Feddersen said.
"We invited 12 artists to participate. It began with a two-day training session where we invited both content experts in the field as well as a variety of artists to come and talk about their practice of engaging communities and creating works that are intended to be addressing social issues."
The 12 selected artists, whose backgrounds varied from full-time artists to small business owners to students and educators alike, would then propose their own community art projects to be funded by the City of Tacoma through the National Endowment for the Arts.
On Saturday, Nov. 17 at the Asia Pacific Cultural Center, each artist received the opportunity to share their work in the form of individual presentations, during which they provided an overview of their project concept and goal as well as the final results. What transpired was a series of creative projects that sought to enrich the Tacoma Mall Community.
While there was an astonishing amount of variety between projects, what all the artists had in common was a methodology that sought to utilize art to make a material difference in the lives of Tacoma Mall Neighborhood residents. Program participant Maria Jost spoke to the ways in which this grassroots approach was central to the ethos of the program.
"I think the best part about the whole experience for me was that they provided really interesting training and examples of how to move from just making artwork to making artwork that is engaged with community and that supports the community in ways other than strictly beautification."
Indeed, most of the projects, in addition to producing beautiful works of art, also addressed material needs of the Tacoma Mall community. Jost's own project, for example, consisted of the production and distribution to what she called "Brain Amulets" in order to spread awareness of preventative mental-health practices in the Tacoma Mall Community.
Jost's amulets took the form of three-by-three miniature art prints of a larger, traditional, brain-inspired watercolor illustration with a short list of preventative mental-health practices printed on the reverse side. These amulets were then distributed to Tacoma Mall residents, either by Jost herself or local businesses and organizations.
The hope, Jost said, was that the art could serve as a reminder for individuals to "practice neuroscience-based activities that have been shown by research to strengthen and protect brain structures."
Another artist whose project also took a more functional approach was Alexander Schelhammer, who built a bench for the Tacoma Mall Neighborhood community garden. "You have a beautiful garden space," Schelhammer said, "but nowhere to sit back, relax, look at the garden and take a load off."
So Schelhammer took it upon himself to create an art piece that, in addition to providing a much-needed function, would also reflect the community's diverse cultural background. He did this by inviting members of the community from different cultural groups to paint the bench. What resulted was a piece that included phrases in Korean, Spanish, English, Samoan and local Puyallup references, creating a physical manifestation of all the cultures that make up the community.
Other projects took a more subtle approach. Nori Kimura's project entitled "Complete the Circle," consisted of temporary art installations across eight different local bus stops and transit centers. At each bus stop, Kimura spray-painted a different animal footprint along with a message that read "join us at the Tacoma Mall Transit Center." There, the eight animal prints were arranged in a circle with a place left for humans to stand and "complete" the installation themselves.
"My focus for the art was trying to bring nature and people together," Kimura explained. Since the Tacoma Mall Neighborhood is located in one of the more industrial parts of the city, Kimaru wanted his piece to serve as a reminder that "it's not only humans that are living here, but other creatures as well."
Similarly, Francesca Sinea's project also utilized art to increase community mindfulness. Sinea sought to embellish the seven intersections on the South 38th Street corridor with a specific color and sacred geometry pattern. Her goal was to see if the sacred geometry patterns could "connect people and organize chaotic energies."
While Kimaru and Sinea's projects took a more anonymous approach, other artists engaged the community more directly, effectively making them a part of the art itself. Terese Cuff along with Gwen Jones and Joel Cuplin, for example, both made "sound collages," layering audio clips of interviews with community members over music and sounds of the city.
For Cuff's project, these clips consisted of community members reflecting on their experiences with the Tacoma bus system, highlighting how something as mundane as public transit can serve as a rich reservoir of human connection. Jones and Cuplin, on the other hand, collected individual reflections on the Pledge of Allegiance, a project that sought to bring people back to our nation's ideals during a time of increasing cynicism and disillusionment.
Despite their many differences, what united all of the artists was a commitment to spreading awareness, whether it be to a particular issue, such as mental health or environmentalism, or simply an awareness of one another. Artist Nofo Porter, for example, collaborated with senior citizens to spread awareness of the importance of family ties and the value of maintaining connections between generations.
Other artists simply wanted to draw people's attention to the physical space they were in. Robert Sanchez, for example, designed a banner for the community of Lincoln Heights in order to foster a sense of community identity in a part of Tacoma that he felt often went overlooked. "I grew up in a really small town," Sanchez said, "Like kind of a hole-in-the-wall place that you drove by to get somewhere else. … That's what Lincoln Heights is like."
Sanchez's project, like all of the projects presented that night, was a prime example of how community art can not only bring people together physically, but mentally and emotionally as well. Public art stops us in our tracks, interrupts the monotony of our hectic lives and makes us aware that we are here. Though this heightened awareness might seem like a small feat, its impact is immeasurable, and no community should be without it.
Tags :
Public Art for Public Action
showcase