Visible Spectrum's third annual research symposium showcases work of students and faculty of color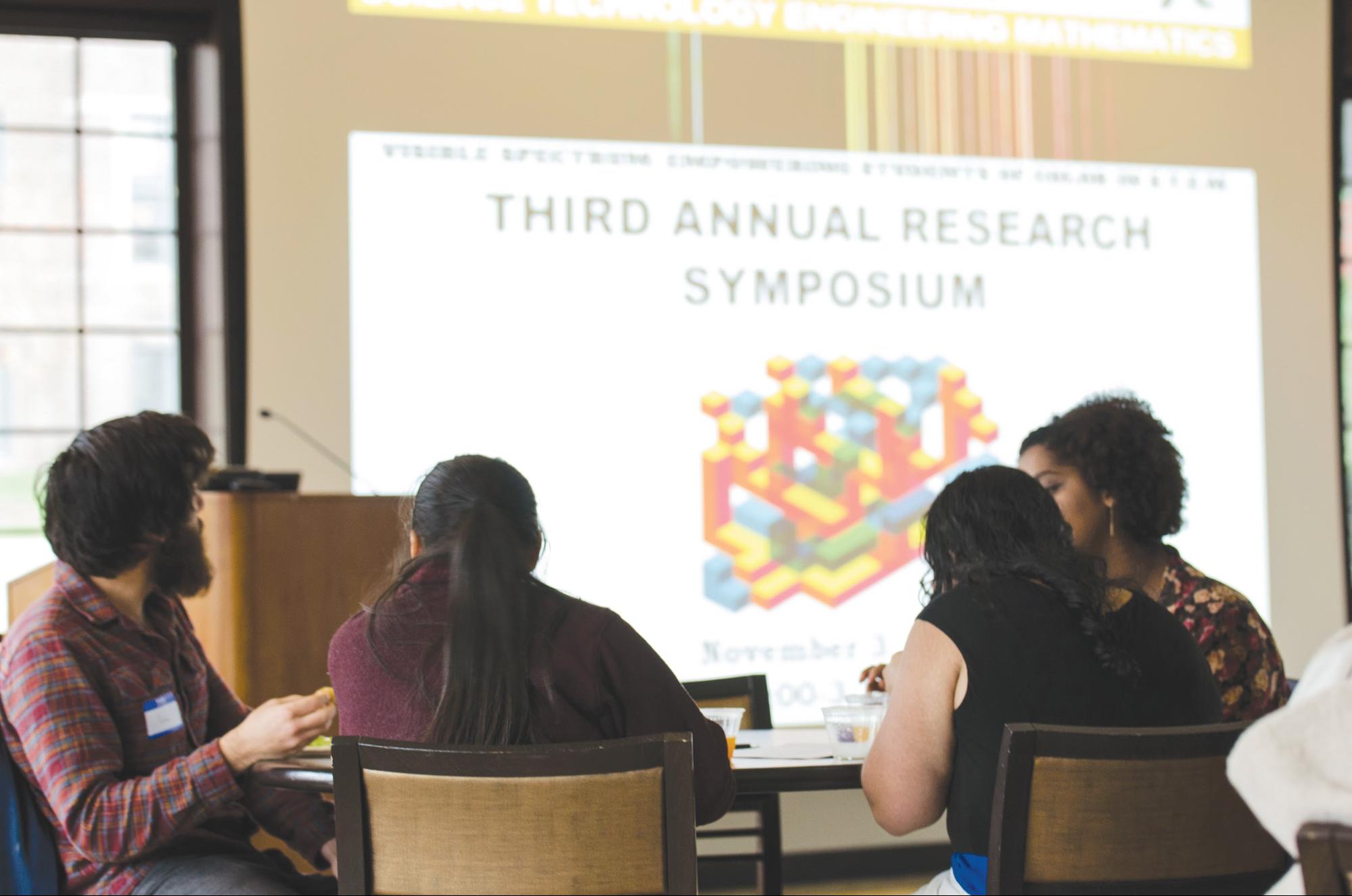 Visible Spectrum members and symposium attendees await presentation — Photo credit to Augusta Grassl
The third annual research symposium by campus club, Visible Spectrum, presented research by accomplished faculty and students of color to an excited crowd. The event took place on Saturday Nov. 3 in the Rasmussen rotunda. It worked to recognize and connect students and faculty of color in the science, technology, engineering and mathematics (STEM) fields at Puget Sound.
Visible Spectrum aims to provide an inclusive environment for students of color at Puget Sound who are intended major and minors in a STEM field. Additionally, the club works to improve retention and recruitment rates of students of color in STEM at Puget Sound. Their mission, as described by club president and junior Simone Moore, is to be a community that will help students of color to succeed in the difficult STEM programs on campus.
Last Saturday, Moore caught the attention of the crowd by introducing the symposium's first speaker, Dr. America Chambers of the computer science department. Chambers is an advisor to the club and according to Moore, had the idea with professor Erin Colbert-White to create a club like Visible Spectrum on campus back when Moore was a first-year. Since its creation, the club has established itself on campus through weekly meetings, study sessions for student of color in STEM and community-building events for those involved.
At the symposium, Chambers was obviously excited to share her research on artificial intelligence (AI). Chambers, to the relief of everyone there, explained exactly what she meant by AI and asked the audience to think less about the cyborgs of popular media. Instead, Chambers spoke on her work with her classes to create computer systems that use AI to have real conversations with people.
"Artificial humanity is about emulating humanity," Chambers said. While she acknowledged that AI has a sort of 'sexiness' that other scientific fields don't always get, it really isn't all about robots. Her research and what she works on in her classes is the creation of programs that can emulate humanity in a convincing way. She explained that programs like these could be used in the future as tutors in school districts that don't have the resources to hire them. According to Chambers, AI is a long ways off from what we see in popular media but is getting closer every day to being a way to help people through the use of STEM technology. A series of small-group discussions came after Chamber's talk.
"I decided to come to the event because my psychology professor, Erin Colbert-White, recommended for me to because I identify as biracial. I also wanted to come to the event because recently I have been really interested in research and having a possible research career in my future," first-year Olivia Nomura said.
Nomura, like many of the students in the room, was excited and interested in learning more about what the Visible Spectrum club does on campus.
"I was not part of the Visible Spectrum club before this event, but now I plan on participating in more club activities. I suggest that anyone who is a person of color to come to a club meeting or event, because the club is organizing some really cool stuff," Nomura said.
After the small-group discussions, two Puget Sound students, Andre Zamani and Priyanki Vora shared their research with the crowd.
Zamani spoke on his research on oxytocin and if it could improve the social response to androids. While explaining the scientific principles behind his research he kept the audience engaged and laughing throughout his presentation. His research has shown that oxytocin has had an effect on the way people viewed the androids he showed them, but he is excited to see what the next round of experimentation will bring.
Vora, who is a senior and vice president of the club, shared on her research on photoreceptors that are found in plants that utilize red and far-red light. Her research hopes to conclude if there is a way to grow more tomatoes in a smaller amount of space with a genetically modified tomato plant.
"It's set up to provide a space for students of color and faculty of color to present their research no matter where it is within STEM. … It's just supposed to be a space where students of color can see other students of color and what they are doing and what faculty of color are doing because we are not seen as much on campus," Moore said of the event. "Especially at other research symposiums that have been put on by the school, as the departments are largely white."
Visible Spectrum is dedicated to their commitment to making the broad diversity of STEM more visible and accessible to students of color. When speaking to Moore she shared that STEM classes can sometimes feel competitive and overwhelming.
"It's really a useful resource, that if people put in the effort and care, can really help students of color on this campus, especially those in STEM as it's not a friendly place all of the time. … Especially when you are not represented in your faculty and you are one of three people in a 30-person classroom. It can be a little daunting, " Moore said.
Moore spoke on her wishes for the STEM field and community to be a more collaborative place, and how Visible Spectrum has committed itself to using group work as a tool for success.
The event ended with a question-and-answer session where students in attendance could ask students, professors and alumni of color their questions. It was obvious in the question-and-answer session, as it was throughout the whole event, that those in attendance were passionate about the STEM field. Those on the panel answered thoughtfully and were very interested in finding ways to help attendees to reach their goals.
To get involved with Visible Spectrum, email visiblespectrum@pugetsound.edu.
Tags :
annual research symposium
showcase
Visible Spectrum