Logger football and Relay for Life join forces: Last home game for the senior leaders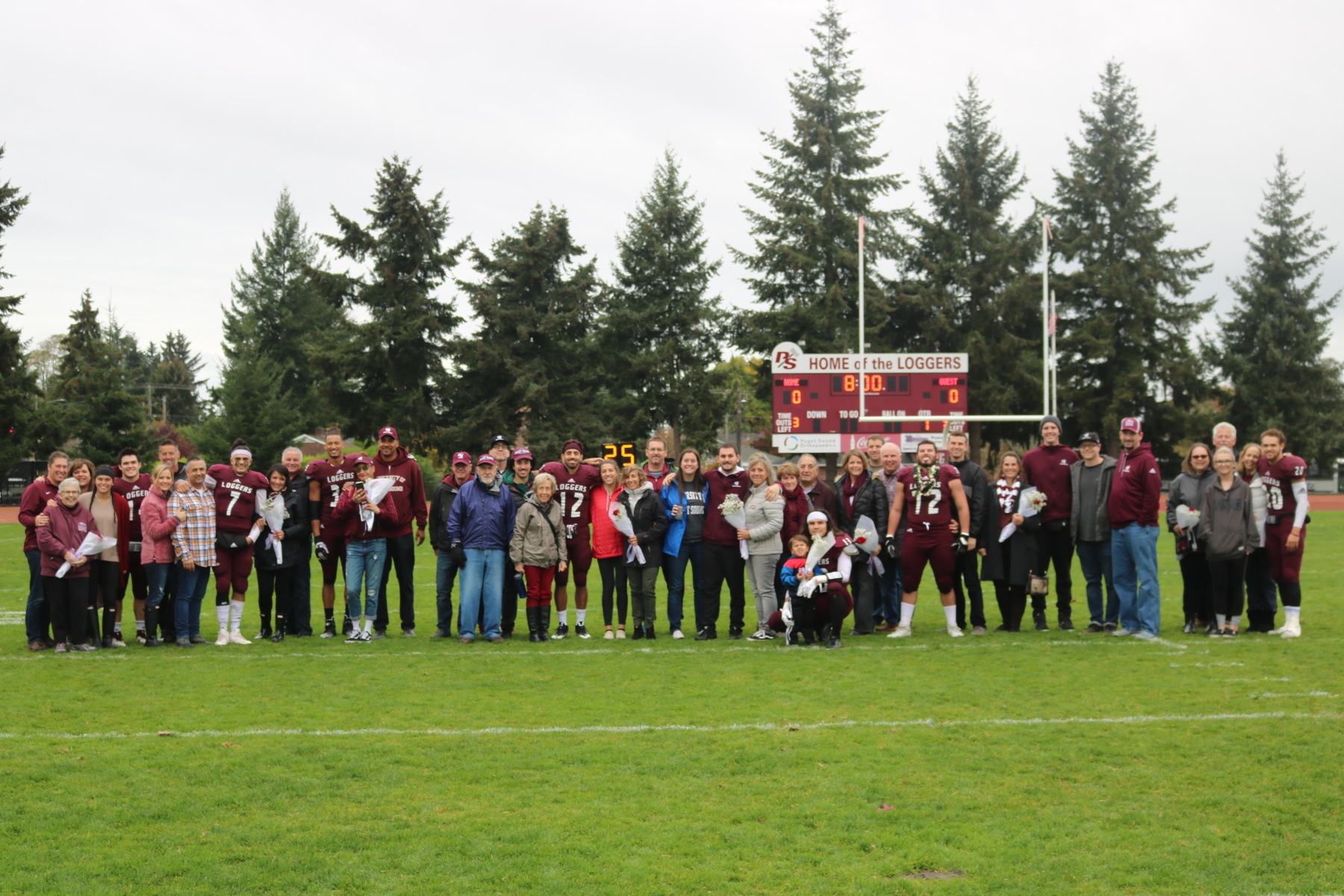 Senior football players line up with family and friends in celebration of their four years of hard work on and off the field — Photo courtesy of Logger Athletics
"The senior class embodies a leadership style of extreme desire. We have all prescribed to the ideal of 'Nothing could be so hard to cause you to complain or quit.' We work hard to embody that every day, and to transfer those ideals to the younger guys," football senior Tristan Mosier explained.
On Saturday, Nov. 3, 2018, the Puget Sound football team celebrated nine Logger seniors: Matt Ahnin, Nik Bernhardt, Todd Blakely, Collin Heimbach, Dwight Jackson, Zack Losack, Tristan Mosier, Keanu Songcuan and Zackary Teats.
On Nov. 3 the Loggers competed against the Linfield Wildcats (McMinnville, Oregon).
Head coach Jeff Thomas discussed the mindset the Loggers had: "We approach each game with the same mindset. The external factors have become a bigger factor this year because we have had more success on the field. However, we can't let the positive or negative feedback from others change our overall approach to each game."
This group of seniors has made a series of accomplishments and received numerous accolades. Their sophomore year, 2016, the team finished with a 1-6 record in seventh place in the NWC. Finally, last season the team was 2-5, finishing in sixth place. Fast forward four years and the team is in third place, behind two nationally and regionally ranked teams.
Senior captain Zackary Teats describes the emotions going into his last home conference game against Linfield: "I think it is weird to think about. It honestly hasn't sunk in yet. It is definitely a sad feeling, but also exciting. … There is definitely a collective feeling among the seniors of accomplishment for making it this far, which is really special to see."
Additionally, Relay for Life was at the event collecting donations for the American Cancer Society, because of the long history and presence Relay for Life has had on the Puget Sound campus. Community service is a vital part of the athletic experience as a Logger. The entire student-athletic population takes part in community service events every semester, which are facilitated by the Student Athletic Advisory Committee (SAAC).
Teats discusses his passion for community service and SAAC: "Giving back to the community is very important to me. I have been involved in SAAC every year of my college career and the community service we do is truly something special. Our program has a larger impact on the community than we sometimes realize, and I think that it is amazing to have the opportunity and ability to give back to those who support us."
There is much more that goes into being a four-year student-athlete than most perceive. The physical risk and the time invested is unlike any other hobby, job or activity. However, as said by many of the players, the memories and friendships made are worth the time and risk.
Coach Thomas summarized the weekend wisely: "I am a firm believer in developing community service opportunities for our players. If at the end of four years the only thing you can say as a player is the amount of wins we have had, I think I have failed the student. I firmly believe and was taught when growing up that if you have the capacity to give, you have the moral responsibility to do so. Relay for Life is a tremendous program and helps bridge the gap between those stricken by cancer and helping find a way to find a cure."
The final score of the game versus Linfield was 41-47, an unfortunate loss and a very close game. The Loggers will compete against George Fox in Oregon for their last conference game.
Tags :
Football
Relay for Life
seniors