New York City Marathon draws a large and diverse crowd of runners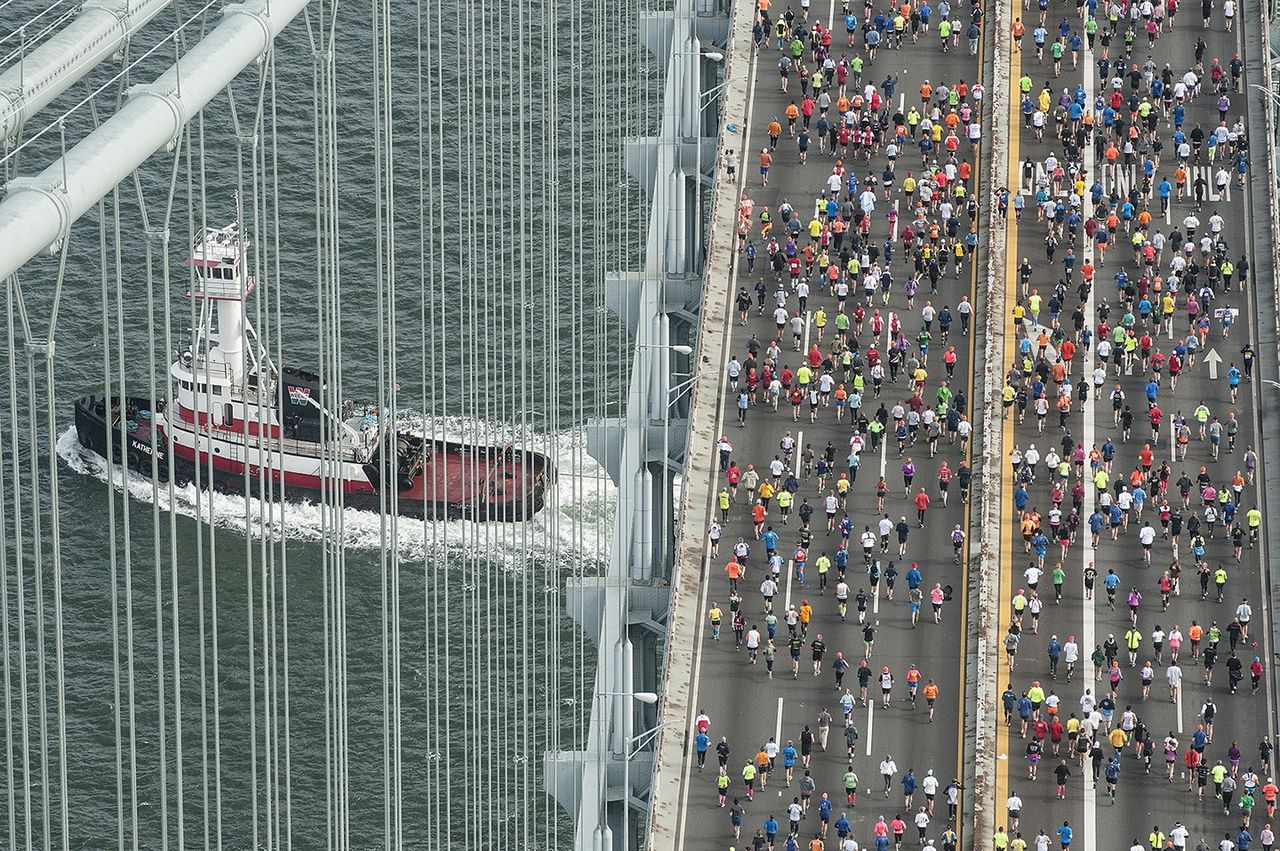 Runners on the Verrazzano Narrows Bridge during the New York City Marathon — Photo courtesy of Wikimedia Commons
Whether you are a professional, amateur, kid or cheering on friends and family, there is a place for you at the New York City Marathon (NYCM).
This year the New York Road Runners (NYRR), who stated this race, turned 60. After 48 races, the NYCM continues to surprise people and break records.
"The first New York City Marathon, organized in 1970 by Fred Lebow and Vince Chiappetta, was held entirely in Central Park. Of 127 entrants, only 55 men finished; the sole female entrant dropped out due to illness. Winners were given inexpensive wristwatches and recycled baseball and bowling trophies. The entry fee was $1 and the total event budget was $1,000," the TCS NYC Marathon website states.
NYRR President and CEO Peter Ciaccia sent runners off the start for the past 27 years and this year was his last time, as he will be retiring. There were for than 50,000 runners on Sunday, Nov. 4 as they challenged themselves for the ultimate reward.
The women's top finisher was Kenyan runner Mary Keitany, who ran the second-fastest time in history. This was her fourth win with a time just under two and a half hours. Just behind Keitany was Vivian Cheruiyot, another Kenyan, who finished three minutes after.
On the men's side, it was a close race but Lelisa Desisa of Ethiopia also finished first with the second-fastest time in race history. Back in 2010, Desisa was the first Ethiopian man to win and he also has two Boston Marathon wins as well. Shura Kitata crossed the finish line two seconds after Desisa.
The two closest races of the day were in the wheelchair division. Marcel Hug of Switzerland was the defending champion and was chasing down American Daniel Romanchuk in the last leg of the race. Ramanchuk pulled away, beating Hug by one second with a 1-hour, 36-minute and 21-second finish.
Manuela Schär of Switzerland was able to secure her title again this year after a 1-hour, 50-minute and 27-second finish. Just 21 seconds behind her was American racer Tatyana McFadden.
Another first for the history books was Glenn Hartrick. Ever since his first race back in 2006, Hartrick has been looking to improve and has succeeded. Each year Glenn got faster until he raced a personal record of three hours.
That wasn't enough for Hartrick so he added swimming and biking to start partaking in triathlons. Not only as he run in over 175 races but he is also a two-time IRONMAN All-World Athlete and was featured in "The Body Issue" of Runner's World.
A life-changing event took place in 2014, when a car made an illegal U-turn, just south of the George Washington Bridge, and hit Hartrick on his bike ride. He was then paralyzed from the chest down and had to relearn a new way of life.
This didn't stop Hartrick from his love of the NYC Marathon. He told himself that he would participate in the marathon in 2015 using the handcart. When raced day rolled around, he was there and ready, even finished 10th in the handcycle division.
This year, Hartrick chose to compete in a racing wheelchair. Hartrick told ABC in an interview "One of the other challenges you have in a racing wheelchair is steering. So there's steering and braking, braking can be a challenge unlike the handcycle."
Glenn Hartrick crossed the finish line as the first athlete to compete as a runner, handcyclist, and in the racing wheelchair.
It was a picture-perfect day in New York for the running community to come together and celebrate this iconic race.
Correction: The original version of this article misidentified the retiring NYRR President & CEO as Michael Capiraso. Peter Ciaccia is the retiring President & CEO; Capriaso is the current President & CEO. The article has been updated to reflect this change. 
Tags :
Marathon
New York City