Another season, another group of seniors: Bittersweet last regular season home game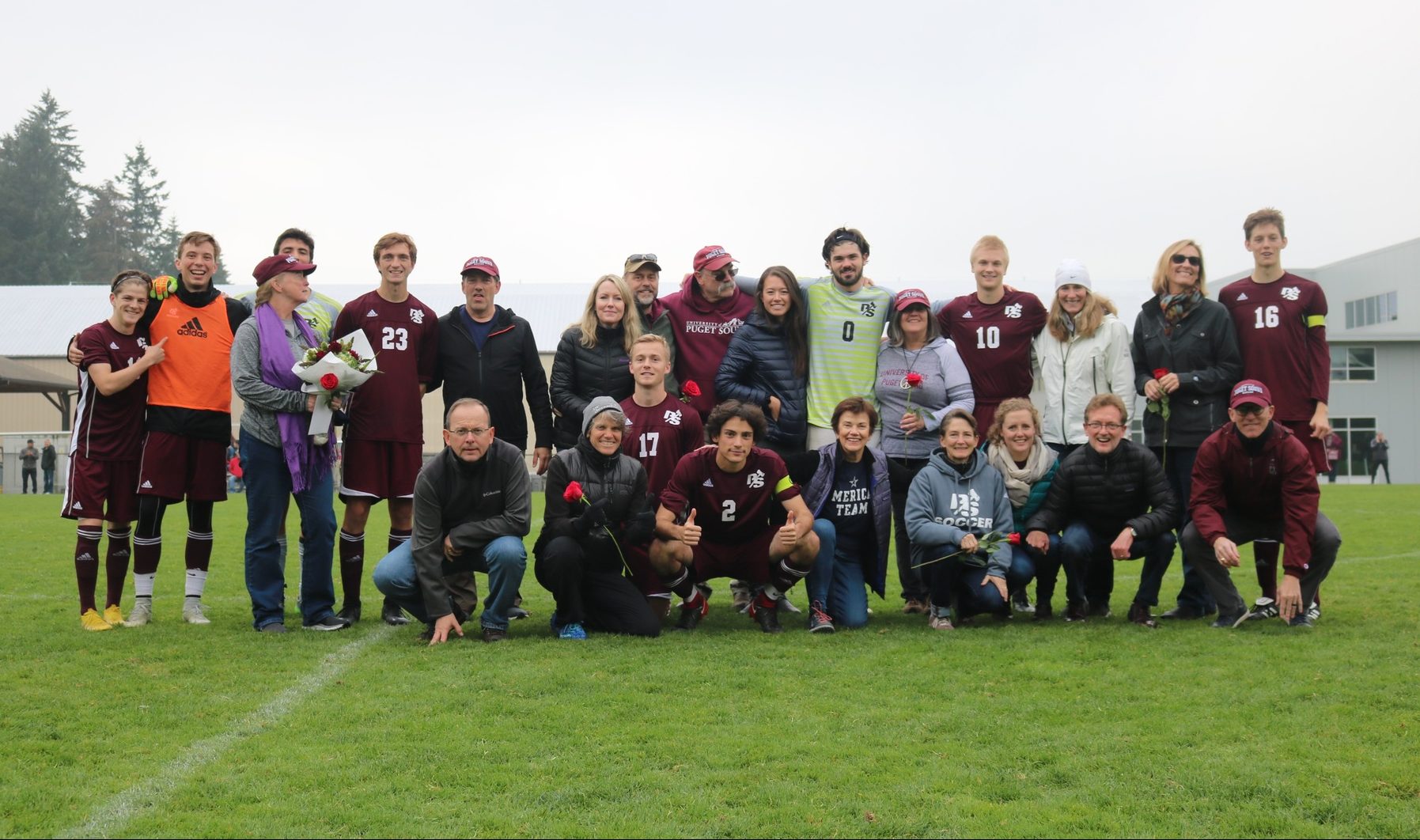 Family and friends gather with the six seniors that played in their last official home game of the season. For many family members, they have sat through dozens of cold rainy afternoons to cheer on the Loggers. — Photo courtesy of Logger Athletics
As the fall sports season comes to a close, the current seniors say goodbye to a team that they have played with for the past four years.
"Being on the soccer team gave me an immediate group of friends and people to rely on. The soccer team allowed me to feel comfortable as soon as I arrived on campus," Stefan Jensen '19 said. "Instead of going through a difficult transition from living at home in California to Tacoma, I was able to easily adjust because of the team."
"For me, the biggest highlight of playing soccer has been my teammates and the atmosphere of being a part of a team that is larger than any individual goal," Wren Norwood '19 said. "The friends and family I have made through my four years of being on this team are lifelong and will have an enduring positive impact on my life."
The time spent on the team was more than the relationships built for these seniors.
"Being a part of the team has taught me to be a harder worker in all other aspects of my life. Physically and mentally giving 100 percent effort six days a week for four seasons has taught me an extraordinary amount of discipline, so it's much easier to apply that to things like work and class," Kian Evans '19 said. "Also, it's been a release for me when I've been faced with challenging or stressful situations."
"Being on the soccer team is a huge commitment that requires a lot of sacrifices. That being said it is worth it 100 percent due to the experience of being on a college athletic team and to be able to play at a high level of competition with great people," Norwood said. "Academics and personal time may be a bit restricted but being able to play a sport you love for so long is why I did it."
They grew as players during this time too.
"My greatest strength on the field is my emotion. My freshman year, I didn't know how to control my emotions, which at times hurt my play," Jensen said. "However, over the past four years, I have learned to control my emotion which has allowed me to stay more focused and become a better leader for the team."
"The coaching I have had with the team all four years, especially with my goalkeeping coaches Bobby and Bryan, has been intricate in my development as a soccer player," Norwood said. "Coaching combined with commitment both during the season and mostly out of season during the spring semester and the summer has led to me becoming a much better player than when I entered college."
With the current class of seniors graduating comes a new class of first-years.
"To any incoming first-year player or to just any of the rising seniors, I would tell them to take soccer at U.P.S. and make it theirs. To put in everything they have for four, three, or the two years they have left and care for the program as they would for something that is theirs. Because soccer at this school is truly for the players, and the guys I have played with for the last four years are what has made it such a great and cherished experience. I hope all future players here take all their effort, talent, and pride and bring it to every game, practice, or meeting," Norwood said.
"I would also tell them that four years goes by fast; my first day as a soccer player feels as fresh in my mind as Sunday's victory does. When the time comes that they are done playing here, they won't be ready for it, so all they can do is give everything they can to the program and most importantly their brothers on the field. That's what I have tried to do every day during my time as a player here, and I will leave not holding a single regret," he continued
"Enjoy it! Playing a sport in college only makes the days fly by faster," Jensen said. "Most of you have been playing sports since before you can remember, and when you stop playing competitively, it's an emotional time. "
Tags :
fall sports
season
seniors