Time to pack up the clubs for a few months: Golf's winter season comes to a close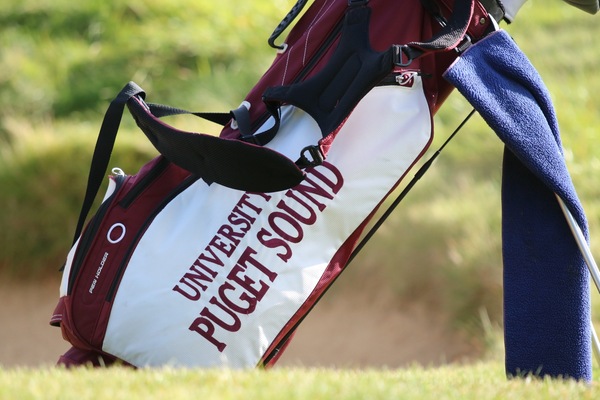 A logger golf bag has seen its last days on the fall course but now awaits the spring season after a winter in the Pacific Northwest. — Photo courtesy of Logger Athletics
The Men's Golf program is approaching its mid-season break in a state of great form. The team has so far surpassed initial expectations with solid individual performances, like the last tournament at Wine Valley in Walla Walla where the Loggers came in fourth place.
The golf season stops for the winter months in an attempt to avoid the rainiest and coldest months; this plays into Puget Sounds favor as several players are away studying abroad for the fall semester. Most notably senior Mac Turner will be able to play the second half of the season when he returns for the spring semester.
It isn't entirely about victory for the Loggers, however; transfer student Cole Albert thoroughly enjoys the environment of the team: "The team is an amazing community, the players are not cliquey at all and in attending a small school like this we get to know each other really well," Albert said.
It is refreshing to see this mentality in a sport that is such a time-consumer. Albert described the length of the tournaments as, "Two days each weekend, Saturday and Sunday, with each day typically lasting six to seven hours each."
With that amount of time spent with one another the friendliness between the players helps keep it manageable.
The competitive tournaments work in an interesting style. Each participating school brings five players to the match, decided on performance during practice throughout the weeks. At the match all five players play their round of 18 holes and the top four scores of each team get counted. This gives a little bit of cushion to the teams on which not every player is in the best form, as golf can be a very inconsistent sport.
Puget Sound golf isn't exclusive to competitions against rival schools. Last saturday the teams held a match against a team of alumni, Ryder Cup style. Ryder Cup style is when the members of each team take a shot and choose one of the two shots to use en route to the hole.
Fostering a tight-knit community with a contingent of talented golfers has the Loggers excited to continue the upcoming season with confidence. Puget Sound looks forward to the return of Turner and other talented golfers, and ideally they can bring home a few first-place finishes in the spring.
Tags :
Men's golf
sports
winter season