New season, new coach: Women's lacrosse welcomes Coach Daly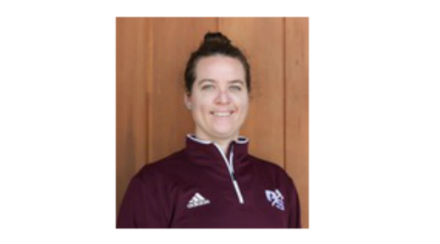 Pictured: Coach Daly — Photo courtesy of Logger Athletics
Women's lacrosse just completed their fall ball practice with a new addition to their staff. Elizabeth Daly was hired as the women's lacrosse head coach in August 2018. Daly previously worked as a head coach at Hendrix College in Arkansas and assisted at Kenyon College, her alma mater, in Ohio. Daly is extremely excited to be a part of the Puget Sound athletic community.
"The integration process into the Puget Sound athletic community has been great! Everyone here has been super helpful and friendly in aiding my transition to a new place," Daly said.
During the last two months, the team completed their fall season, which includes 16 practices. Senior captain Rebecca Simon explained the impact Daly made after just 16 practices.
"She is a big fan of accountability and communication both on and off the field, which is really important for a team of our size. Also, she really pushes us to step out of our comfort zone in order to develop our skills on the field. Finally, she really cares about lacrosse and wants to see us reach our potential as a team for our upcoming season," Simon said.
Another women's lacrosse senior, Sarah Burke (Westfield, Massachusetts) shared her initial opinion of coach Daly during fall ball: "We are constantly pushed to try new things on the field that has opened us up to making mistakes and learning from them. She has a good mix of being serious on the field with also allowing us to be our really goofy selves."
Additionally, Daly was impressed by the performance of the team during fall ball: "Our fall season went very well! All of the players competed every day to improve and get to know each other better."
The team finished their season in fourth place in the Northwest Conference, out of five teams. Their record was 2-6 in conference and 2-9 overall. Daly wants to build off this foundation "to help us improve our record."
The women's lacrosse team has 13 returners with seven first-years, creating a great foundation of 20 players for the upcoming spring season. In previous seasons, the team has struggled with numbers but having a big returning class as well as new energy will hopefully help the team achieve their season goals.
Not only does Daly hope to make an impact on the field with her players, but she also hopes to expand beyond the athletic community. Daly explains her interest in the greater Puget Sound and Tacoma community: "Overall, I hope to bring a different perspective to the athletic community, helping my student-athletes achieve success both in the classroom and on the field. I also look forward to getting more involved with the greater community of the university and the community of Tacoma."
Burke explained Daly's interest in preventing sexual assault and creating a safe campus: "Daly has a strong focus on preventing sexual assault and was an equivalent to a Peer Ally on her college campus. With this being a really big issue that our campus is focusing on, having a strong advocate in the athletics department is important and necessary. I think she will integrate really well overall into the UPS community."
The women's lacrosse team will start training for their season in February and have their first game in early March.
Tags :
new coach
Women's lacrosse