Women's lacrosse brings new coach and attitude into the 2019 season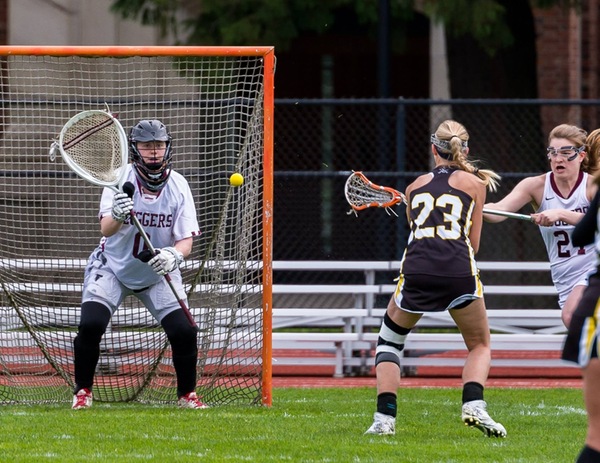 Goaltender Ally Benko protects the net in a 2018 game — Photo courtesy of Logger Athletics
The women's lacrosse season is underway and the team will be playing their first game in just three short weeks. The Loggers will be playing in three non-conference games and 12 conference games in the upcoming season.
New lacrosse coach Elizabeth Daly described the team's chemistry: "The team is full of fun, hardworking players who are improving every day. We are so excited to get on the field and show what we have been working on in practice."
Daly most recently coached at Hendrix College (Conway, Arkansas). She is extremely passionate about the program and this season. Additionally, she has been enjoying the Puget Sound community thus far.
"As a new member of the Puget Sound community, I have really enjoyed getting to know the people all over campus, as well as everyone's appreciation for the amazing location of our school, right in the heart of the Pacific Northwest," she said.
The lacrosse team has many new faces in the program other than coach Daly. There will be five first-years joining the field with the remaining 10 returners this upcoming season.
Senior Hannah Nichols described the energy of the team with the new first-years: "We have been working really hard this season on fast-paced workouts and footwork skills. We have a dedicated and fun team this year! Our team is a freshman-heavy team with a lot of amazing skill."
Another new aspect of the conference is that Willamette University (Salem, Oregon) has recently added a women's lacrosse program.
Senior Becca Simon said, "On Sunday, April 28 at 1 p.m., we will be having our Senior Game against Pacific! It will be a really fun game and a great way to celebrate the seniors on the team!"
The team has been practicing together for three weeks, starting in January. Additionally, the team participated in fall ball, which consisted of over a dozen practices.
"A normal practice for our team is never truly set! We tend to adapt to the needs of the team each week, so sometimes we will really work on our attack approaches or we will spend more time on defensive positions. No matter what, we are always out there giving 100 percent and working to improve our skills," Simon said.
More tactically speaking, Coach Daly said, "A normal practice consists of stick skills, small-sided games and large-scale playing to really work on game-like situations to prepare us for the season."
The Northwest Conference preseason poll predicts the Loggers to finish in fourth place overall, after the Loggers finished last season in fourth place in the conference. The team hopes to place within the top three, even though the conference added a new team, increasing the conference to seven schools.
Simon has high hopes the team will succeed because of their commitment and unity. "The team has a really great connection," she said. "Everyone does a great job at meeting each other where they are at and helping one another build off each other's skills. We are all really excited to get going with our season and are working very hard to solidify the connections we need to succeed this spring!"
The women's lacrosse team will play their first game against George Fox at home on March 9.
Tags :
new coach
Women's lacrosse