Puget Sound Outdoors readies itself for more and more snow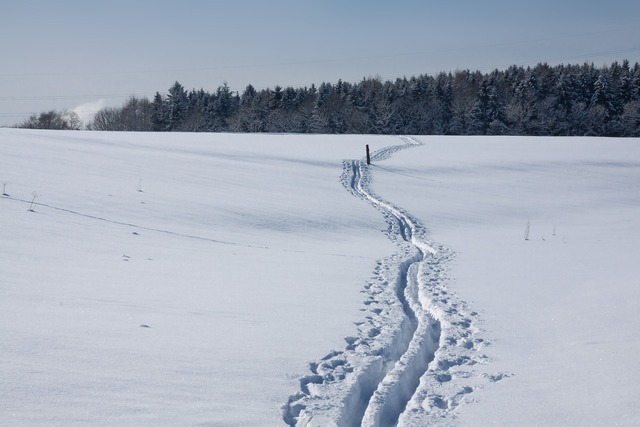 Cross-country ski tracks line an empty snow field — Photo courtesy of Picryl
With recent cold weather covering Tacoma under a blanket of snow, one can only imagine how much is coming down in the nearby mountains. The Puget Sound Outdoors (PSO) club is certainly excited for upcoming conditions and is ready to help students get the equipment and lift tickets they need to take advantage of the snow.
Maya Gilliam, a sophomore and an employee of the Expeditionary (Expy), is especially stoked for this forecast of snow and hopes that it helps increase the number of students who plan trips and rent equipment through the school's organization.
"We are super pumped for the snow this year," Gilliam said, "And we're available to help people get the gear and knowledge they need to take advantage of this awesome weather."
According to PSO's upcoming schedule, organization head Justin Canny and other PSO leaders are in the process of planning a cross country ski demo. "It really just depends on if Todd Field can collect that much snow while plans are still in the making," Gilliam said.
One of the best parts of the Expy, however, is the amount of gear they have available for students.
"Because the Expy has the gear waiting to be rented out, Justin is looking to hold a course to educate PSO leaders about how to properly lead any kind of snow camping trip,"Gilliam said.
Something PSO looks forward to every snow season is their mountain shuttle, which takes students to nearby ski resorts for the day.
"We're getting ready to start heading up to Crystal most weekends; some weekends we'll be going to Summit at Snoqualmie," Gilliam said. "And it's a really cool opportunity for students to build that sort of community you can create when all of you are getting pumped for the snow in the shuttle."
Within the next few weeks, Gilliam says that the organization will be sending out emails regarding upcoming winter trips, more opportunities to get discounted tickets at Crystal and Snoqualmie and spring break trips that are in the works. "There's just a lot of excitement here at the Expy because of the snow," she said.
Students interested in backcountry exploration might consider taking an avalanche safety course, something else that PSO offers students.
"Area One certification gives you basic skills to navigate the backcountry on skis or a snowboard, how to look for signs of an avalanche, how to take precautions based off those signs and how to perform an avalanche rescue," Gilliam said. With one group going up near Snoqualmie pass this weekend, PSO hopes to make the course more available in the coming weeks.
Gilliam says the winter time is a great time to find a new activity and maybe even find real love for the snow. "In Washington, there's a lot of cool snow sports and so many ways to build communities by being outside, even in the winter," Gilliam said.
Having the opportunity for activities such as skiing, snowboarding, camping and emergency training during the winter gives students something to do when it's cold and dreary on campus.
"The winter is such a cool season because we put on this whole other side of our equipment and skills into play, since in the spring, summer and fall, most of what we do is centered around backpacking. But the winter gives students a huge array of new and exciting things to do during the weekends," Gilliam said.
The snow season on campus can be dull and bleak at times, but there's plenty offered by PSO to make the snow a bit more enjoyable. A lot of work goes into each and every trip put on by the organization, and PSO works hard to provide students every opportunity to get outside and enjoy the last bit of winter in Washington state.
Tags :
puget sound outdoors
snow
sports