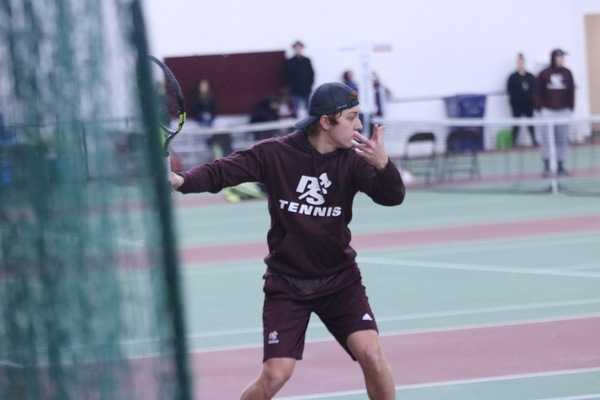 A member of the men's tennis team plays on campus in a 2019 match — Photo courtesy of Logger Athletics
The second week of March was quite the week for several of Puget Sound's athletic teams. Sports including baseball, softball, crew, track and field, men's and women's golf, men's and women's tennis and women's lacrosse have all had their fair share of action. While several of the results weren't what the Loggers were expecting, all units are certainly ready for more competition as the spring season progresses.
Saturday, March 9 saw most of the past week's action; men's and women's track and field, men's and women's golf, men's and women's crew, baseball, softball, men's and women's tennis and women's lacrosse all played in events.
According to the Logger Athletics website, the women's track and field came in sixth place with a total of 21.50 points as well as the men's side ending the day in sixth with a score of 44 points.
The Varsity Two Women's Eight crew boat bested Western Washington in the Pacific Lutheran Invitational with a speedy time of seven minutes and 51.7 seconds. The men's Novice Four crew boat finished ahead of Western Washington as well, crossing the finish line in a time at seven minutes and 49.4 seconds.
On the golf course, the men's varsity golf team came in fourth place at the Puget Sound Invitational in Lakewood, Washington with a score of 45 above par.
Switching to the diamond, the Loggers' baseball team held a 13-inning game against Pacific Lutheran but ended the game with a loss, scoring nine runs to Pacific Lutheran's 11. Their second game of the day was another loss, allowing Pacific Lutheran six runs to the Loggers' five. The softball team was defeated by Pacific University in a tough 5-3 loss, and again later in the day they lost, not bringing in any runs in an 8-0 final score.
The men's tennis team had a frustrating away loss to Lewis and Clark, losing nine matches and giving Lewis and Clark the victory. The women's team played at home and put up a fight against Lewis and Clark's team, but ended the day with a 6-3 match loss.
Finishing off Saturday's sporting frenzy, the women's lacrosse team had a big loss at the hands of George Fox's team, being defeated 18-2.
Sunday, March 10 saw more action for several teams. The men's golf team again came in fourth place, shooting a total of 45 over par.
The men's tennis squad, this day playing at George Fox, lost again in nine matches, 9-0. On campus, the women's team defeated George Fox in a 7-2 victory.
The baseball team again faced defeat by Pacific Lutheran in another close game of 5-6. However, they notched an opposite victory with a 6-5 win over Pacific Lutheran later in the day for the second game of their double header. Softball didn't have much luck playing at home either, as they lost in a tough game against George Fox with a final score of 13-2. Their second game of the day came with a 17-0 defeat.
On both Monday, March 11 and Wednesday, March 14, the women's lacrosse team left the field after two separate defeats, the first a crushing 11-6 loss at home from Ohio Wesleyan and the second a defeat at George Fox where the final score ended as 19-3 in favor of the hosts.
While the first week of the spring has come and gone, the season has just started. As the weeks go by, all coaches and players are hard-pressed to only improve. Time to chop some logs!
Tags :
Athletics
sports
spring