Snowpocalypse hits an unprepared Tacoma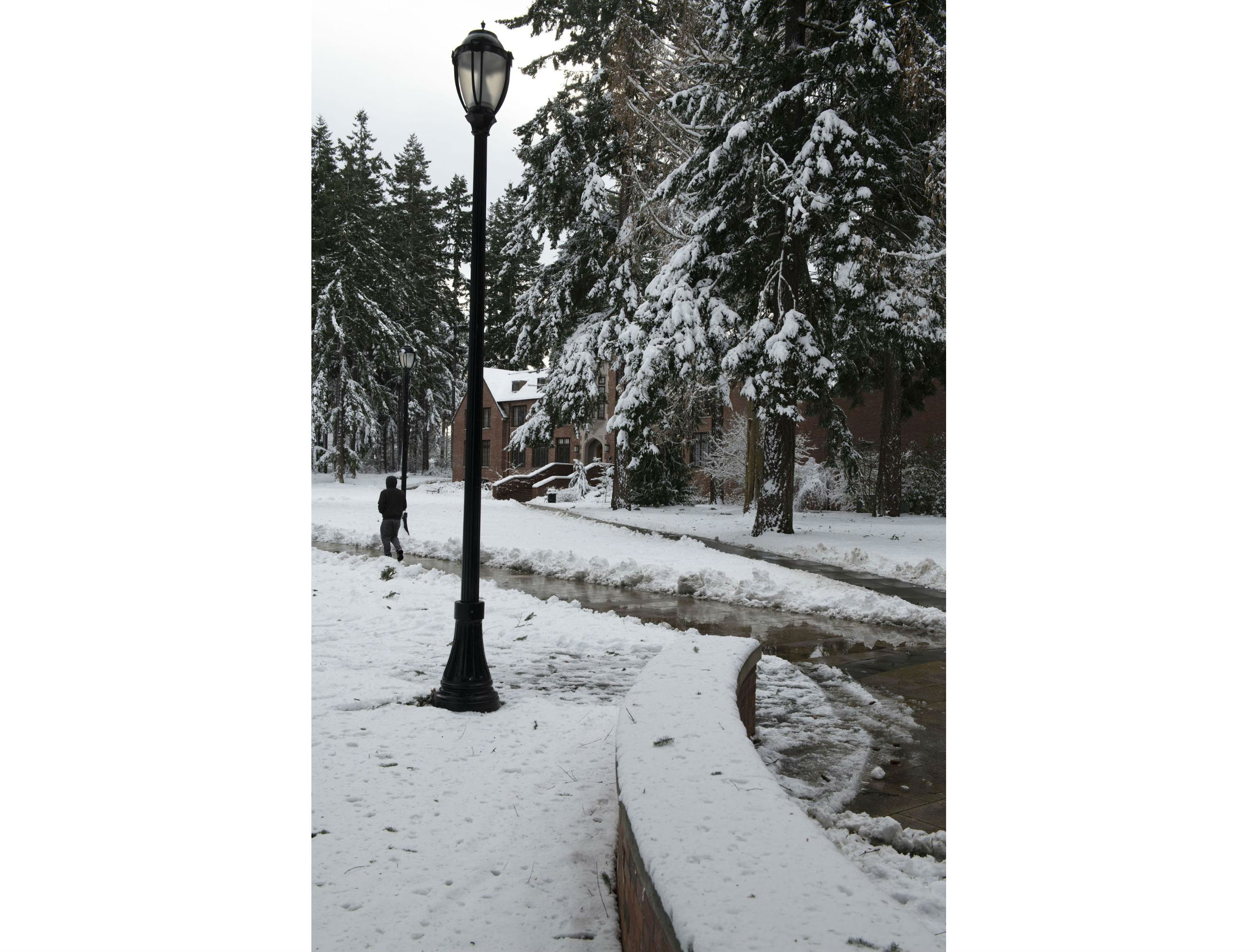 The Puget Sound campus was blanketed with snow during the storm — Photo credit to Alec J Dionne
This past week brought historical amounts of snow to the Seattle/Tacoma area. Dubbed the "Snowpocalypse" by locals, the snowstorm hit thousands of unprepared residents.
The Snowpocalypse brought almost two feet of snow, blizzard conditions and power outages to residents. Many acted like it WAS the apocalypse, emptying grocery store shelves and joining the growing line of cars waiting for gas.
Faced with a snowstorm both historic and worrisome, Washington Governor Jay Inslee declared a state of emergency on Feb. 10.
In the press release, Inslee urged residents to prepare for the storm and use common sense. "Everyone in our state needs to focus on preparing for the snow and staying safe. Weather forecasters predict this may be a storm unlike one we've seen in many years," Inslee said.
By declaring a state of emergency, Inslee enabled state agencies to use resources and assist political subdivisions in efforts to respond and recover from the storm.
Under said state, the Federal Motor Carrier Safety Administration has the authority to limit the amount of hours a commercial vehicle driver can be on the road. Drivers collecting and delivering dairy products and de-icing road salt were exempt from the restraint.
Inslee updated the declaration twice, expanding the state of emergency to support delivery of groceries, propane and de-icer for runways and airplanes.
While the storm this area experienced was nothing in comparison to the Midwest Polar Vortex, a state of emergency was necessary because counties affected by the storm were inadequately prepared for such conditions.
Most side streets in Tacoma remained unplowed, with limited snow plows maintaining main streets such as Union and Proctor.
The SeaTac area hasn't seen this much snow in one month in 50 years, according to the National Weather Service.
As of Feb. 11, 20.2 inches of snowfall had been recorded. For reference, a "normal" February in Seattle receives 0.7 inches, according to AccuWeather.
Schools and businesses reacted accordingly, closing for multiple days in response to severe snow and ice conditions.
Students and surrounding Tacoma community members spent their snow days on Todd Field building snowpeople and igloos. Many joined in the giant snowball fight at Wright Park and turned unplowed streets into sledding courses.
The University of Puget Sound, in anticipation of weather conditions and the effect on faculty and staff commutes, responded to the snowstorm with delayed starts and early dismissals. Students also received two full snow days.
With a closed campus, classes and events were cancelled and only "essential" services remained open.
Students grew accustomed to email updates from Executive Director of Community Engagement John Hickey. Cheers broke out in The Cellar and the S.U.B. on Monday night when an email announcing continued suspended operations was sent out.
Each update from Hickey urged recipients to, at all times, "use sound personal judgment in deciding whether to come to campus based on your local weather, road conditions and personal circumstances."
"Security Services will operate 24 hours as always and athletic facilities, dining services and the library will operate on regular or modified schedules as published," Hickey said.
Hickey included additional weather safety tips and encouraged the campus community to stay up to date on security alerts.
While the snowstorm lasted only a few days, it had lasting effects. Slightly warmer temperatures turned the snow to ice, and the rain brought about our campus' current state of Slushmaggedon.
Campus operations completely resumed on Wednesday, Feb. 13, and facilities staff continue to work to clear pathways and restore campus despite the lingering slushy conditions.
Tags :
cold
snow
Snowpocalypse
weather