Tacoma's vulnerable communities hit hard by snow days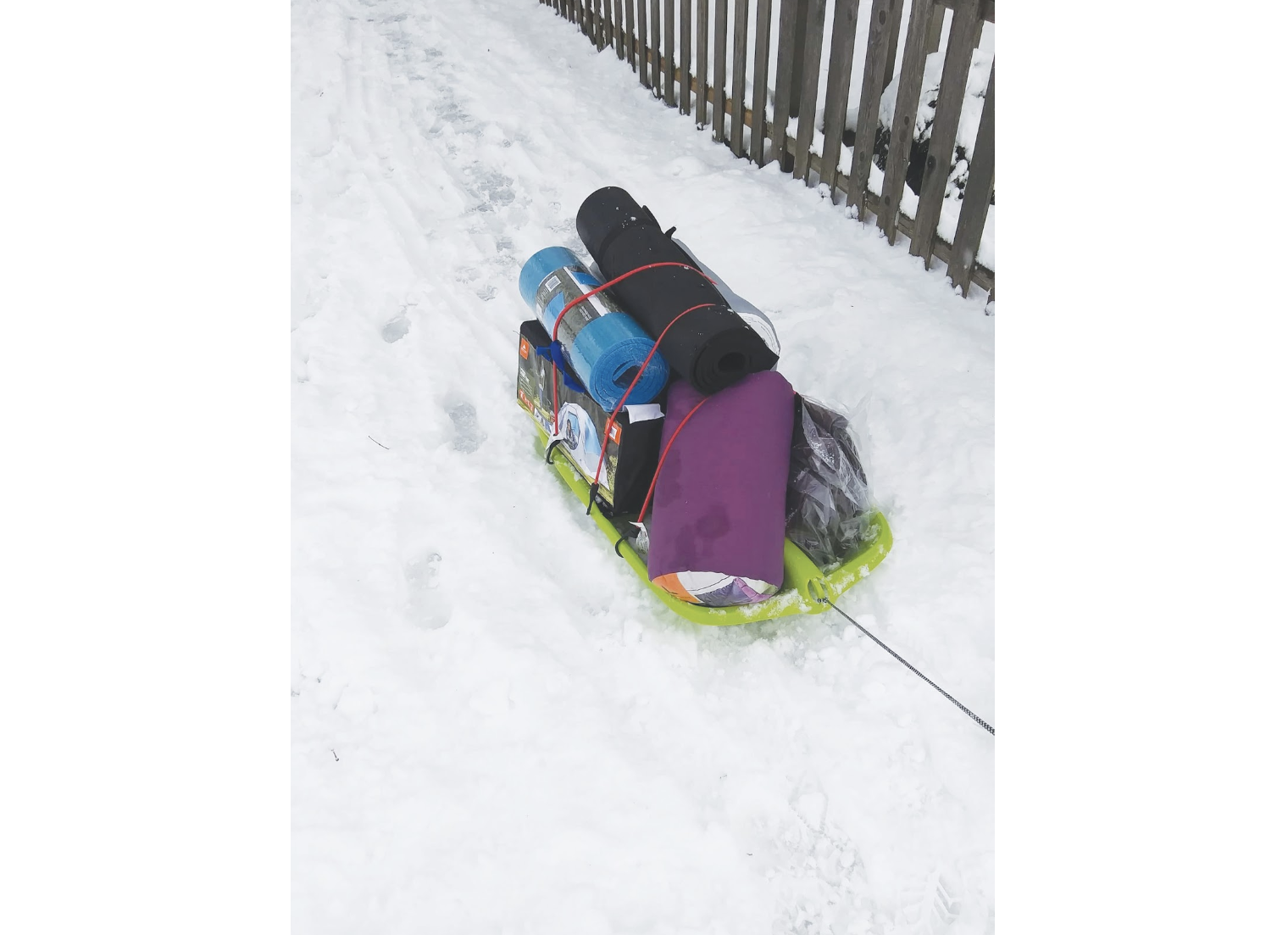 Tacoma Mutual Aid distributed terra cotta candle heaters, coats, shoes, and more to those on Tacoma's streets during the winter storm — Photo courtesy of Tacoma Mutual Aid
On Feb. 8, Governor Jay Inslee declared a state of emergency for the state of Washington in preparation for an oncoming winter storm. The storm forced many schools and modes of public transportation to shut down for several days.
Freezing temperatures and snow also impacted the large population of homeless and food-insecure residents in Washington, specifically in the city of Tacoma.
According to the city of Tacoma website, Tacoma has a three-phase approach for emergency temporary aid and sheltering for homeless persons in Tacoma. The three-phase initiative provides temporary shelter in city-owned locations while also giving access to basic needs such as on-site meals, showers and laundry units.
"In Tacoma we have a high population of homeless families. Some are living in hotels and others are over by the Puyallup River living in their cars," University of Washington Tacoma professor Christie Stevens said.
Stevens is an associate professor at the University of Washington Tacoma in the Nursing and Healthcare programs with a background in researching structural disadvantages and how they impact low-income residents. Stevens believes that residents affected by the storm will experience longer-lasting consequences.
"If their bus doesn't run or you can't get to your jobs, … you can't get paid. And if you don't get paid, you can't eat. So this is going to have long term effects for people," Stevens said.
According to Stevens, school-age children and college students are also likely to be hard-hit by the lack of resources as a result of the storm. Most significantly, when schools are closed, low-income students lose access to food.
"So that means the kids didn't have food. They didn't have anything to eat," Stevens said.
The University of Washington Tacoma also has a number of students who depend on the school's free food pantry. According to Stevens, when the campus closed, students could not access the pantry.
"Usually people only have enough to buy things day-to-day or not at all. So when the food pantry was closed which (sic) affected a lot of our students," Stevens said.
The University of Washington Tacoma does not have a dining hall, and with the food pantry closed, students were forced to travel further away to buy food.
"The closest grocery store is two miles away and it's all uphill … and in the poorer neighborhoods food stores are more expensive than others so it means they are probably paying more because it's closer. … There's convenience stores but even those are not as accessible," Stevens said.
Many other organizations reiterated the concern of how the storm would be impacting students.
According to a representative from Tacoma Mutual Aid Collective (TMAC), "When school is cancelled, those families have to come up with two meals worth of food per kid. When your food budget is already limited, people go hungry."
Another issue parents who still had to leave for work faced with the closure of schools includes the loss of childcare provided during work hours.
"You no longer have your kids being watched at school," the representative from TMAC said.
The TMAC representative also pointed out how the recent government shutdown has deepened the issue of inaccessibility to food for the food-insecure and homeless.
"A number of families are still recovering from not getting back pay from lower-wage government jobs that were effected by the shutdown. … Food stamps for February were distributed in January, so many families are already out," the representative from TMAC said.
Like many in Tacoma, TMAC has reached out to support homeless and food-insecure people through mobile distributions.
"Mobile distributions where people take whatever they need that we have available. The focus of the weather response was on warming supplies (layers, winter socks, waterproof shoes and coats, hand/foot/body warmers, terracotta heaters, blankets, gloves/hats/scarves), shelter supplies (tents, tarps, weatherproof tape and bungees, sleeping mats, sleeping bags), as well as a hot meal and snacks," a representative from TMAC said.
"The heaters are a DIY project that one of us read about. We tested them and then made a number to distribute. Our means are limited, we are always interested in items we can produce more lightweight and for cheaper. Anything too big to carry will likely be lost in a sweep," a representative from TMAC said.
During a sweep items are often lost or trashed as homeless encampments are forcibly removed. Beyond the recent weather crisis, TMAC has committed to a wide range of work throughout the year, including monthly supply distributions, home-cooked meals, medical assistance for minor injuries and providing free laundry services.
Many shelters and organizations also felt undersupplied and understaffed during Tacoma's hazardous weather week. One such organization is Comprehensive Life Resources (CLR), a private not-for-profit community mental health agency that also provides shelter for youths and young adults experiencing homelessness.
"I think in general the conditions forced a lot of people inside who are used to sleeping on the streets. … We've been open since Friday at 3 p.m. running 24-7, feeding three meals a day. … We are neither staffed nor funded to function at that capacity (there's normally a full eight hours between shelter let out and drop-in programmings start) and so both staff and program participants had to work together to keep things running," Jake Nau, a project manager at CLR, said.
The winter storm has also impacted Tacoma's Northwest Detention Center, which shut down as a result of the storm. However, Aid Northwest (AIDNW), an organization created to help immigrants immediately after being released from the Northwest Detention Center, also claims to have been negatively affected by the storm.
"Appointments with some of our partners such as World Relief being cancelled slows down the immigration process of the asylees due to these offices and other government office being closed," AIDNW Volunteer Coordinator Deborah Cruz said.
AIDNW's volunteer-run shelter known as the Hospitality House offers shelter to immigrants released from the Northwest Detention Center and like many other organizations, the AIDNW house had trouble accessing food due to public transportation closures.
"We are fortunate to have a live-in host to take care of the residents and a group of great guys that aren't afraid of walking to the store," Cruz said.
The shutdown of government services and public transportation deeply impacted many Tacoma residents, restricting access to basic necessities.
To help donate to the organizations stepping in to help victims of the storm, visit fb.com/tacomamutualaidcollective, aidnw.org, or comprehensiveliferesources.org.
Tags :
snow day
Tacoma
weather