Homecoming game keeps crowd on the edge of their seats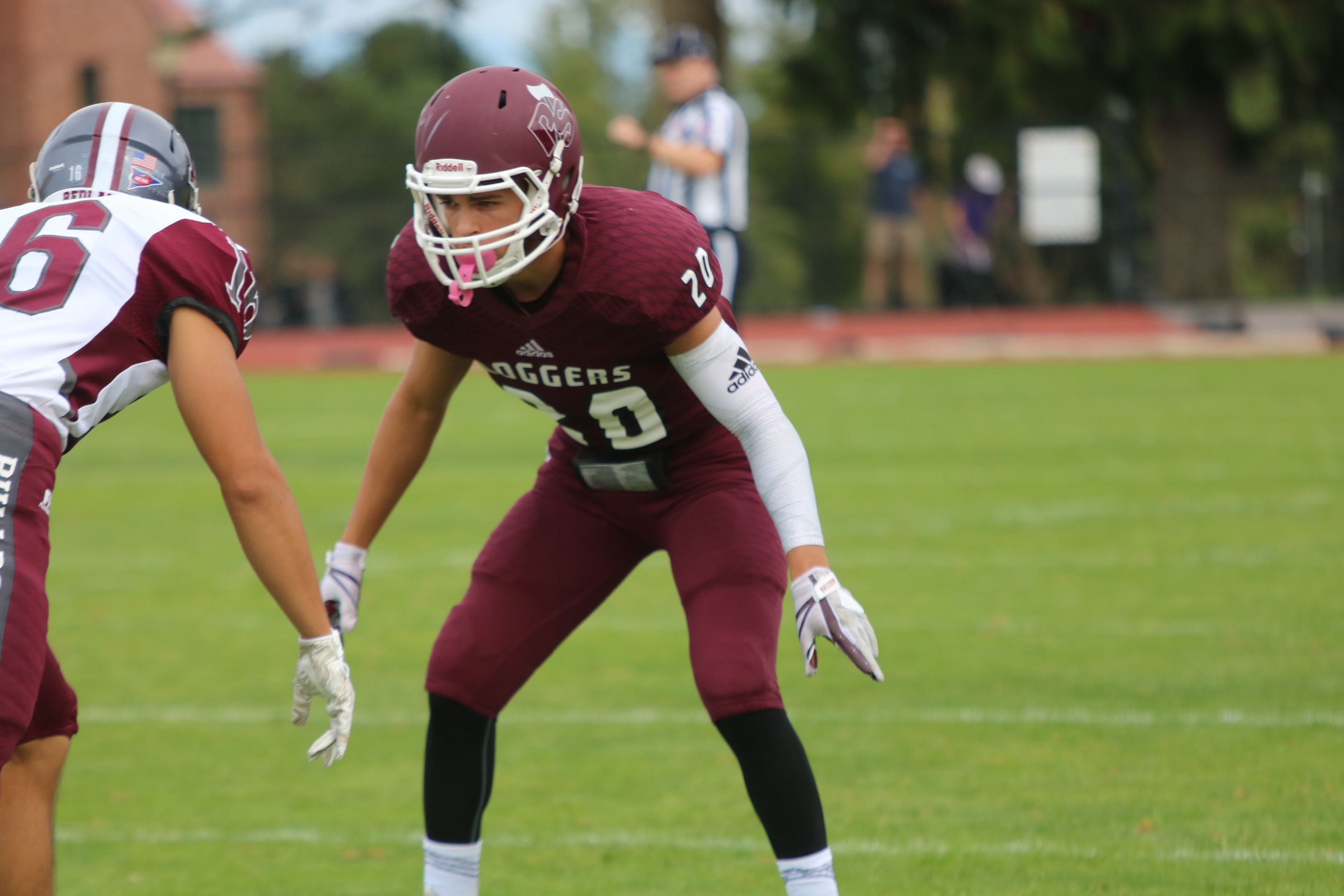 Senior Zachary Teats lines up across his opponent before the snap — photo courtesy of Logger Athletics
This past Homecoming weekend was a busy one for many University of Puget Sound students, families and alumni. Between the homecoming festivities and the Race and Pedagogy National Conference, about 2,500 Logger football fans showed up to Baker Stadium to watch what turned out to be a very thrilling game, according to the Logger Athletics website.
The Loggers beat the Pacific Lutheran Lutes in a game that went to overtime and the crowd's response was deafening.
"It always feels good to beat the Lutes in front of a homecoming crowd. I mean, the fans were amazing," Collin Heimbach '19 said. "I could hear their cheers all throughout the game; it really does help us play harder!"
It wouldn't be surprising if there had been a little extra pressure with a homecoming game, but Heimbach reports keeping a level head. "I don't think it changed much for me; I was excited to play in front of friends and family, but all in all I was really focused on my responsibilities and beating the Lutes that it didn't affect me too much," he said.
The Lutes are often seen as the rivals to the Loggers and that was evident in the stands. "This was a big game due to the activity on campus and given the fact that it's a rivalry game," Heimbach said.
"For us, winning this game was no different than any other conference game. We have a really special team this year and to us, we're treating it as one step closer towards winning a conference title. It does, however, put the cherry on top because it's against the Lutes," Heimbach said.
Heimbach was awarded the NWC Student-Athlete of the Week for offense, with 193 receiver yards on 13 catches and three touchdowns, according to Logger Athletics.
"I'm very grateful for the award; it's truly a product of our offense. It's the fourth week in a row (discounting our bye week) that a member from our offense has revived that award," Heimbach said.
The win was far from the only exciting thing to happen that afternoon. It seemed that the game wouldn't go to overtime when Puget Sound recovered a Pacific Lutheran fumble and made a touchdown with no time remaining, but a whistle called a redo, according to Logger Athletics. This whistle was confusing for many in the stands.
"Long story short, the official accidentally blew the whistle when they thought the ball carrier went to the ground," Head football coach Jeff Thomas said. "By rule if a whistle is blown it is a redo of the down and if it is the end of a quarter it becomes an untimed down."
The game ended with Jason Clayton '19 making an interception in overtime.
"In overtime, each team gets a chance with the ball from the 25," Coach Thomas said. "We scored on the first play so they still had a chance and we were fortunate to stop them on the first play for them."
Tags :
Football
homecoming