Homecoming success for Puget Sound teams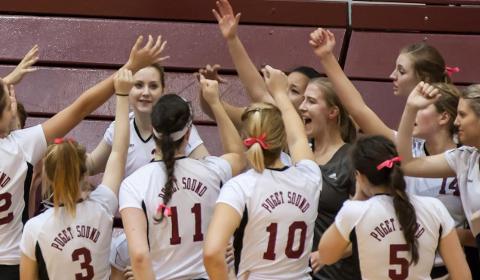 Photo credit Logger Athletics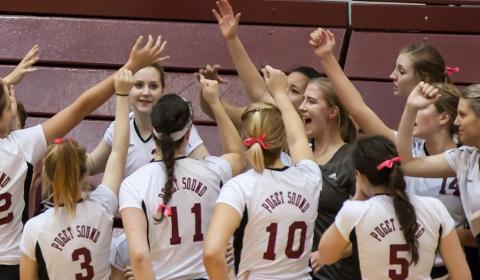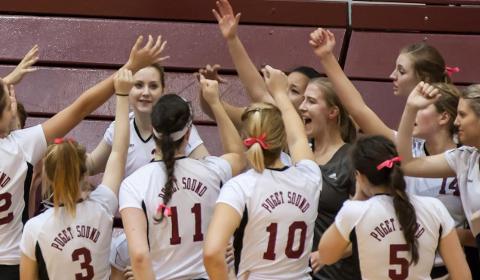 By Madeline Brooks
Despite the pouring rain, visitors to Puget Sound were met with unprecedented triumph when the Loggers swept their homecoming events.
On Saturday Oct. 31 Puget Sound hosted their annual homecoming, and alumni, parents and students were offered their pick of myriad activities. On the schedule were tours, workshops, concerts and three home sporting events. Women's soccer, volleyball and football all had homecoming games.
In a series of nail-biting games, all three Logger teams finished with big wins.
Starting off the day of homecoming games was the women's soccer game against Whitworth. There was no disappointment for visiting Logger fans, as Puget Sound shut out Whitworth 3-0 in their homecoming game. The Loggers blew away the competition early on with two goals scored by Amalia Acorda-Fey  in the first half, bringing the halftime score to 2-0. The second half proved no less successful, as Acorda-Fey scored one last goal shutting out Whitworth 3-0 and taking the homecoming win.
The second game on the homecoming schedule was Logger football. The team played against their crosstown rivals, the Pacific Lutheran Lutes. The high-stakes game was the main attraction for many homecoming visitors. The game got off to a shaky start when the Lutes scored a safety in the second quarter, moving the score to 2-0 in favor of the Lutes. The tension grew for Logger fans as the game progressed without scores. By the top of the fourth and final quarter, the score remained 2-0 and spirits were dropping. With 4:25 left in the game, the Loggers needed just 18 yards to put themselves on the board. In a nail-biting play, quarterback Hans Fortune threw a pass to wide receiver Brennan Schon. Schon completed the pass and scored for Puget Sound. The score rose to 6-2 in favor of the Loggers, and as Puget Sound ran out the clock, the crowd erupted in cheers. In the final minutes of the game the Loggers had beaten their rivals and taken the homecoming victory.
Later that evening Logger volleyball had the audience on the edge of their seats when their match against the Lewis and Clark Pioneers dragged into five sets. Puget Sound won the first two sets, but allowed Lewis and Clark to catch up when they lost sets three and four. Both teams battled to first reach 15 points in the decisive fifth set. The 13-13 tie towards the end of the set had the match hanging on every volley. A kill by Katie Rice followed by a block from Kristen Miguel and Hannah Stinson captured the 15-13 win for the Loggers, taking the set and giving them the match victory.
Logger Athletics shone in the face of an audience and a high-stakes series of games. All three teams swept their homecoming games to bring victories to Puget Sound.
Tags :
2015
Acorda-Fey
Amalia
Athletics
Brennan
Football
Fortune
Hannah
Hans
homecoming
katie
Kristen
Loggers
Lutes
Miguel
Pioneers
Rice
Schon
soccer
Stinson
Volleyball
Whitworth