Senior class leads the team to the NCAA Championships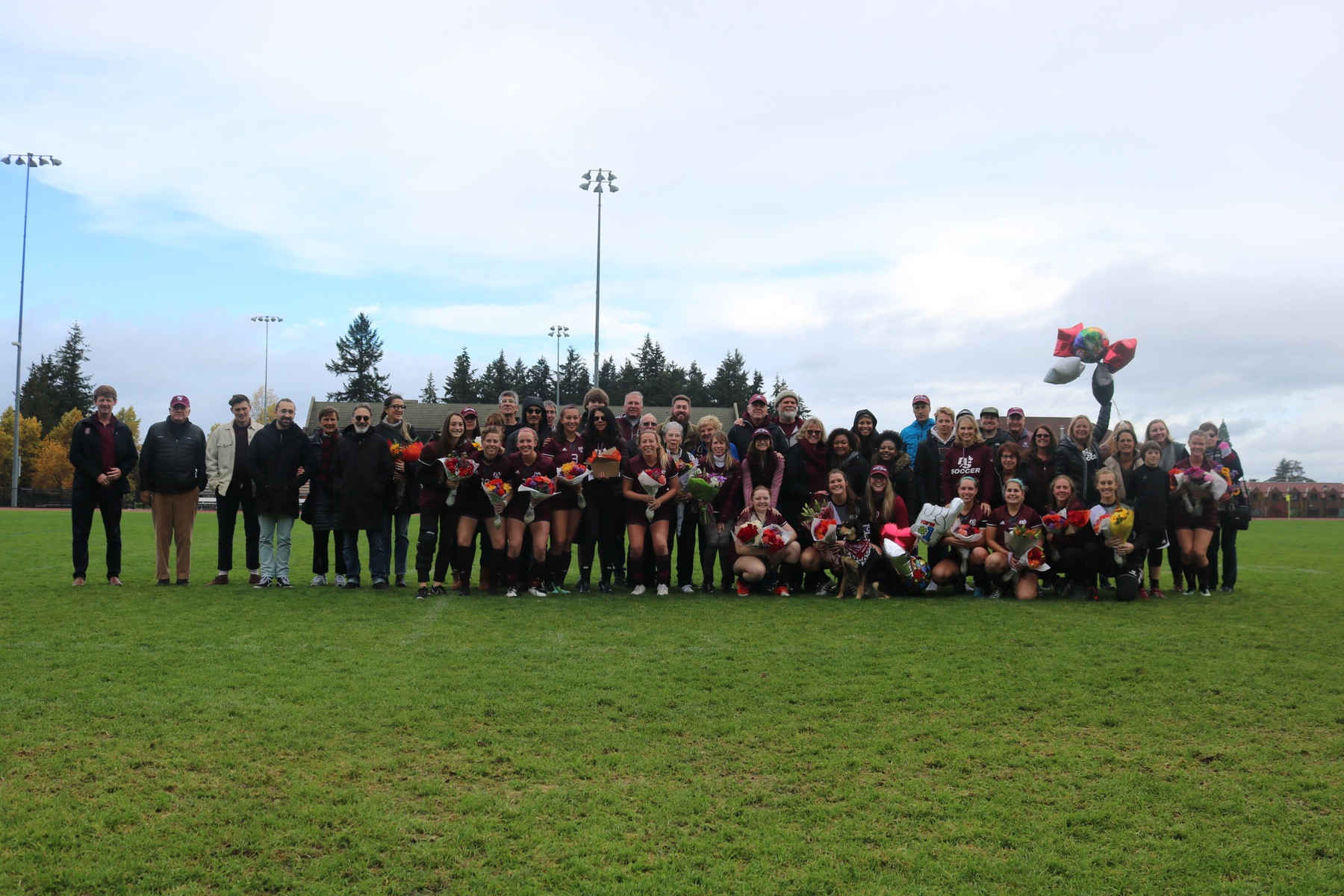 Senior soccer players line up with family and friends in celebration of their four years of hard work on and off the field — Photo courtesy of Logger Athletics
Bittersweet scenes graced Baker Stadium last week in honor of those soccer players who dedicated so many hours to our program. Years of sweat, passion and hard work finally reached their sunset for seniors Erin Brosnan, Maggie Decena, Kendra Elderkin, Kellcy Emory, Jamie Lange, Tayla MacPherson, Elizabeth McGraw, Sarah Morscheck, Lura Morton, Tess Peppis, Paulina Thrasher and Elisabeth Webber.
Senior night took place last weekend during the home game against George Fox University. Puget Sound secured a 2-0 win against the Bruins, and it's easy to believe the team played with a little bit extra that day to make the last game one to remember.
For many, playing for the Loggers meant so much more than just soccer; for these players it felt like a family. When asked about the strength of the relationships within the team, senior Elisabeth Webber from Los Gatos, California had heartwarming thoughts: "The teammates I have made from playing soccer at Puget Sound will be forever friends in my life. I am sure of this!," Webber said.
Playing for the Loggers was an experience like no other for Webber: "Playing for Puget Sound is being able to balance my academics and sport. I am able to play the sport I love, but also study what I am interested in. There are not many places where you are able to go from plating bacteria in lab to kicking a ball around all in a few hours!"
That seems to be the perfect summation of athletic life here at Puget Sound. You are able to not only play the sport you love, but you also have ample opportunities to immerse yourself in studies, with the further added benefit of joining a community that provides friendships for life.
As these seniors bid farewell to the team they were so invested in, this day drove home all that they are able to be proud of. As Webber put so eloquently: "It is a day to reminisce and look at all that we have accomplished as a class. It is also a day to celebrate our love for the sport that we have been playing since we could start running."
The Loggers will be traveling to Abilene, Texas on Nov. 10 for the NCAA D-III Championship tournament. This is Puget Sound's first appearance since 2015. Let us wish the team all the luck we can and hope these seniors can bring home some silverware in their final contest.
Tags :
NCAA Championships
senior class
soccer