Grit City's new soccer team: Tacoma Defiance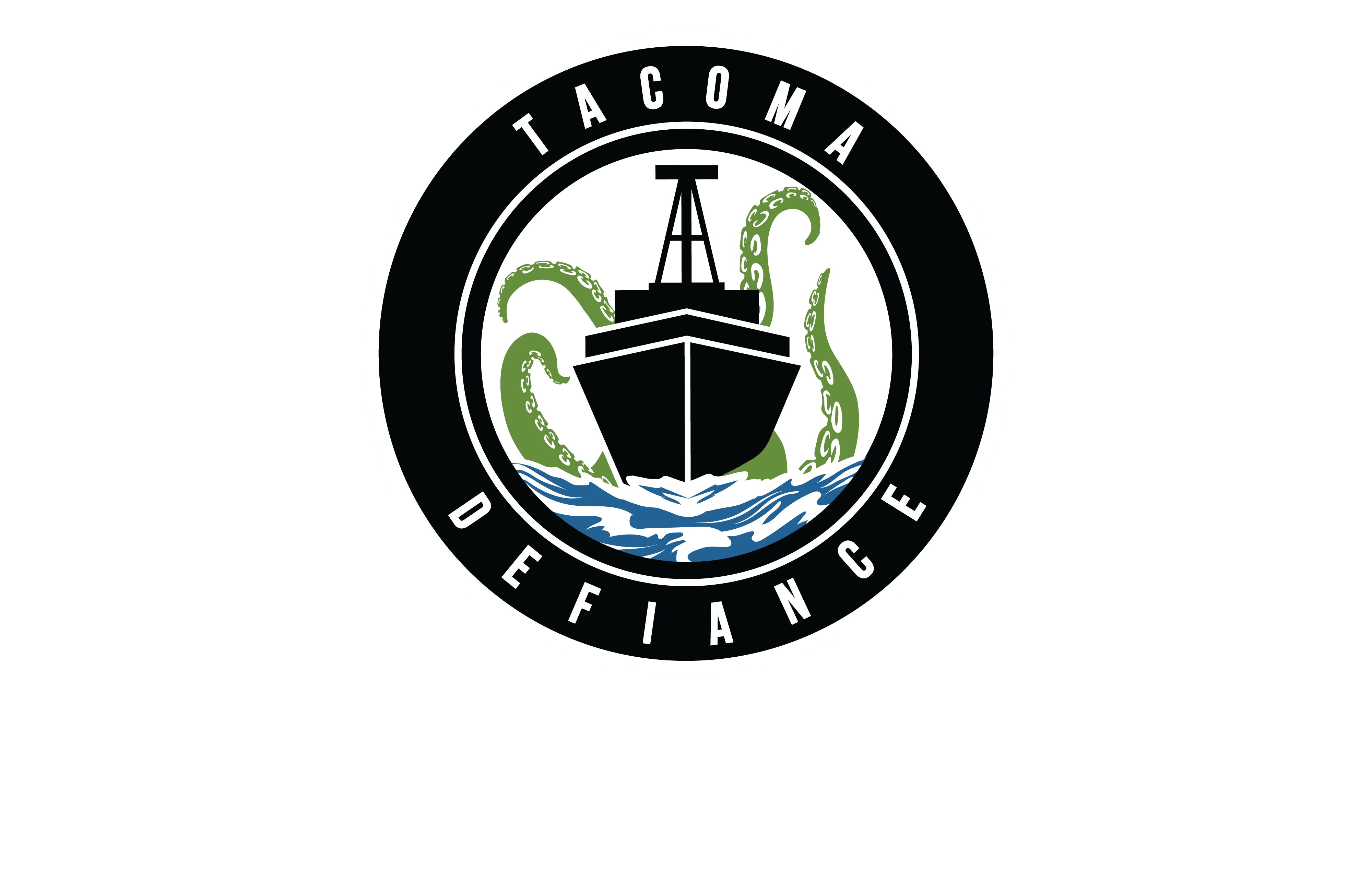 Pictured: Shield of the incoming Tacoma team — Image courtesy of Tacoma Defiance
Tacoma Rainiers and Seattle Sounders FC recently revealed the highly-anticipated rebrand of their United Soccer League (USL) club. Tacoma Defiance will play its first match under this new moniker today in Tacoma's very own Cheney Stadium.
The introduction of this new club name goes beyond branding. Defiance gives the city of Tacoma and the entire South Sound community a team that its people can get behind. The word Defiance pays homage to the region's history as well as its progressive identity.
The team's website mentions the obvious parallel to Point Defiance Park, the pride and joy of many South Sound locals and visitors alike. The name was also inspired by the 65-year-old USS Point Defiance. The historic vessel is fittingly pictured on the team logo.
Nick Cherniske, alumnus of the University of Puget Sound ('12) and Vice President of Business Development for Tacoma Defiance, offered additional justification for the new club name. "Tacoma Defiance identifies us better. When you think of Tacoma, you think of Grit City. There's a defiant nature about people from here that we want to speak to."
The club's website echoed this sentiment: "Tacoma's sense of civic pride is well known to those that call the city home, and with this new brand identity, the club celebrates that heritage. All pride themselves on the grittiness and defiance that have come to represent Tacoma."
The club's dedication to fairly representing its home and its people is no joke. Roughly 20 percent of the franchise is publicly owned via the non-profit Sounders Community Trust. Additionally, the team's kit sponsor is MultiCare Health, a non-profit health care provider founded in Tacoma.
Cherniske admitted that from a business perspective, the last couple of years at Cheney Stadium have produced a tremendous amount of work. The long-term plan is to convert the ground into a soccer-specific establishment. However, this project is still in its infant stage.
Just two seasons ago, the USL team was located in Seattle and was known as S2, the second-tier counterpart of the Major League Soccer (MLS) side Seattle Sounders. In 2018, the team relocated to Tacoma, but kept its original name, and with it, a joint identity with its parent club.
While Tacoma Defiance is still affiliated with Seattle Sounders — many of their players come from the youth academy in Seattle — the rebranding should not be underappreciated. It is an opportunity for the people of the South Sound to put their hearts into a team that is truly theirs.
"We're still a team with Sounders, but we're different from Seattle," Cherniske insisted. "When I'm overseas, I say I'm from Tacoma — not Seattle. We're trying to break that mold and align with the community here."
Mikal Thomsen, the Chairman and CEO of Tacoma Rainiers (the organization that owns Tacoma Defiance), reinforces the soccer club's potential for a positive impact in the community: "In Tacoma Defiance, we hope that we have created a team identity that this community can rally around for generations to come." A perfect exemplar of the club's authenticity, Thomsen himself grew up in University Place, a ten-minute drive from Cheney Stadium.
The players and the coaching staff of Tacoma Defiance are also thrilled with their new identity. "They love the fact that they have their own name," Cherniske said.
According to Cherniske, the vast majority of teams in the USL are independent, hence the club's desire to be its own entity — loosely affiliated with, but not overshadowed by, Seattle Sounders FC.
This year's relocation of Reign FC from Seattle to Cheney Stadium is another exciting development for Tacoma Rainiers and the local sports community. Reign FC is a founding member of the National Women's Soccer League (NWSL) and has won two league titles in only five seasons.
"We're thrilled to have Reign here," Cherniske said. "They have some of the top-tier talent in the world, which presents another tremendous opportunity to just rally." According to Cherniske, approximately nine of the team's 11 starters play for their respective countries in the FIFA World Cup. This includes the club's captain, Megan Rapinoe, who has 41 goals in 145 appearances for the US Women's National Team. With the FIFA Women's World Cup coming this summer, what better time for Tacoma to adopt some of the world's best women's soccer players?
Cherniske offered words of encouragement to current students at Puget Sound: "Come be a part of this family-friendly environment we are trying to build. Energy creates energy and that doesn't happen without people in the stadium."
Beyond Tacoma Defiance and the Sound Sound's up-and-coming sports industry, Cherniske encourages current students and residents of Tacoma to simply stick around. "Continue to pursue careers here — be a part of the evolution of this city," he said. "In three years, we went from having one team here, to three teams. It presents a tremendous workload but an even greater opportunity for the city of Tacoma."
With Tacoma Defiance ticket prices as low as $7 (or $18 for seating) and a stadium capacity of 6,500, Cheney Stadium offers an affordable and intimate sporting experience. Defiance will kick off its 2019 season on tonight at 7 p.m. when it hosts visitors Rio Grande Valley FC.
Tags :
soccer
Tacoma Defiance