Puget Sound emphasizes teamwork on the field and in the classroom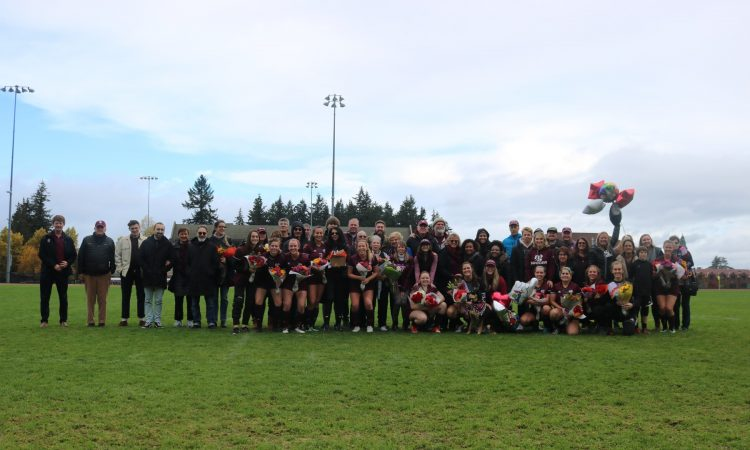 Puget Sound senior soccer players pose with family and friends — Photo courtesy of Logger Athletics
Student-athletes make up roughly 20 percent of the University of Puget Sound's student body, a large number compared to many universities. Participation on a high-level sports team can provide many benefits, one of which may be the ability to be an effective team member in a business organization.
Sherri Johnson is a professor in the Business department and one of the classes she teaches is Special Topics: Developing Teams. The purpose of the class is "to provide you with teams-management experience," Johnson said in her class syllabus.
Johnson described the advantage sport team members have on organizational teams: "It gives individuals a sense of working together to achieve a team goal rather than individual goals, allows them to see how their role works in coordination with others and encourages a spirit of cooperation rather than competition within the team."
Those who have been on a sports team understand the support, effort and friendship it takes to be successful. Additionally, they have a greater understanding of what it's like to fight for one unifying goal.
A current women's basketball player, Meghan Hamel, who has taken Professor Johnson's class, explained the influence a college team can have on a person: "A trait that I believe all athletes share and carry with them throughout life is their hard work ethic. Athletes are used to putting in extra hours behind the scenes when nobody is watching, this is something that an athlete can encourage in a work setting."
Hamel is also able to relate the hardworking skills on an athletic team to a organizational team in the business field: "There may be times at work that the team is behind or working on an important project. It is in these situations that someone who has a hard work ethic can inspire their team members to put in extra hours needed to create a superb project."
Often those who are not athletes do not understand the amount of time a college sport takes out of one's day, whether the sport is in or out of season. Another advantage student-athletes gains after playing a sport is time management.
Senior football player Dwight Jackson described the gift of time: "If you ask any student athlete, they will have at least one story of some non-athlete saying how little time they have to do an assignment. The student-athlete thinks but never says, 'Well at least you don't have practice for three hours.' As you go through college as an athlete you find that the most important resource is time. You never have enough, and can never control it, whether it's the time left in a game or the time on the clock in the library."
After asking Professor Johnson about the benefits and advantages a student-athlete has, she could only think of one disadvantage. "The only thing I have seen is that sports are usually very competitive, and winning equals only true wins in scores/games rather than getting better as a team or as individuals. Sometimes that competitive spirit, if used internally in an organization that has multiple teams, creates winners and losers rather than all winners," Johnson said.
Jackson gave a similar statement of competitiveness may being a disadvantage in a workspace. "As athletes we are trained to be as competitive as possible which could be harmful in a sense," Jackson said.
Finally, one of the most important aspects of a team and to have a teammate or team member is support. Hamel discussed her experience with support on the Loggers women's basketball team as well as how she sees support in an organizational team: "If one person on the team is struggling with something it often affects the performance of the entire team. This calls team member(s) to make sacrifices to help. … Today, I see a team as a group of individuals who work together to finish the tasks needed to have a successful project."
Tags :
Athletics
team
teamwork