Sports unknown: Dive into Puget Sound's past field hockey team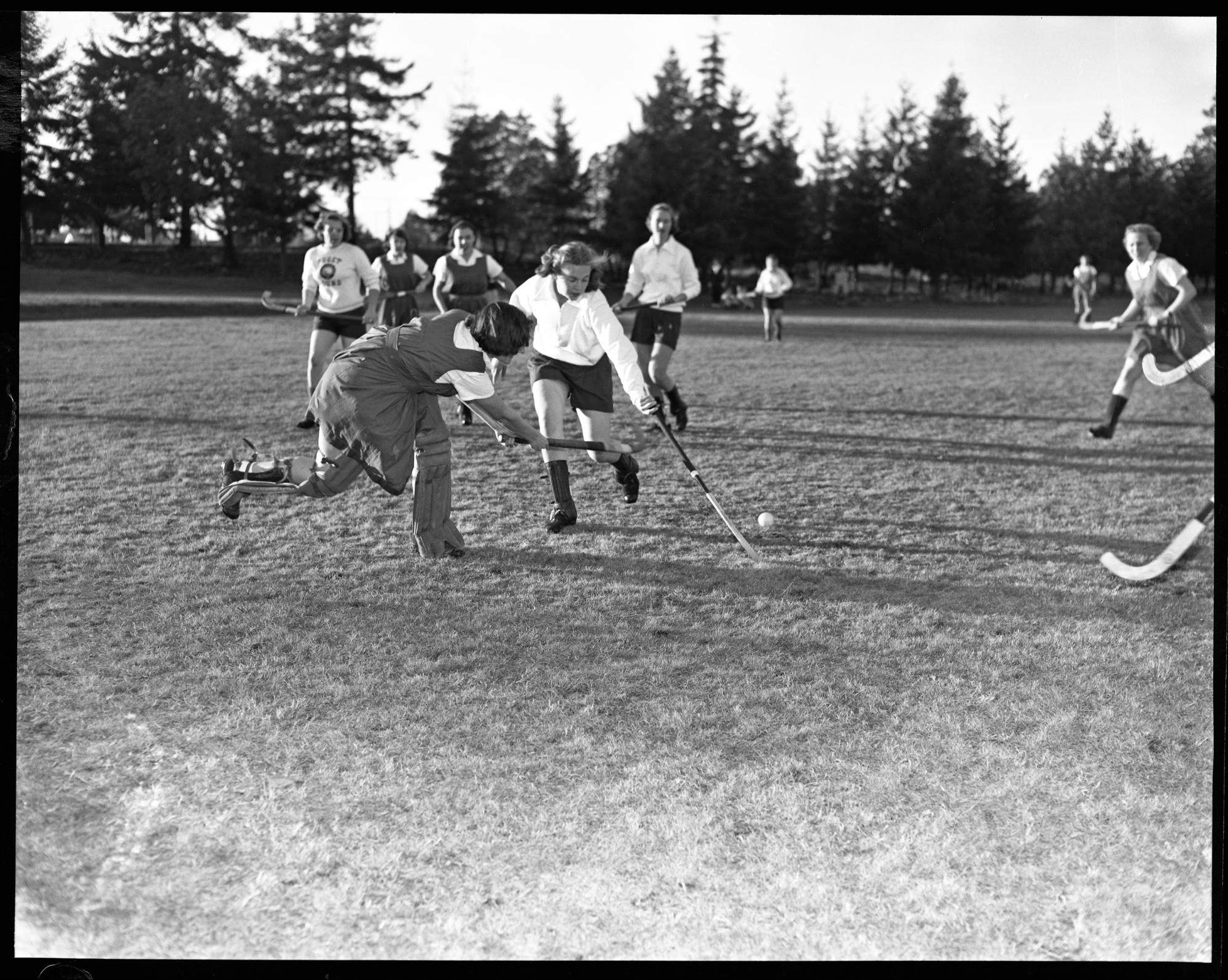 A photograph of the women's field hockey team from 1950 playing against the University of Washington on Todd Field. The College of Puget Sound players are wearing white uniforms. — Photo courtesy of Bob Rudsit '53 in The Trail issue 11/10/1950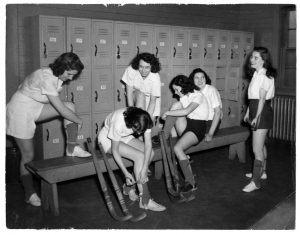 An unnamed Puget Sound field hockey player barrels down Todd Field, sweeping her stick around for a lateral pass to a teammate. Another player, twisting her hips into those of her opponent in a move that could be best described as a forceful nudge, scrambles to scoop the ball up. Two Puget Sound players attempt to move towards the goal cage, dribbling upfield as an opponent lunges forward at the ball. Onlookers, standing at the edges of the field, shield their faces from the sun or, perhaps, hold their hands above their brows in salute of the home team.
These moments of gameplay are captured in a series of photographs that, when pieced together, show the course of a women's field hockey game between the Loggers and the University of Washington's Huskies. The photographs cannot be accessed through Logger Athletics or searched for on Instagram but can instead be found in the University's archives collection. Why? The photographs are from 1950: a year when the list of post-college employment opportunities for women was as short as women's skirts were long, when the plot across from Todd Field was a parking lot and not a residence hall, and when, as the archives attest, women's field hockey was a sport played at the University of Puget Sound.
The Archives and Special Collections, located on the second floor of Collins Library, houses over a century's worth of historical manuscripts, publications, and photographs that are relevant to the University of Puget Sound. From football game ticket stubs to student-produced guidebooks for incoming first-year students, all records of historical value are kept in this ever-growing storehouse of campus history, carefully copied and catalogued in the name of historical preservation.
The photographs of the 1950 women's field hockey game are a part of the larger archival collection "A Sound Past," a digital library containing thousands of historical photographs taken at the University. The contents of "A Sound Past" collection, along with Women's Athletic Association handbooks and newspaper clippings from The Trail, help inform us of a forgotten sport, one that has long been defunct at the University. The photographs allow archivists to put faces to names of players mentioned in Tamanawas, the former Puget Sound yearbook, contextualizing our understanding of women's athletic programs at Puget Sound with primary source visual evidence from that time.
The vastness of the "A Sound Past" collection is due in part to photo donations to the University archives by alumni. Many of the photographs of the women's field hockey team are from the personal photo library of Eunice Williams Goldsmith (Class of '51), who was the team manager in 1950. While her contributions are in no way unappreciated by archives staff, the fact that the contributions are only from the time when she was a Puget Sound student might reflect poorly on the archivists, whose job it is to collect historical information from all eras.
What the archivists have to work with is, to some extent, determined by when the archives' biggest donors were in college. Additionally, when alumni photographs are donated without notes or references, archivists have trouble authenticating the who, what, and where of each photograph, especially in the absence of accessible records that can answer all of these unknowns.
The collection of women's field hockey photographs, while limited in scope and lacking in historical detail, does offer us a peek into what women's field hockey was like during the early 1950s. By looking at the photographs of athletes strapping their shin guards on in the locker room or resting their feet up on propped-up sticks after a game, we can see that the women's team looked and behaved like one would today.
The photographs and written records, however, could not be mistaken for ones from this century, as they are filled with visual or written clues that reflect an era far more sexist than the current one.
The Women's Athletic Association handbooks are illustrated with kitchesh cartoons of feminine figures coquettishly clutching hockey sticks if they were handbags. A photograph taken in 1948 of the team, which shows the athletes smiling cheekily with their bare legs framed front and center, could pass as a women's magazine cover at best and a glamor shot at worst. Editions of The Trail, the few that mention women's field hockey, contain no more than a few words here and there about the team.
Unlike women's tennis or basketball, which are sports that are still played at the University, women's field hockey exists only in the archives and in the memory of a select few, its relevance on campus relegated to being a fun fact on some first-year admissions slideshow. But by examining these archives, we can remember, or see for the first time, traditions of the University's past, affirming the high value that these old Puget Sound institutions held then and still hold now.
If you are interested in embarking on an archives adventure of your own, you can access the University's online archive collections, including "A Sound Past," through the Collins Library website. You can also visit Archives and Special Collections, open on Tuesdays through Fridays from 10 a.m. to 3 p.m. during their hours of operation or by appointment.

Tags :
sports
women