A brief history of the LGBTQ+ community on campus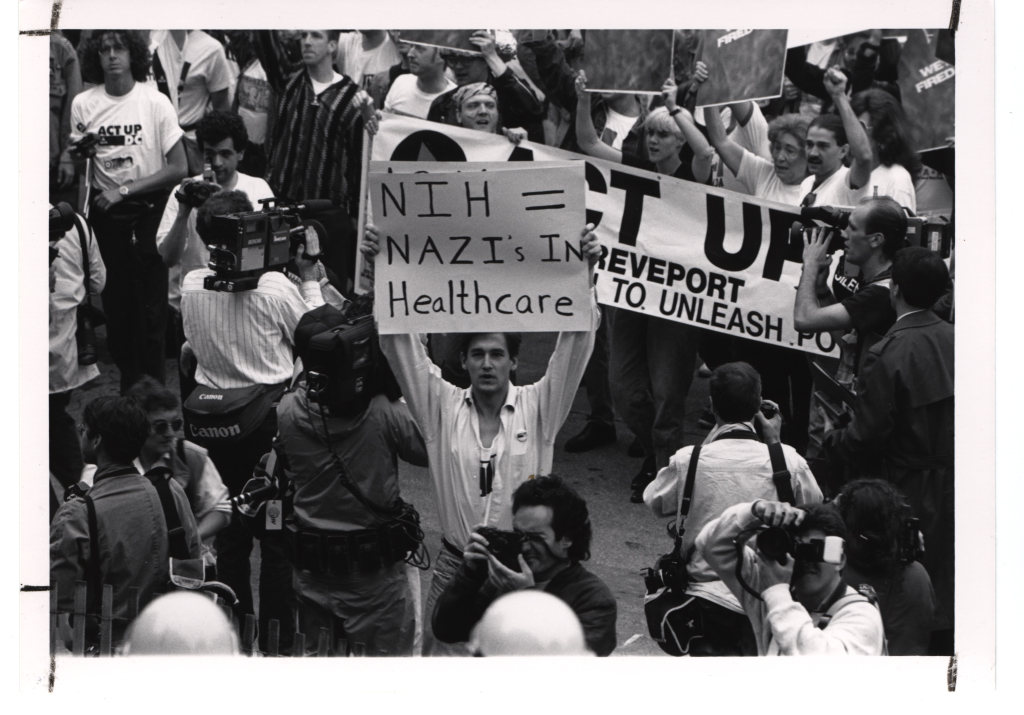 ACT UP Activists at the National Institutes of Health — Photo courtesy of NIH History Office
Without any doubt, the sexiest, most controversial night of Puget Sound history took place on March 31, 1995 in the basement of Kilworth Chapel.
"Shoop" by Salt-N-Pepa blasted off the walls and into the eardrums of Tacoma's most sex-crazed sexual beings at Puget Sound's first ever queer prom. Even some PLU students ventured out of wherever and showed up, horny and ready to dance with some sexy Loggers. The basement was full of boys and girls, men and women, wearing whatever they wanted and dancing however they pleased. The photos that survived show beautiful delinquents grinding together in a sweaty crowd of sexual frustration. These pictures are priceless; they validate the LGBTQ+ Loggers of our past and remind us that LGBTQ+ people have always been throwing the best parties.
The history of LGBTQ+ life on campus is long and started after the founding of Puget Sound in 1888. On paper, however, the history doesn't go far. The oldest records of LGBTQ+ life on campus are in yearbooks and old Trail articles. The pictures of the prom were found in the 1995 yearbook underneath the Understanding Sexuality club. Like the photos, there was no description written about this club in the yearbook. It's sad the photos and club have no description, but they helped to lead the university in making campus a safer space for the LGBTQ+ community.
The Understanding Sexuality club was created by 25 brave LGBTQ+ students during the peak of the Aids Crisis in 1994. It goes without saying that the Aids Crisis was a sad and difficult time for the LGBTQ+ community, on and off campus. Gay Americans were getting sick and were swept under the rug while being blamed for the sexual diseases in the country. Puget Sound made efforts to understand sexuality and support students in a time when it was normal to alienate those groups.
Puget Sound has a history of making efforts to care for students and, since 1987, CHWS has been promoting safe sex on campus. Starting in 1987, condom dispensers were put in S.U.B. bathrooms and for a while condoms were even passed out with issues of The Trail.
The first year of free condoms on campus was also the year CHWS formed a confidential support group for LGBTQ+ students uncomfortable being "out" in public. The campus provided a safe and private space for LGBTQ+ students to talk through issues they were facing. CHWS staff were able to understand that being gay wasn't a lifestyle choice.
In 1994, members of the group grew tired of feeling invisible on campus and created the club Understanding Sexuality that would lead the way for visible LGBTQ+ life on campus. The club began with 25 active members and they became leaders for the LGBTQ+ campus community, leading our school into a more progressive future. While it is great to see how our school learned how to accept the LGBTQ+ community by working with students, a student in an interview of a 1995 issue of The Trail said, "it should have happened sooner."
In 1996, two years after the Understanding Sexuality club was established, the university named the new school year the Year of Gender, Sexuality, and Identity. The club was doing everything it could to work with the university to make campus feel safe for LGBTQ+ students. Tips about how to react to your roommate coming out to you were even put into The Trail, and special events such as Blue Jeans Day (a day when jeans were used to spread awareness for lesbian campus life) and Coming Out Day were held on campus.
Understanding Sexuality even brought in guest speakers Cornel West, Holly Hughes and Sandra Bernhardt in order to help fellow students realize sexuality wasn't a choice. According to a gay student interviewed in The Trail in 1996, "campus felt relatively safe" and was on its way to creating LGBTQ+ traditions on campus.
Today, campus still feels relatively safe for LGBTQ+ people. We now have an amazing Gender and Queer Studies department, a Trans/Non-Binary Residence Life option and even a Lavender Graduates celebration. The LGBTQ+ life on campus is going through some changes this year. Past generations of Loggers worked hard to make this campus a safe place to host LGBTQ+ dances, speakers and even drag shows. We continue to look each other in the eyes and band together like our past LGBTQ+ Loggers did, and we need to keep pushing forward.
Tags :
Campus
LGBTQ
rights