Tacoma's Evolving Antique Row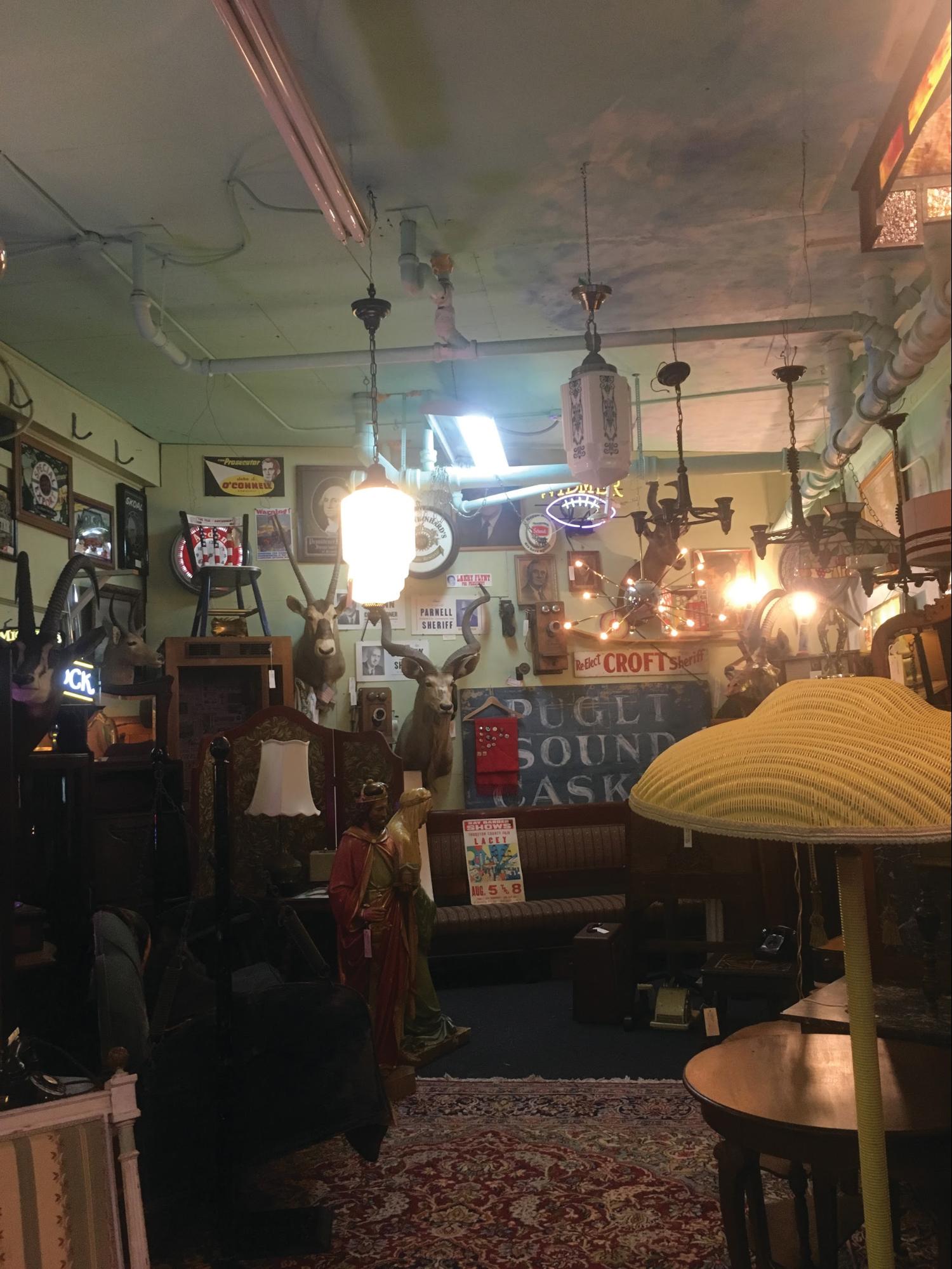 Inside of Broadway's Best Antiques — Photo credit to Brynn Svenningsen
Tacoma's Antique Row has evolved from a collection of locally owned antique stores to a community of individuals who wish to share the benefits of reclaimed, antique and vintage goods. The contrast between shops can be seen when looking at a staple to the Row, Broadway's Best Antiques, and newcomer Cocobolo. In 2018, Antique Row is adapting to a modern customer and internet shopping competition. While other antique communities have struggled with these changes, Antique Row is embracing them.
The bright red storefront of Broadway's Best Antiques has been a staple of Antique Row for almost 10 years. Owner Linette Colby works hard to ensure that Broadway's Best Antiques continues to specialize in "men's antiques." This means that if you are searching for jewelry, glassware and dishes, Broadway's Best Antiques won't be for you. Instead, Colby works to incorporate tobacco memorabilia, mid-century modern furniture, sports memorabilia and many more antique pieces in her shop. This antique store is unique in its male-focused mission and the all-female team that runs it.
"I'm the owner … and the everything," Colby said. Colby is aided by her sister who volunteers at the shop, but is the current powerhouse behind its success.
The community between the shop owners, many of whom have known each other for years, is obvious. Colby helped her friend and co-owner Ron open the shop. It was after Ron's passing that she took over and dedicated the shop to his vision of a men's antique store.
"When he passed away I promised myself that I would be true to that. That it would be my branding," Colby said.
It is hard to argue that there is anything quite like Broadway's Best Antiques. A quick tour around the store will reveal a life-size statue of a horse from 1890, hundreds of blinking neon lights and other oddities placed in nearly every corner.
"We also have a lot of industrial furniture that is made of old wood that has been reclaimed with hardware that comes from the factories that are local," Colby said. In addition to selling wares, Antique Row stores share a commitment to remembering the past. The inclusion of reclaimed wood and material used in the industrial furniture pieces sold is a nod to Tacoma's past as an industrial town.
Despite the long past of many of the stores on Antique Row, there is always change occurring. Recently, new stores have moved into the area, bringing their own unique spin with a focus on vintage goods.
"We're creatively minded and have a strong vision for what we like. I think most of the shop owners down the street are very similar in that sense," Sarah Alisdairi Close said. Close is the co-owner of a shop called Cocobolo and works with two other co-owners Lana Alisdairi and Alexis Sargent in their vision.
Cocobolo has just opened in Opera Ally on the other side of Antique Row. The shop has a focus on vintage clothing and its own retail in-house clothing line made by Lana Alisdairi. The bright white walls and minimalism of the shop are in stark contrast to the maximalist style of Broadway's Best Antiques. Cocobolo carries vintage Levi's, party dresses from the 60s and sleek originals that speak to the three owners' interest in fashion.
"Cocobolo is a female-owned, eco-fashion women's boutique. … We also sell Vintage, natural/organic beauty products and apothecary and indie handmade accessories. Our main focus is to promote ethically minded fashion and we wholesale from brands with the same perspective," Close said.
Despite the differences in focus between the two shops, there is a common passion among the shop owners.
Each wishes to connect their unique idea to a customer through the sale of antique and vintage goods.
Each shop has worked to create their own unique footprint in the Antique Row community and to stand out in the row of shops.
Another similarity in the owners is a new difficulty they are working to overcome as the internet has grown to prominence.
"People aren't buying antiques so much anymore. It's more mid-century modern and definitely nothing that's a hundred years old. So it can't be an antique. This new generation that is coming up, they don't like china and extras. It's minimal," Colby said.
The change in the way people shop for antiques, often online, and the change in the antiques people want to buy has presented a challenge for the antique dealers of the Row.
To combat this, the shop owners seem to have focused on making shopping in their stores an immersive experience.
This is echoed in the hard work that Colby puts into making her large antique store full, homey and well-decorated.
It can be seen in the modern and fresh style of Cocobolo that is carefully curated.
The diversity of shops on Antique Row is unparalleled and uncommon. The passion within the Antique Row community is unique and supportive. This makes shopping on Antique Row a unique experience which couldn't be achieved at any other antique store or in any other town.
Tags :
antique row
Tacoma