Volleyball climbing conference ranks with fresh talent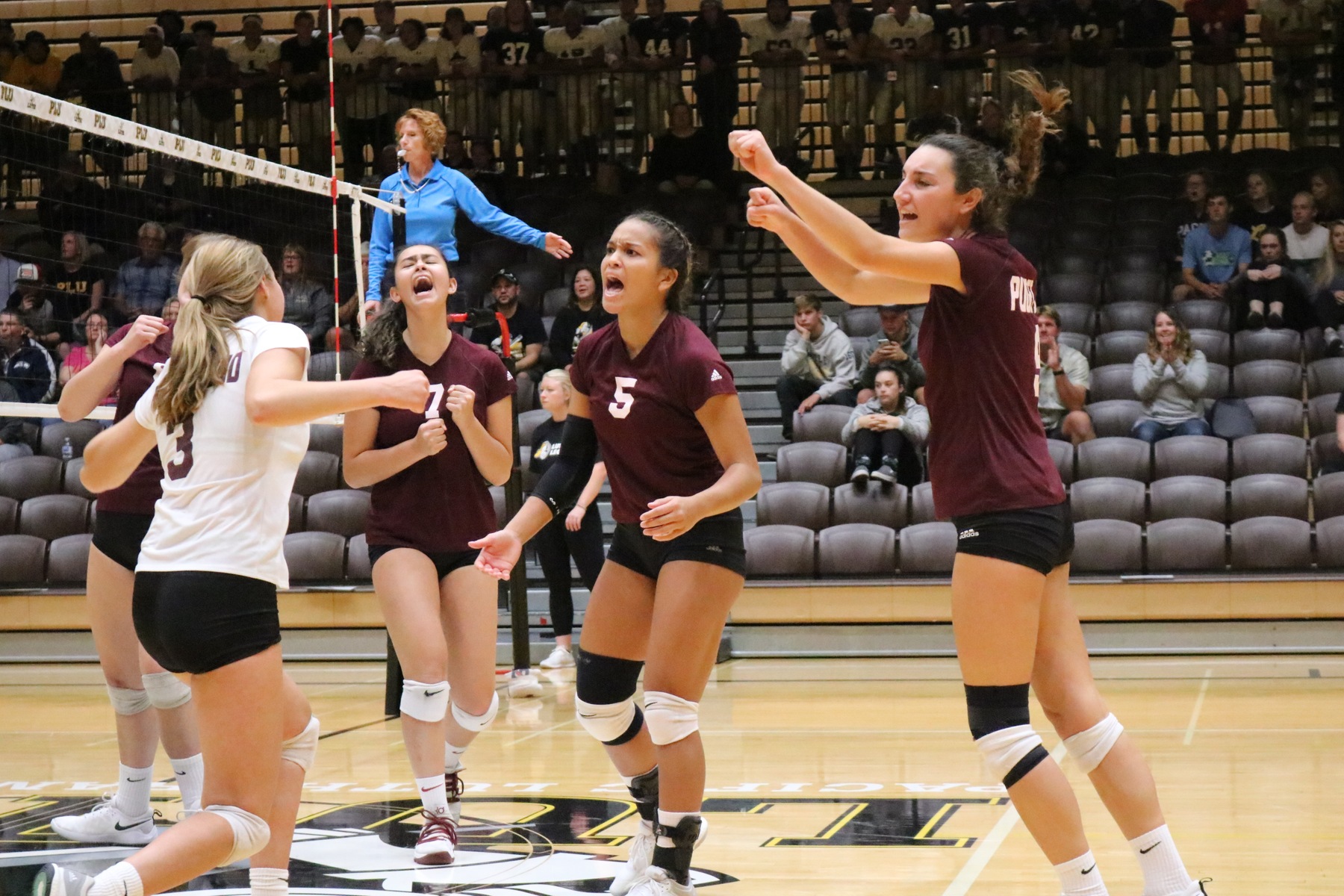 — Photos courtesy of Logger Athletics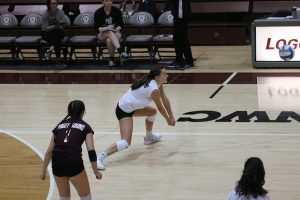 The women's volleyball team has started their season with a conference record of 3-1 and an overall record of 6-6. The team ended their season last year in fifth place and have started their conference with a rank of third. The volleyball team continues to surprise the conference with their abilities, growing every season.
Senior captain Kristen Miguel explains the exciting beginning to the volleyball team's season: "Our preseason travel to Thousand Oaks, California consisted of regional and national caliber competition. We came out of the tournament meeting our goal of 2-2, which was a great way to set a foundation to the rest of our season. Our conference games started last weekend with George Fox and Linfield, whom we both took wins from. Collectively, our team was able to battle Linfield to four sets, and George Fox to the very final 15 points of the fifth set."
Head Coach Mark Massey, who has been coaching the Loggers for 22 years, brought in a larger class of 12 first-years for this season. The Loggers return four seniors, no juniors and six sophomores, meaning there are more first-years than returners.
Sophomore Captain Alli Reviglio spoke to the weakness of a young team: "This isn't always a bad thing, but we are just trying to get everyone on the same page and in the groove of things. We often have many freshmen on the court so gaining experience is something that will be improved with time. Our consistency also needs to improve," Reviglio said.
Even with 12 first-years the team has still been able to perform on the court with a diverse amount of experience. Thus far, at least one first-year has been a part of the starting line-up during each conference game and has impacted the team's stats.
First-year Jordan Holman describes the team's generosity and inclusiveness: "Being one of the 12 first-years on the team seems intimidating, but I do truly believe that the sophomores and the seniors have integrated us all into the Logger family very well. It's also been very helpful to have 11 other girls who are learning about college life, both on and off the court, right along side me," Holman said.
To create strong chemistry on and off the court takes work and commitment. After three years of Logger volleyball, Miguel explains her perspective on the challenge of a large first-year class: "Coming into this season, the chemistry of the team with the number of freshmen outweighing returners was a huge concern. I felt that all the work of reestablishing a culture on the UPS volleyball team was at risk of being completely neglected and pushed aside. However, all of our doubts were proven wrong. Our entire returning core stepped up and made sure that this team was only going to grow together, and grow toward success," Miguel said.
The volleyball squad hopes to continue to improve and win games. Holman describes the team's goals and expectation throughout the season: "Some tangible goals that our team has agreed upon have been moving up the ranks in our conference and being competitive in the post-season. I truly believe in our ability to finish in the top three of our conference and make a name for ourselves in playoffs," Holman said.
This upcoming weekend the Loggers will travel to Eastern Washington and compete against Whitworth and Whitman.
Tags :
sports
Volleyball