Kittredge Gallery: 'The Invisible Nation' & 'Letter to a Laundress'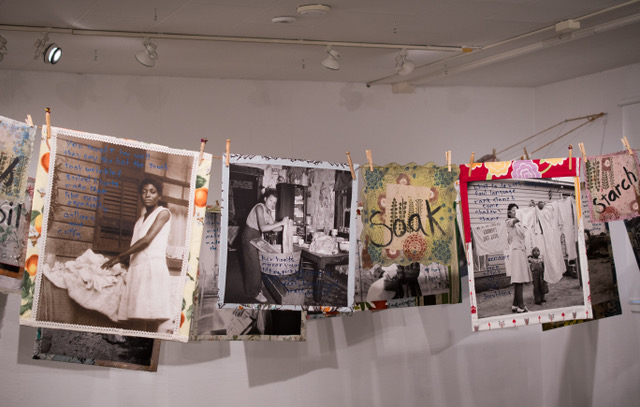 A piece from Carletta Carrington Wilson's exhibit "Letter to a Laundress" — Photo credit to Rebecca Heald
'Letter to a Laundress'
Artist Carletta Carrington Wilson used a combination of word and visual art to depict her research of history and genealogy. In her exhibit in Kittredge Gallery she used natural dyes, stitching, painting and words to create a narrative around the phenomenon of the enslavement and lynching of African Americans.
"A mapmaker charts the world, I chart cloth's language and lineage as it relates to the Transatlantic trade in slaves and societal transformation," Wilson said.
Wilson explores the unique position of women during these eras through the "laundress," the quiet witness to horror.
"These women had to have known, been related to, have heard of, witnessed and/or buried someone who was lynched. They also washed the clothes of the lyncher. Their story isn't found among the myriad accounts surrounding the history of lynching," Wilson said.
In this project Wilson also studied the relationship between humans and language as well as art and language. She is fascinated by the fact that language can both form and unform a human being. It can deny the humanity of a person but it can also seize a place in society.
"The form and formation of language is an integral part of my artistic and literary practice," Wilson said.
The last day of the exhibit is tomorrow. Pieces on display range from photographs framed in fabric to small houses, representing slave quarters, constructed out of a collage of fabric.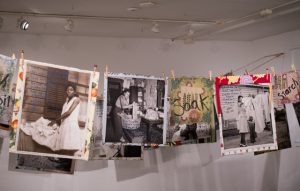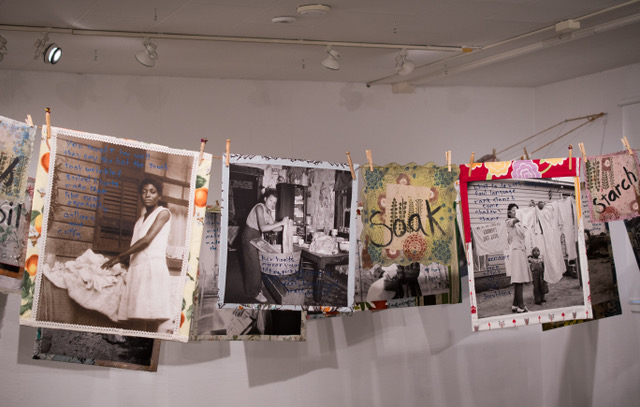 'Invisible Nation'
"I transmit the image of those who allow me to enter their world and share. I add to this my own memories as I serve and express my socio-political responsibility," Victor Cartagena, the artist behind the "Invisible Nation" exhibit, said.
"Invisible Nation" is an art exhibit in Kittredge, running until tomorrow, that sets out to expose the lives of immigrants in the United States. Cartagena is a multidisciplinary artist, born in El Salvador and now based in San Francisco. He has shown his exhibitions all over the world, including the United States, Japan, Greece, Spain and Argentina.
"Through this installation I want to remind the viewer that we immigrants are those who pick the grapes, process the chicken and meat, clean your offices and houses, build your homes, take care of your loved ones, cook and serve your food, wash your dishes, educate your children," Ca
rtagena said.
Cartagena pulls from his personal experience as an immigrant as well as the ethnographic research he partook in to further explore the life of immigrants in the United States. He approaches the subject matter from a variety of angles in order to capture a full view of immigrant identity.
"My work is a response to my daily encounters — as an immigrant, as a citizen, as a human being, as an eye-witness. I leave an imprint on what I recollect, both literally (found objects, photos, homeless signs) and emotionally (the thoughts and memories I carry with me) on pieces of paper, canvas or within a space itself," Cartagena said.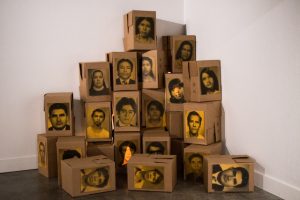 Tags :
art
kittredge gallery