Comedy troupe Ubiquitous They gives perennial laughs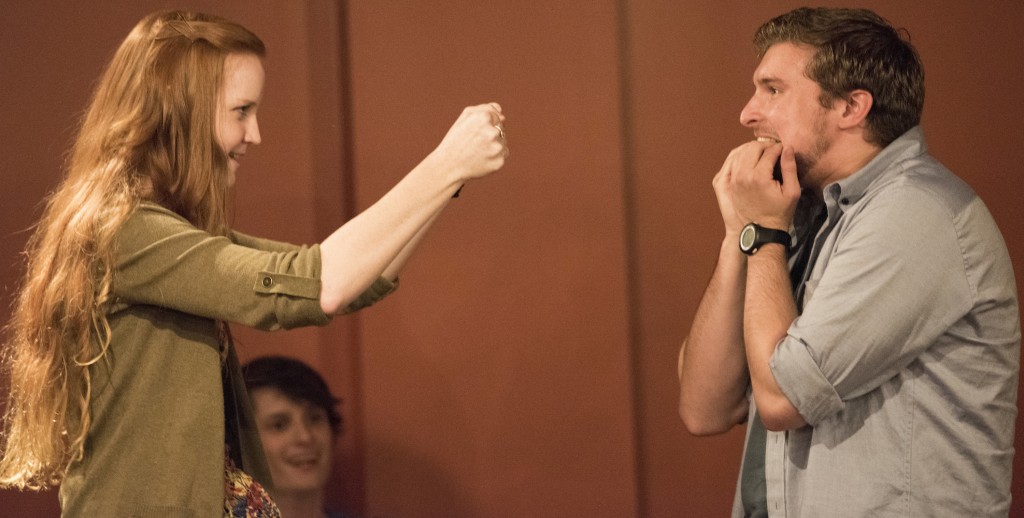 Between midterms, finals, surprise essays and the ever-so-dreaded idea of 8 a.m. classes, it's fair to say that college can be a stressful experience.
When faced with the challenges of what amounts to a usual college week, it's important for the students of the University of Puget Sound to have somewhere where they can forget their troubles and laugh for a while.
Luckily, there's a group on campus that can help with that. They're called Ubiquitous They, and they've been making students laugh for nearly 15 years.
Started originally as a radio show by a group of like-minded students, Ubiquitous They has evolved into a weekly show run by students for students.
The group specializes into practicing two forms of comedy: improv comedy and sketch comedy, and their members prove that they can handle both styles well.
Through good delivery, original and creative jokes and overall good energy, the comics of Ubiquitous They prove themselves the perfect cure for college stress.
If you're someone who is interested in joining University of Puget Sound's homegrown comedy troupe, then you're in luck.
The group welcomes anyone with comedy in their heart and a bad joke or two to tell. I sat down earlier this week with a number of the group's veteran members and when asked about their experiences with Ubiquitous They, their responses had a few things in common.
A number of them learned about the group through the school's theatre program and more than a few had grown up watching programs similar to their usual Friday night performances such as "Whose Line is it Anyway?" and "Saturday Night Live."
Ubiquitous They is willing to take students from every grade weather you be a bright-eyed first year or a seasoned senior with a funny story or two to tell. It's important to be aware, however, that it's not guaranteed you'll get in.
The group goes for the best student comedians the school has to offer and their performances reflect that.
"Come to the shows to figure out what we do. Not everyone gets in on their first try," head writer of UT sketch comedy Darrin Schultz said.
It's important for auditioning students, particularly new ones, to not lose hope if they don't get in their first time.
Schultz later told me that he himself wasn't accepted until his third time auditioning and now serves as a prominent member within their ranks.
"Not everyone is cast their first time, we love to see people come back and grow," UT co-producer Shelby Isham said.
The focus of the group above is for everyone involved to have fun. The week of a Ubiquitous They performer is usually spent playing comedy-themed games and practicing for that week's show. A lot goes into these practice sessions.
The group emphasizes the importance of their comics cooperating almost as much as they emphasize who goes in them. Each member of Ubiquitous They that I interviewed shared the common sentiment of the importance of collaboration and working together when practicing for the show.
"We really care about listening to each other and developing what we call 'Group Mind,'" Isham said.
Developing a rapport between comics is one of the fundamental things the leaders of Ubiquitous They do with every new student who joins their ranks and it's easy to see that in their shows.
"Come and have fun and put yourself out there, don't try to act with lower inhibition because part of UT is about making decisions without judgments," co-leader of improv comedy Grace Penzell said.
It's clear from performances like the one on Oct. 3 that the student comics of Ubiquitous They have an environment where they can feel safe about contributing their unique brand of humor and talents.
If you are an aspiring student looking to make your fellow classmates laugh, I recommend going down to Club Rendezvous this Friday night at 10 p.m. and enjoying a night of laughter and hilarity that only groups like Ubiquitous They can offer.
Tags :
improv
sketch comedy
Theater
Ubiquitous They