ASUPS presidential polls begin next week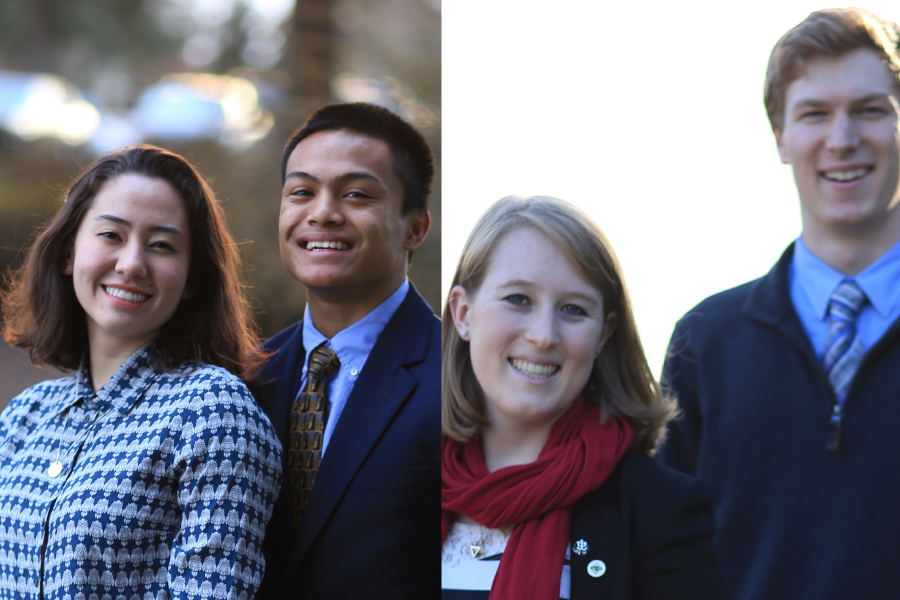 Paige Maney  & Marc Fagaragan are running for President and Vice President of the Associated Students of the University of Puget Sound (ASUPS). Polls will open on March 10 at 6 p.m., and will be available online and at the Wheelock Student Center.
"I'm running for ASUPS…because I want to see some change happen on campus," Maney said. "I think that ASUPS can do a lot more to help us foster community, and to help people like freshmen and sophomores to better engrain their roots here."
"We're trying to focus on ASUPS' visibility, so making sure students know about all the resources that ASUPS has available for you, and here is what you can do, and how you can make an impact on this campus," Fagaragan said.
The platform and directive for Maney and Fagaragan is publicly available via their Facebook page, emblazoned with the acronym P.E.A.K.: Passion, Empathy, Action, Knowledge. "We envision a connected student body. One student body fueled by passion, empathy, and action. Not just a community, but a family that pursues knowledge," their mission statement reads.
"It's really interesting how at this school, we have all these different groups…but just think about if there was a way we could interconnect with one another, and have groups talking, and have voices be heard, and have actions be acted upon—how much more we could do," Fagaragan said.
"There are also things we want to do with the greater Tacoma community. You can't exist solely within the UPS bubble…and I think that students do actually have a difficult time making meaningful connections outside of campus, which I think is problematic," Maney said.
"I actually think that students enjoy [LocalLogger] and, in theory, would like to tap into," Maney said, "but they haven't yet."
However interesting or diverse the services may be, the Maney-Fagaragan platform wishes to expand the ways by which students are able to hear about and spread the news. By encouraging communication and participation, the candidates hope to unify the student body with events, both within Puget Sound and the greater Tacoma region.
"One of the ideas that…Paige and I have…is to create a Director of Service position," Fagaragan said.
Fagaragan explained that this hypothetical director could raise awareness and create events for the campus at large. These service events could bring students together for common causes that benefit all members of the Puget Sound community.
The platform hopes to raise awareness of the Student Government and how it can affect Puget Sound.
Currently, ASUPS is a resource for over 100 clubs on campus, with a budget of $555,408.00 to support the students behind these clubs.
"One of the blaring problems I see with ASUPS is that the student body lacks interest," Maney said. "The fact that it's even hard to get people to vote in an ASUPS election concerns me…you should be voting, and you should be understanding where your money goes, and hopefully engaging in meaningful dialogue about that."
As Puget Sound goes into the election season, the Maney-Fagaragan platform encourages students to question the candidates and ask about their visions and goals for the University.
Through these connections and the goals of these student leaders, the campus community is encouraged to reach out to each other and embrace both diversity and individuality.
"We have a lot of great and strong communities, but they lack unity. I think ASUPS should be that unity. It's the student government, and it's the way that those groups are able to come together to get the things that they need…and makes you want to stay here," Maney said.
Emma Spalding  &  Taylor Smith will be running for ASUPS President and Vice President, respectively. Spalding is an IPE major and Religion minor. She was also the president of RSA last year and has been a Passages and PSO leader. Spalding has been involved with various parts of ASUPS since her freshman year.
"I have never officially held a position within ASUPS, but I am running for this position because it requires leadership to move a team in the same direction and to reach out to students," Spalding said.
Smith is an Economics and Business double major with a minor in math. He is an RA in Anderson-Langdon as well. Smith has been involved with ASUPS since the beginning of his sophomore year when he became ASUPS Residence Hall Senator.
This year he is the Greek Senator. "I am running for Vice President because I love dealing with people, budgets, and complex tasks and that is really what this position entails. This kind of position is honestly what I want to do for the rest of my life. I love it," Smith said.
Spalding and Smith chose to run together because of their different perspectives and because they work well together.
"Emma has little to no experience in ASUPS which I think is really important in a president, she can see the idiosyncrasies that are present in ASUPS, whereas I have the internal ASUPS experience to make the day-to-day operations run smoothly right away," Smith said.
"Both of us are independent and will get the job done but know how to use each other's help. We are both optimistic open-minded people and strive to seek out and listen to the many voices on this campus,"  Spalding said.
Spalding hopes that as president, she can be receptive to students voices. "[I want to have] a comment box in Diversions and Oppenheimer where students can voice suggestions and complaints either anonymously or so that they can get a reply," Spalding said.
"Another easy thing to [do] would be tabling once a week to get feedback. This would allow more unity between ASUPS and the students." Smith hopes that as vice president he can monitor the way ASUPS oversees clubs.
"[I also want to] make the budget and finance request process easier for clubs and for ASUPS," he said.
Both Spalding and Smith would like to continue the programs that have been implemented this year by the administration.
"Many of the wonderful things that they have implemented take longer than a year to come to fruition so making sure that there is continuity between administrations is extremely important," Smith said.
Spalding and Smith love the University and are passionate about running for ASUPS President and Vice President. "People are so involved in multiple things that all the different areas of campus overlap in some way making us very connected," Spalding said.
"People [at the university] genuinely care. I love how when you walk around our beautiful campus you can feel the positive attitudes and love that people show each other.
Like President Thomas says this place feels like "home" and it really does!" Smith said.
Spalding and Smith will be speaking on March 10 from 5-6 p.m. in the Rotunda at WSC. Voting will take place immediately after.
"If you see us around campus and have any suggests, comments, or complaints about ASUPS please let us know! Or feel free to email or Facebook us. We want to know what you want to see!" Spalding said.
Tags :
ASUPS
emma spalding
Highlights
Marc Fagaragan
news
paige maney
polls
presidential campaign
taylor smith
ups
Voting