Jazz Band shows off range of talents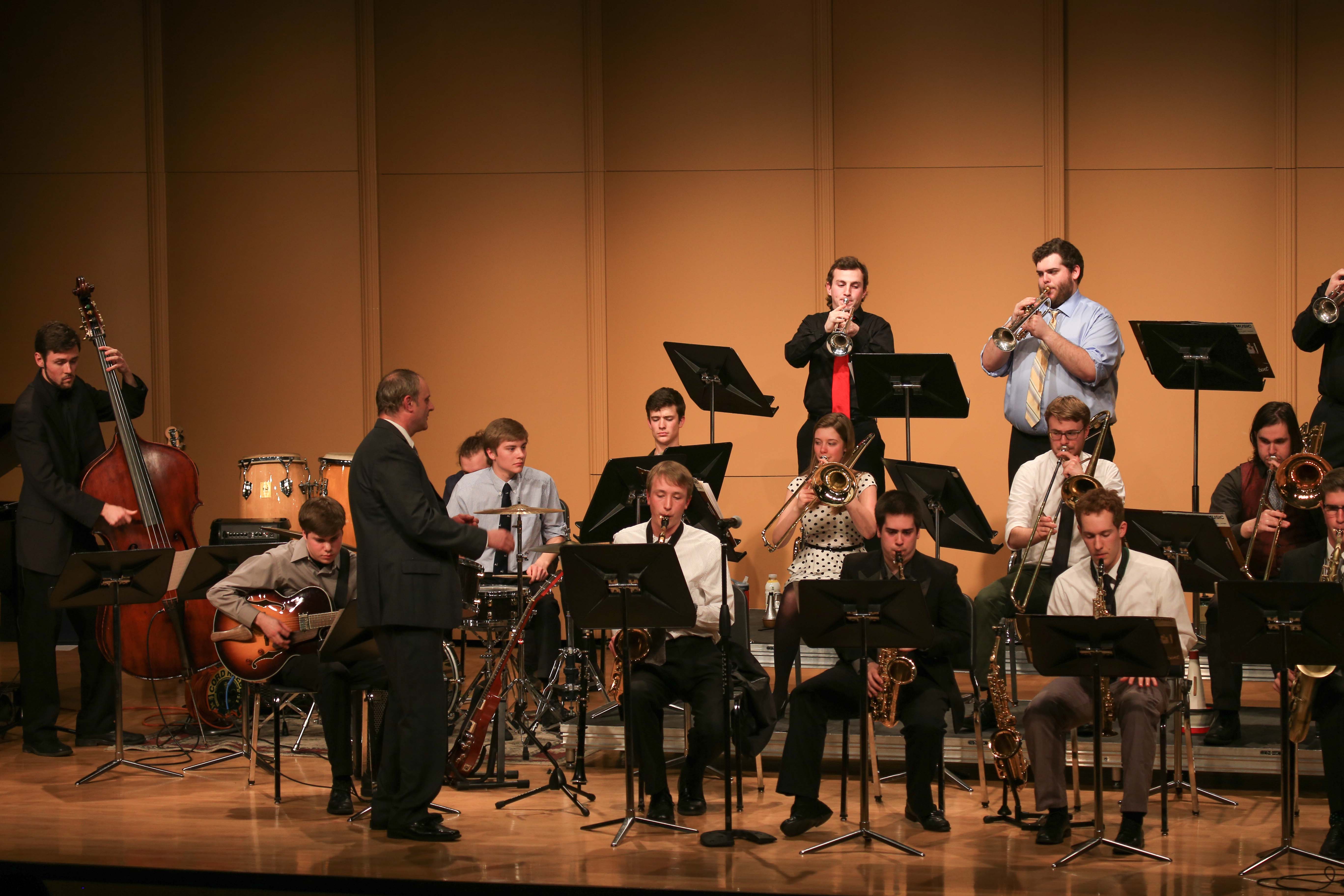 By CASEY DEY
The Puget Sound Jazz Band performed a selection of contemporary, classic, upbeat and smooth jazz pieces for their Feb. 26 concert performance in Schneebeck Concert Hall.
The songs ranged from energetic pieces like "All of Me" to slower, peaceful ballads like "Maria," from storytelling songs like "Prelude to a Kiss" to funky grooves like "Freedom Jazz Dance." The songs were classic jazz pieces reinterpreted with instrumentation, or clever arrangements of other popular songs and grooves from the 1900s.
One of the most popular songs was "Freedom Jazz Dance," earning the most applause and excitement from the audience.
Each piece brought smiles to the faces of the performers and audience members. The artists were often red-faced, but they managed to find enough energy and excitement to perform an encore for the enthusiastic audience.
The encore, in honor of Black History Month, was a dark but thought-provoking piece written as a protest for black students who had been refused admittance to a school.
Many of the performers also got to play solos in each song.
Director Tracy Knoop announced each artist before the song began or right after the solo. Each of these artists had nothing but smiles when they stood up to perform, and nothing but breathy smiles when they sat down.
The saxophone section included Brady McCowan, Noah David, Will Hamel, Minna Stelzner and Hayden Harper.
The trumpet section included Michael Hall, Sam Zisette and Chris Wenndt.
Trombone players included Wesley Stedman, Scott Clabaugh, Rachel Schroder 'and Ryan Grate.
Jeremy Goodwin played guitar; Kelton Mock and Alec Pankow  played piano; Kelton Mock and Max Hirtz-Wolf played bass; and Robin VanHouten and Anson Olson played the drums.
Performers were constantly switching out instruments however, and a couple even switched from piano to drums and bass to guitar. This highlighted the range and talent of each musician.
Even the audience had a variety: from Puget Sound students who loved jazz or were supporting friends to parents of performing students, or people from the community who were in support of the school to those that simply wanted to hear the great music.
Knoop walked around the stage the entire show, shifting mics, pointing to sections to prepare for their entry into a song or clapping the tempo to get them started. He was very proud of his players throughout the performance, as they made their way through some very difficult numbers.
Knoop was very excited for the next Jazz Band performance, featuring guest artist Howard Levy. Levy is most famous as a founding member of Bela Fleck and the Flecktones and for his two Grammy awards, which he won with them. He has recorded with many famous artists in his career, and continues to make frequent appearances on the famous radio program "A Prairie Home Companion."
The next performance will take place on March 12 at 7:30 p.m. in Schneebeck Concert Hall. Tickets are $9 for the general public and $4 for Puget Sound students with an ID.
Tags :
Jazz band