Women's basketball team builds on strong start toward promising 2013-2014 season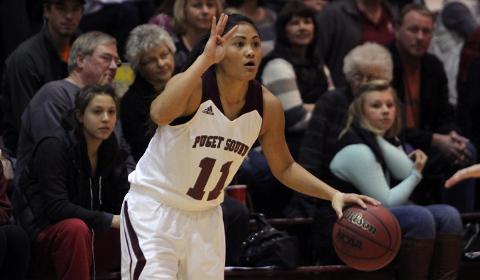 The women's basketball team has begun the season strong with a 5-2 record. They started their year in a tournament in Santa Cruz.
With a successful 2-1 record in the tournament they have set the pace for the young season
They started out playing Whittier College. In this game, their defense shut down the Poet offense, only allowing 34 points. Their offense was a tad rusty, which is understandable since it was the first game in the season.
They ended up with 51 points. This did not seem to be a problem, considering their defense was so strong.
Continually as the season  has progressed though, the Loggers have upped their offense, peaking at a 90 point game at Concordia (Ore.).
The strong scoring continues to be as theme. The Loggers are averaging a strong 71.9 points per game.
This places Puget Sound fourth in the conference in scoring percentage this year. Considering that the first few games were not that high scoring, if the Loggers continue to score the way they have in the past few games they will see themselves shoot up the stat sheet.
In the past four games they have averaged 80.5 points per game, including an outlier in the loss against College of Idaho where they only scored 64. This strong offense will go a long way in the success of the team this year.
Leading their scoring is sophomore guard Emily Sheldon (Portland, Ore.) with 13.7 points per game. Right behind Sheldon is junior forward Amanda Forshay (Moraga, Calif.).
This is a good sign that some of the younger players are taking the helm. Having a leading scorer that is a sophomore is a promising sign, not only for this year, but for the future success of our team.
The Loggers have two seniors on the team for underclassmen to look up to.
Among them is Taylor Jones (Keizer, Ore.). Jones is in her fourth year with three years of playing under her belt. She appeared in 24 games last year averaging seven points a game, and had a strong presence from the free throw line with an 83.7 percentage.
This year is a very junior-heavy team. With most of the players and starters coming from the junior class, there looks to be a surge of successful players that have two years already under their belt.
The leading junior is Forshay who, has started all three years of her career and continues to be a strong influential player on the court.
That said, however, this is a young team. The Loggers have six freshman on their team. Some on the team have already made an impact.
Alexis Noren (Milwaukie, Ore.) is leading the freshmen in time with 18.9 minutes per game. She is a solid role player, and looks to have a bright future wight the Logger basketball team.
Their good start will serve well for momentum as the Loggers go into their conference play. They have two games in December against Evergreen State and UC Santa Cruz.
Once January starts, however, so does their conference schedule. This gives the Loggers plenty of time to work out their preseason quirks and play strong in division play.
This year in the conference it is Lewis and Clark with the target on their back. They won the conference last year and now everyone in the conference is searching to take them down.
As luck would have it, the Loggers actually start out their conference season against Lewis and Clark. What greater way to start out the conference than to take down the number one team?
If the Loggers come away with a win against Lewis and Clark, they can really spark themselves into a good position for the rest of the year.
Tags :
Athletics
Basketball
hoops
logger
NWC
success
winning
women's