What would Puget Sound student attendance at football games bring to the dynamic of play?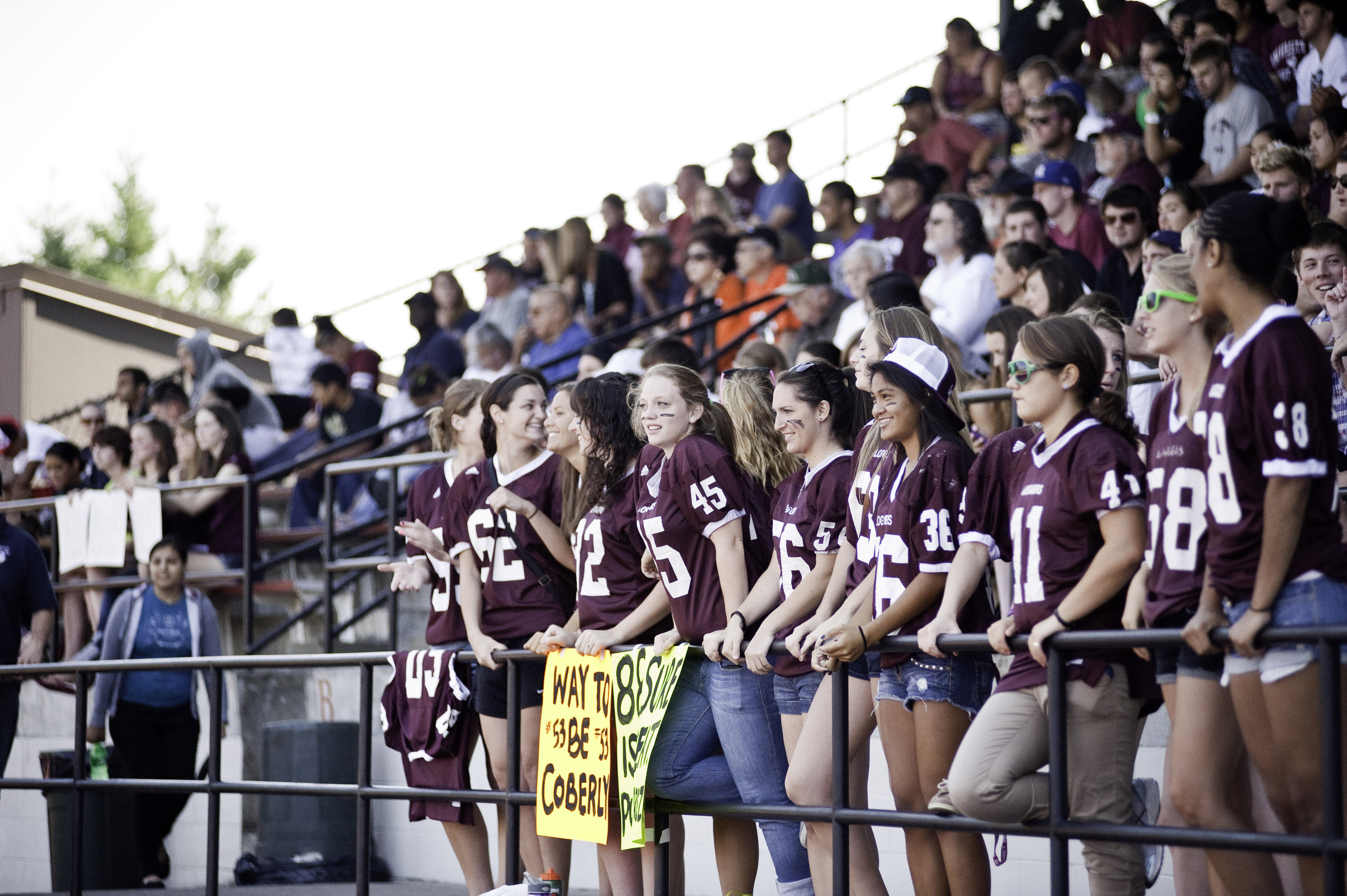 The football team has broken its losing streak this weekend with the win over the Whittier Poets. With the newfound hope for the team, the Puget Sound community needs to join together and make sure this becomes a trend.
We can do this through fan support.
Let's face facts: going to a Puget Sound football game is a hard task to sell.
As much as I love football and Puget Sound, it is hard to get motivated to see a team who up until this weekend has been struggling.
Going to games can be fun, however, without our team winning every game.
Going to sports games is a communal action that gathers people with similar interests to fight for the same end goal.
While you are in the crowd, you are not worried about what your homework situation is, or whether or not Suzy likes you…all you are focused on is supporting your team.
It can be a nice release, and a great way to spend time with friends. Also, beyond your personal gain, it is a good service for your school.
Fan participation might be one of the best ways to change the outcome of our football team. Even if we are getting blown out, the loud crowd will help our players recognize that they are not the alone in the struggle. They will have a source of motivation to get better.
The more people at the games, the more support is felt by the football team. Football is a sport that is highly based off of emotion and mood. For football, if the crowd is not loud or not into the game, it is hard to spark up a team.
The second reason Puget Sound students should come to back our team is due to the impact it will have a few years from now.
Recruiting for a team that has had a rough couple of years is really difficult. If the crowd makes the game fun, recruits that come visit would be impressed, not by the team, but by how much support there is for the team.
As of now, there is little to sell a recruit about football at Puget Sound other than early playing time.
If the football team could advertise how loud the crowd gets, or how much support they have at the games, the recruits would have more reason to come to our school. Without the crowd, there is little to sell, other than the school itself.
Going to the games can be fun. A way to make it fun is participating in the school chants like, "All my life I want to be a Logger," or, "Once a Logger?"
I know what people are saying; we have a small Division III school and do not have the capacity to be that loud or engaged.
Forgive the gap in levels of play, and take Duke basketball as an example. The student section in Cameron Indoor Stadium holds up to 1,200 students. As a population, Puget Sound has around 2,600 undergrads.
Let's remember that Duke basketball is one of the most highly supported and loud stadiums in sports. If we get one third of our population to go to a football game we would be around 860 people.
We might not be Duke level, but we would be pretty good for a Division III school.
Really, what is the downside? It is a fun way to hang out with your friends on a Saturday afternoon. The games are not that long and loud crowds are fun no matter what the score.
The football team needs you now more than ever before. They have momentum with this last win and want to transfer it to the rest of the season.
The season is far from over, and the Loggers have a real shot at turning around the misfortune of the team this year.
So from one Logger to another, come to the games, support the maroon and white and give the football team the support it needs to change this losing streak into a winning streak.
Tags :
cheering
community
Football
football games
support
team
win