Senior Art Exhibition showcases development of students' individual artistry at Puget Sound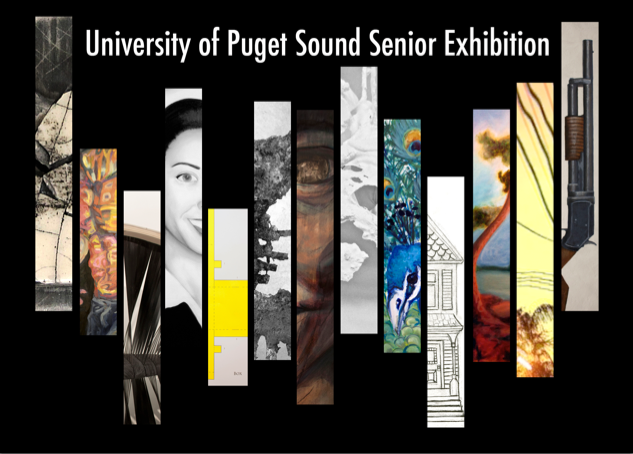 In an amazing display of teamwork, the senior art majors will be putting on a show displaying their final projects in Kittredge Gallery. To see the work and visit with the artists come to the gallery on Wednesday April 24 from 5-7 p.m. The artists have promised refreshments and more importantly a cohesive, beautiful and diverse show.
This year's group features six sculptors—Erin Wheary, Yuri Kahan, Erin Fremder, Ben Sample, Mara Felman and Elisabeth Geissinger; six painters—Louise Blake, Tess Warner, Ursula Beck, Kelsey Vogan, Lehualani Shiroma and Val Cordova; one ceramicist, KC Paulsen; and one printmaker, Symantha Lee-Harkins. In an interview with the group's public relations committee, the strength of the different works and how they will fit together was a common theme.
"[The show is] how we have come together as individuals," Wheary said.
"The pieces have the same standard of finish, everything deserves the spotlight, which makes it really hard for the installation committee," Sample said.
The diversity in the artwork is especially evident in the artists' inspirations: movement of dancers, the controversy behind guns, the California dream, displacement of native Hawaiians, psychological environment and the relationship between all beings, just to name a few.
The materials and ideas used show an incredible amount of thought and precision. Combining cement with earthy materials to experiment with new textures and using rubber to exaggerate the tension of deforming rigid materials are just two examples of work that will be displayed. Another artist explores the relationship between two- and three-dimensional art.
The idea of taking something fragile and traditionally beautiful and re-contextualizing it will intrigue visitors of the show, as will a couple multi-media presentations, one combining printmaking and film. If none of those have sparked your interest yet, there will be other works that speak to your heart.
Art majors sometimes get a bad rep, but with three-hour long studio classes there is a lot of work to be done.
"The major is just as much work as biochem, for example, it is just a different kind of work," Warner said.
The effort each and every one of the artists has put into this show will be evident. Art majors are aware of the daunting show from before they declare their major. Many start thinking about their final projects years in advance, but it isn't until senior year that they are set free to make their own work.
For most studio art classes all work fulfills an assignment or requirements, but for the senior show the work really comes directly from the artist's own conceptualization.
"It is in a way the most raw art you make, and it is on display for all of campus to see," Vogan said.
The Senior Art Exhibition in a way shows how each individual artist has developed in the span of the year they have been working on this project, but also in the four years that they have been at Puget Sound.
The major is small enough that the group knows each other well, supporting and watching as each artist takes up his or her own independent work.
In a critique of each other's art, everyone takes it seriously because they are so invested and that is when you know you have a good group. Everyone wants everyone else to succeed.
It therefore takes guts to be an artist, as well as a lot of work, time and thought. All of those traits have also gone into putting together the final Senior Art Exhibition, conveniently at a time when families and friends will be on campus. To see one of the most amazing displays of student determinism, creative thought and ingenuity visit the Kittredge Art Gallery.
Kittredge Gallery will be showcasing the Senior Art Exhibition from April 22 to May 18; gallery hours are Monday through Friday 10 a.m. to 5 p.m.
PHOTO COURTESY / SENIOR ART SHOW PR COMMITTEE
Tags :
Art Show
kittredge gallery
Puget Sound