Painting the streets teal: Tacomans rally together to support South Sound AIDS Walk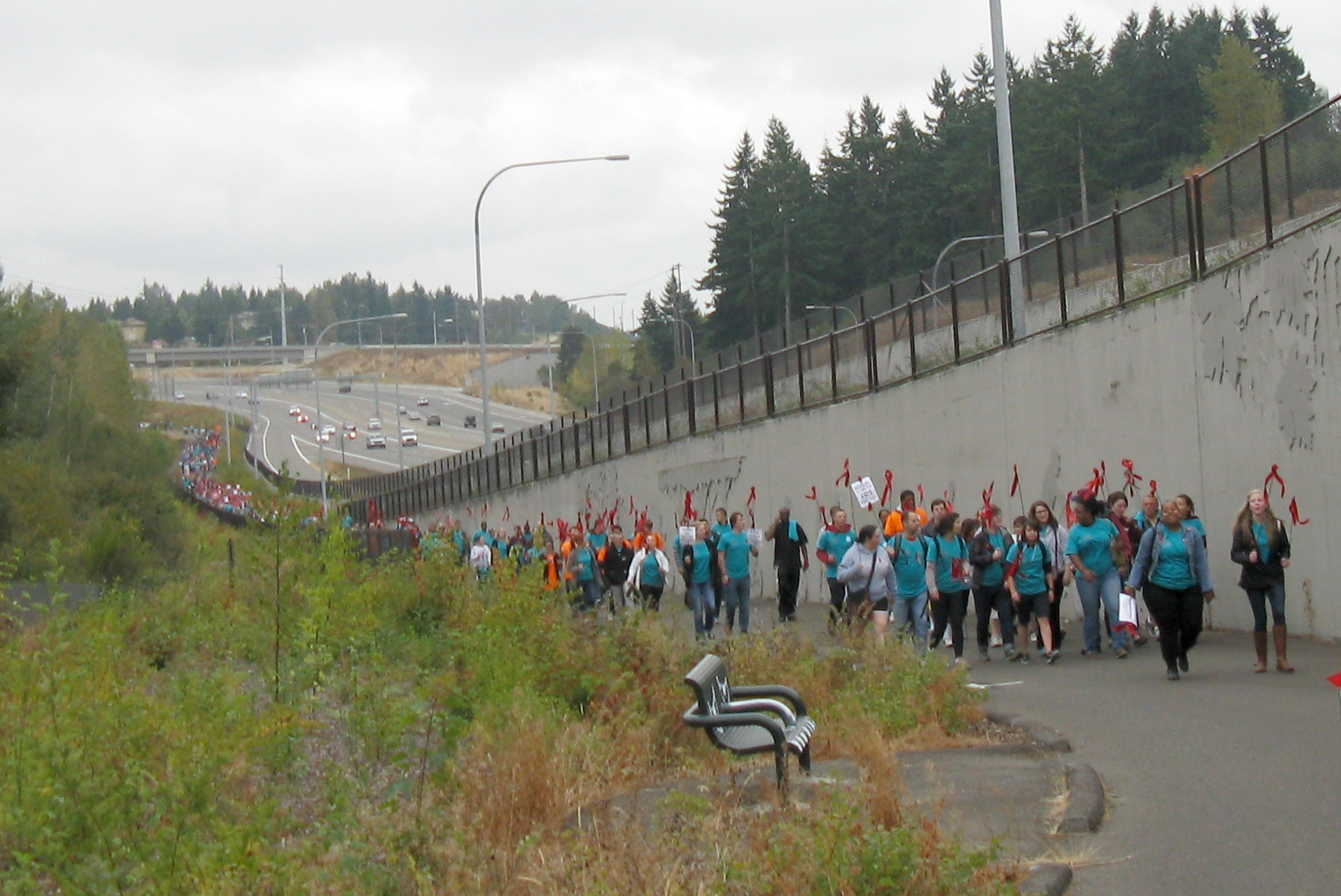 AIDS isn't over. This was the message that lingered at the spirited jubilee of the annual South Sound AIDS walk on Saturday, Sept. 22.
Hundreds of teal-clad walkers from all walks of life gathered at Cheney Stadium and transformed into a community.
They chatted and laughed over scones and coffee, they collected stickers and information at booths set up by local organizations and they even joined in an energetic group dance.
They had come to celebrate and to remember the lives of those lost to AIDS.
Loggers of Love at the University of Puget Sound had a respectable presence. They had 47 registered walkers and had raised a total of $1,025.
Many more student volunteers from clubs all over campus could be seen standing along the trail, encouraging the walkers and setting up and taking down the event.
"It's important for us to break out of the Puget Sound bubble and be involved in the community," Clara Sciortino, a Puget Sound senior who has attended the AIDS walk for two years, said.
"There's still a lot of stigma surrounding AIDS, so it's important to raise awareness and to be aware of it … because there are probably people on our campus who have HIV that we don't know about, so just to show that we care about it is really important," she continued.
Just before the walk started, walkers heard the testimony of Jessica Culpit, who found out when she was five months pregnant with her daughter (who is now 14 years old) that they had both most likely contracted HIV.
She told of how, when her daughter was a child, she would have to change the feeding tube that gave her daughter the necessary medication, and how much pain it caused her.
Now, though her daughter's HIV is undetectable, Culpit still struggles with the disease herself.
"Every day is a battle. If I don't eat enough food, eat the right foods, and get exercise, I lose muscle mass, I lose fat, and I can look like a walking skeleton, not a pretty sight. And I can get there fast," she said.
"AIDS is still a battle and a fight for those suffering from it. It's still a battle and a fight for the loved ones watching them suffer from it, and it's still a battle and a fight for all of you out there who don't have it, to keep from getting it… Only you can keep yourself safe."
Inspired, walkers lined up behind the traditional balloon arch and grabbed poles with ribbons on top.
Each ribbon had the name of an AIDS casualty, and walkers were encouraged to take more than one in order to acknowledge the lives of loved ones who have died.
When the blow horn sounded, the crowd cheered, and the long-awaited walk began.
At times, AIDS may seem like old news; it has slipped out of the forefront of the media, and with the emergence of better drugs, many people view AIDS as a problem fixed.
This kind of thinking, however, is just what the Pierce County AIDS Foundation (PCAF) wants to discourage.
"The most important thing for young people to recognize is that even though today people with HIV can live for a normal life span, there is an extreme impact on an individual's life. These people are not like Magic Johnson, and most of them don't have enough money to pay for the expensive treatment," Amy Jones, the Volunteer Coordinator, said.
The PCAF has serviced over 2,000 people over the years, helping them navigate the health care system and making sure they have a roof over their heads and food on the table.
The $42,230 raised this year will be funneled into the PCAF, and will go towards the services that the organization provides for those in the Tacoma community who are HIV positive as well as raising awareness and encouraging prevention.
"This is an opportunity to celebrate our partnership with UPS and to encourage relationships with people who have seen the drastic effects of AIDS with the next generation," Jones, who recognized the importance that Puget Sound is involved with the walk, said.
PHOTO COURTESY/HAILA SCHULTZ
Tags :
advocacy
AIDS
philanthropy
Tacoma