Roadtrip ends in Logger defeat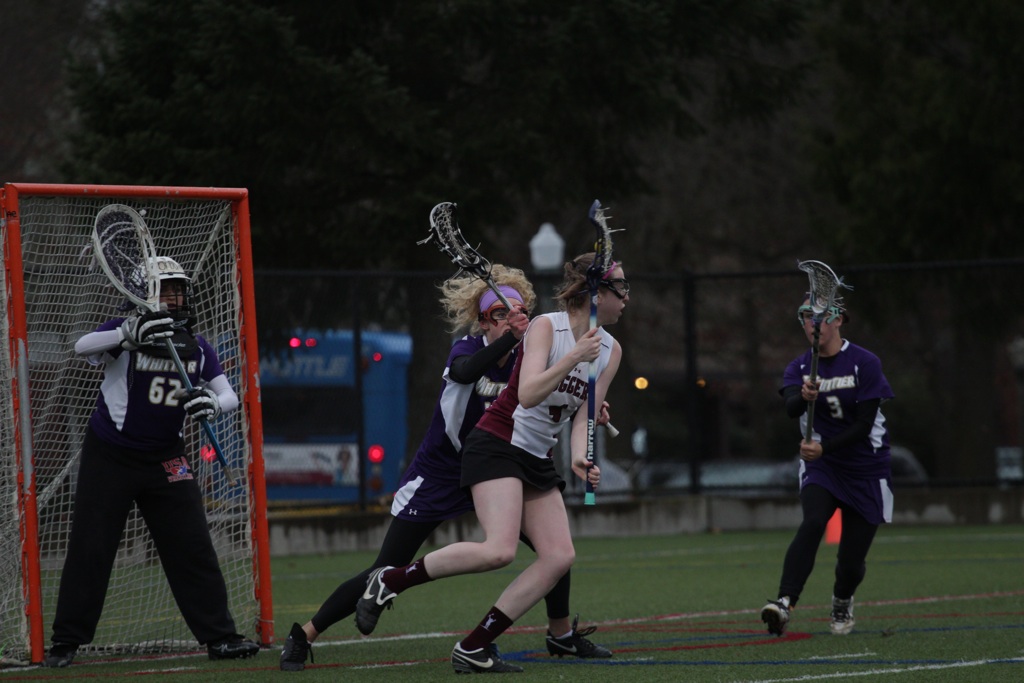 This past Tuesday the Loggers came out strong against the Whittier Poets. Having recently played the Poets during spring break, the Loggers were hoping to turn things around in this match-up. Unfortunately, things turned out similar to the last game, and although the Loggers fought hard, they once again lost by a score of 22-11.
Unlike their first match-up against the Poets, the Loggers took the lead early in the game, causing Whittier to feel the pressure of needing to step up. Senior Grace Reid (Kirkland, Wash.) scored the first goal of the match, putting the Loggers on the board.
Soon after, freshman Caroline Cook (Orinda, Calif.) scored, allowing the Loggers to control the game 2-0.  However, the Poets came back strong and took the lead after scoring four goals in a row.
Senior Katherine Havlik (Salt Lake City, Utah) stopped the Whittier run by scoring a goal for the Loggers with just under 20 minutes left in the match. Sadly, that was not enough to stop the Poets, and they continued to score more goals in the first half until the score was 13-5 in favor of Whittier.
The Loggers continued to fight and were able to score more goals during the second half, starting with freshman Rachel Silva's (Steamboat Springs, Colo.) first goal of the game. Reid and senior Kristine Morris (Tiburon, Calif.) both scored separate goals for the Loggers, bringing the match to 14-8. Morris also contributed a hat trick for the Loggers.
The 14-8 score would be as close as the Loggers would get to the Poets, who thereafter went on a run, completely controlling the game until the end.
The Loggers played a series of games in Illinois this weekend. The first game of the series was hosted by Carthage on March 31, where they fell 21-5.
The Loggers continued game play on April 1 when they were hosted by North Central University. Unfortunately for the Loggers, a new day did not bring new results.  The final score was 18-11, with the victory going to North Central.
The Loggers continued play at North Central against Augustana on April 2.  Sadly, they were defeated 22-11.
The team will have a week of practice play before they are host to Pacific (Ore.) on April 10.  The week will give the team the chance to reflect upon what went wrong during the weekend and make the adjustments necessary to claim victories in their upcoming matches.
PHOTO COURTESY/CHRIS SPALDING
Tags :
Athletics
Lacrosse
Puget Sound