Port of Morrow proves The Shins can still change your life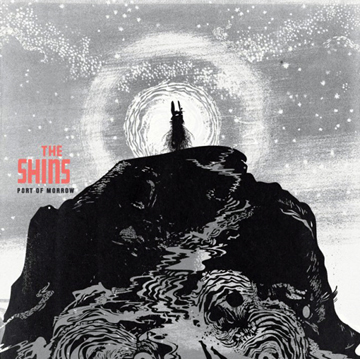 Remember that infamous scene in Garden State when Natalie Portman hands her headphones to Zach Braff and assures him that The Shins will change his life? At that moment, unless you were already hip and in the know, The Shins worked their way into the hearts of indie rock lovers everywhere.
James Mercer, the driving force behind The Shins, has come a long way from "New Slang," and proves that sunshine rock can get better with age.
The Shins' first album in five years, Port of Morrow, could have been a flop. It could have been predictably quirky, perfectly likable, but entirely forgettable. Indie bands of a certain sound sometimes struggle to stay fresh after a few albums.
However, fans can rest assured that Port has kept all of the best Shins qualities, but still reflects clear growth.
Mercer walks the fine line between simplicity and depth on this album. His messages are less abstract, but that isn't a bad thing.
The first song on the album, "The Rifle's Spiral," makes it clear that Port hosts more elaborate instrumentals than the previous Shins' records.
"Bait and Switch," "It's Only Life," and the title track, "Port of Morrow," are all fine examples of what the "new" Shins represents. The music is crisper, the production is more epic and that fuzzy tone that was so popular in 2007 has been significantly subdued.
For those who are still craving The Shins they used to know, "Simple Song" should fill the void. The swinging chorus, "I know that things can really get rough, when you go it alone. Don't go thinking you gotta be tough, and play like a stone. Could be there's nothing else in our lives so critical, as this little home," will be playing a loop in your brain for hours after you give this record a spin, but you know what? It's totally awesome.
Mercer has always been fantastic at providing listeners with hooks that sound like ear candy but on closer listen have the substance of a true musical gem.
"September" and "Fall of '82" are easily the two standout tracks. "September" is sweet yet solid. It tells a beautiful story about two lovers: the difficult narrator and his relentlessly patient partner. The track is chock full of lyrics that demand multiple listens.
"Fall of '82" is a real game changer. With a superb horn presence and a straightforward narration that relies very little on metaphorical devices, this song is one of the strongest examples of how The Shins have developed as a band.
Port of Morrow leaves no doubt that The Shins have undergone a transformation. However, old fans should not fear disappointment. The uplifting lo-fi jams and Mercer's always-appealing falsetto are still intact.
After five years, Mercer has created an album that sounds just right; it's inspired by the original band, but not oblivious to change.
GRADE: B+
The Shins will be performing at Sasquatch Music Festival in May. For more information, visit sasquatchfestival.com.
PHOTO COURTESY/WIKIPEDIA.ORG
Tags :
album review
indie-rock