La Havas's Is Your Love Big Enough? enchants ears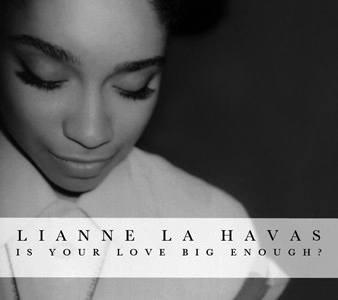 Lianne La Havas, London-born folk and soul singer, a mere 23 years of age, released an album titled Is Your Love Big Enough? this past July. The debut album of this young and talented artist suggests many good things to come.
La Havas began singing at the age of seven, and attributes her wide spectrum of musical styles to the eclectic music tastes of her parents, which she was exposed to as a child. Prior to this album release, La Havas has produced three extended plays titled Lost and Found and Live in L.A. in 2011 and Forget in 2012. The title tracks from Lost and Found and Forget both appear on the new album.
La Havas wrote or co-wrote the entire album, except for her cover of Scott Matthews' song "Elusive." The album overall does not utilize extensive editing effects aside from looping La Havas's tracks over one another.
This low-key production is considered an asset of the album, and is part of what allows La Havas to stand out among many talented upcoming female vocalists. She has already been compared to Corinne Bailey Rae and Adele, won BBC's award nomination for the Sound of 2012 and won the Mercury Prize for Barclayland in 2011.
The album is made up of 12 songs, ranging from deep and soulful to youthful and fun. The first track, "Don't Wake Me Up," begins with haunting a cappella harmonies made up of loops of La Havas's voice. The song is sung from the perspective of someone fallen out of love and desperate to get it back, revealing the dangers of our hearts and how we can often lose our grasp on reality.
This song is followed by the peppy rhythms of the title song, which begins with upbeat, rhythmic snaps in the background, and La Havas's vague image of finding herself "in the secondhand guitar." The song moves quickly, mentioning its title once early on and breezing on with the story, leaving the listener wanting for explanation. This song radiates youthful energy and excitement, and is a well-placed break between two heavier numbers.
"Lost and Found" follows the peppiness of youth with the harsh realities of heartbreak, painting a morose but beautiful picture with a dreamy, ethereal piano melody and the exposed strumming of La Havas's guitar. The listener can instantly tell that La Havas is revealing something to her audience in this song, using the imagery of things lost and found to express the closeness and distance associated with finding yourself through connection to another person, and feeling lost without them.
In true La Havas fashion, nothing stays dark for long and she follows the trauma of heartbreak with the sweet and playful "Au Cinema," singing of a couple likening their burgeoning romance to the excitement of starting a movie and not knowing where the story will go.
This song gives way to "No Room For Doubt," in which La Havas debates whether or not she should stay in a relationship.
This song begins with La Havas singing modestly over the plucking of a guitar, and at the conclusion of her first verse features singer-songwriter Willy Mason agreeing with La Havas's statement that "we all make mistakes, we do, I learned from you." The two call and respond back and forth wistfully, eventually singing in a round the title line of the song, beautifully and tenderly conveying the confusion they both feel.
This transitions into a song titled "Forget," which focuses on La Havas's accusation of "writing love songs," highlights her vocal talent and ability to stand alone. The overall tone of the song is one of independence, which La Havas flawlessly asserts through her confident vocals and the demand, "don't serenade me, I'm a one man band."
Following this is "Age," which begins with a playful plucking of the guitar and a singsong melodic line, featuring La Havas openly debating between pursuing the love of a younger man and accepting the love of an older man. This song highlights La Havas's beautiful riffing and crystal-clear voice. It is hard not to fall in love with her delightfully playful voice in this song in particular.
If you're looking for a little something to get you through your finals week, La Havas is sure to be there to pick you up.
PHOTO COURTESY / LIANNELAHAVAS.COM
Tags :
album review
is your love big enough
lianne la havas
music