Cloud Nothings' new album sheds past, remakes present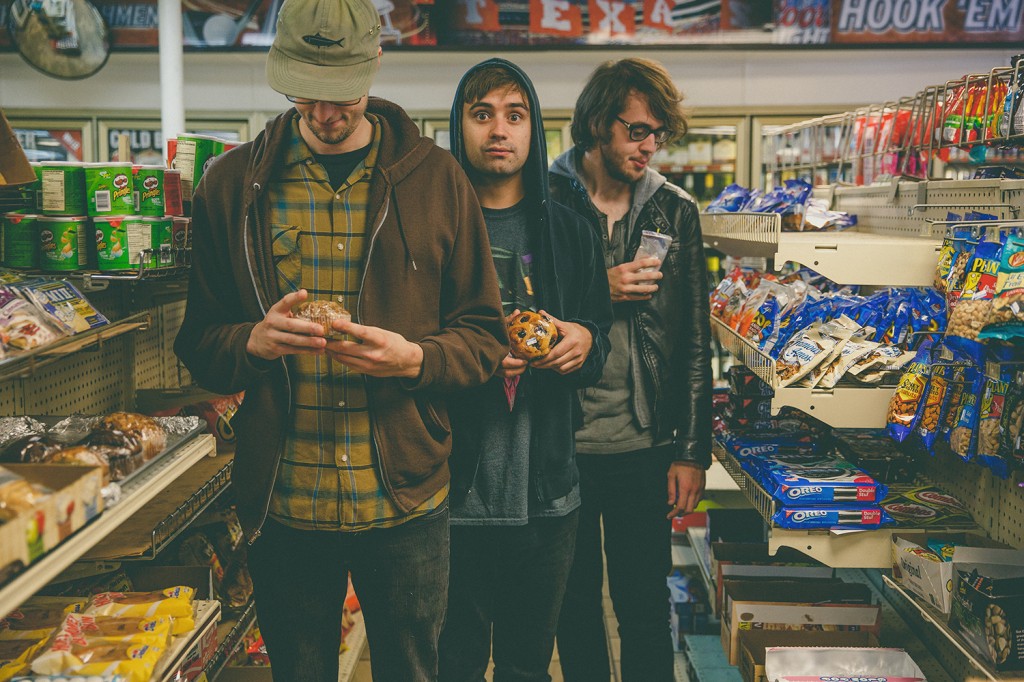 This spring saw the release of Cloud Nothings's latest album, Here and Nowhere Else, a thunderous and catchy tome of militant present-mindedness. This record serves double duty as both a solid collection of tracks as well as an exercise in being not only here but, most importantly, nowhere else. After listening to the album, this latter prospect actually sounds a lot easier, as the "here" that Cloud Nothings provide is so stuffed full of its own furious and unquenchable thirst for living that it really leaves no room for anywhere (or even anything) else.
First, a caveat: when their last album, Attack on Memory, came out, it was met with praise that was not content to be self-contained. Instead, nearly everyone who wrote about it insisted on comparing it to Cloud Nothings' previous work, declaring that the differences made them a whole new band; that now, and only now, are Cloud Nothings worth paying attention to. As critics continue to insist on an overwhelming contrast between the quality of the first few Cloud Nothings records and their more recent ones, I have to say right now that there was never anything wrong with their sound before. Cloud Nothings has been great since their humble beginnings, when their lo-fi noise pop charm excused (or even embraced) the fact that those first albums sounded like listening to the band from inside of a laundry machine or through a tin can wire telephone. Their particular brand of eccentric adolescence really was something special, and the truth is Cloud Nothings have acquired a darkness, and a depth along with it, that bears a second consideration, even for those who are already fans. You can forget about the summery harmonies, but for those who recognized a spark of promise in singer/songwriter Dylan Baldi's, um, really good songwriting, rest assured that spark is a bonfire at this point. An intense and brooding passion that was perhaps once subdued in favor of, or at least masked by, carefree youthfulness has become anything but, having instead gained a sharpness and focus that in some ways was previously unimaginable.
All this aside, this year's Here and Nowhere Else also has the good fortune of not bearing the weight of the heavy shift in sound outlined above; the Attack on Memory already happened, its fallen soldiers mourned for and its battlefield cleared, so now Cloud Nothings is allowed to simply be here, no longer staking their whole identity in the process.
Much like the band's own history, Here and Nowhere Else is quite a ride itself and a haphazard one at that. It's not so much a painstakingly orchestrated roller coaster as it is a mad dash down a hill on a skateboard at a breakneck speed; and to be sure, part of its power does come from the very real possibility of breaking your neck in the process. There are only three instruments playing at a time, but they swim around each other in such a cacophony that it's hard to imagine that any other sounds could have possibly fit, much less add anything to the arrangement.
But whatever this music lacks in complexity, it makes up for in commitment and energy. These songs are relentless, barely contained and constantly rumbling, threatening to boil over at every moment. Cloud Nothings is down to a three-piece, but the sound has actually never been thicker. Between Baldi's agile guitar playing and the incessant pounding of Jayson Gercyz's drums, there's an audible weight behind the reckless and perpetual motion, an anchor to balance out the fleetingness. This music is fully and viscerally grounded in its physicality, whether it's found in the instruments or Baldi's newfound penchant for full-on screaming his bleak off-the-cuff ruminations, a vocal performance whose character periodically approaches the inhuman.
Some brief research reveals that most if not all of the album's lyrics were written barely a day before they were recorded, and even some placeholder lyrics made it through the final cut. But what could be seen as lazy songwriting should be reinterpreted through the lens of the album title. Here and Nowhere Else finds Dylan Baldi exercising a present-mindedness that borders on militant, a denial of attachment that would make all varieties of ascetics proud. Refusing to get weighed down by language, Baldi trusts the music behind him to hold its own in the conversation, and himself fittingly surfaces with only the barest fragments of lyrical insight. Sometimes, these spare offerings are so direct that they almost seem to become self-referential, as Baldi admits, "We're moving quickly towards the same, I feel there's nothing more to say," on opener "Now Here In."
And "quickly" only scratches the surface—Nowhere Else features all 3 Cloud Nothings screeching through every second in the impossible effort to all get to the future first. It's not exactly the tightest sound—or maybe it's more like a coil wrapped too tight and bursting out of its form—but this blatantly irrepressible passion easy resolves any lurking skepticism towards what could otherwise be seen as sloppiness.
On the other side of the album (closing track "I'm Not Part of Me"), Baldi confesses, "It's over now," a sentiment so close to that of its predecessor Attack on Memory's seething opening thesis against the past ("Give up, come to know we're through") that it could be seen as a mere translation of it. On both records, Dylan Baldi cuts ties like no other; this time around, he even takes to shredding his own vocal cords to make his conviction convincing. It's less of a change in direction than a subtle clarification of the mission statement, but in any case Cloud Nothings have now proven twice that they can not only shed the past, but also contribute deeply to the present. All things considered, I think Dylan Baldi is the reincarnation of an ancient Zen master.
Tags :
album review
Cloud Nothings
Here and Nowhere Else
music review