Seattle Opera presents a masterful 'Carmen'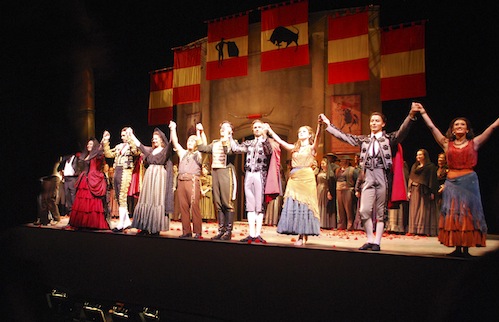 The Seattle cast bows after a moving performance of the multilingual piece.
On Wednesday, Oct. 28, Seattle Opera performed "Carmen" by Georges Bizet.
"Carmen" was Bizet's final opera, and at his time of death it had been almost universally panned by critics. Fortunately for audiences everywhere, "Carmen" eventually reversed its reputation and went on to become one of the most famous and frequently performed operas of all time.
"Carmen" tells the tragic tale of a soldier of duty called Don José who, upon meeting the lovely Carmen, abandons his former life to be with her. Along the way he is thrown in jail and flees to Spain, only returning to France to be with his dying mother. Years later he returns to Spain only to find Carmen married to his rival, and madness takes over.
The Seattle performance began promptly at 7:30 p.m. and the crowd immediately grew silent. Set in Spain and performed entirely in French, English subtitles were displayed on a monitor above the stage, which is high enough that many in the front row (including several UPS students and faculty) had to crane their necks to read the text.
However, one could have easily enjoyed and understood the entire opera without reading a single word. The performances were so virtuosic and masterful that I often found the text distracting, focusing instead on the interactions between characters and the emotions they portrayed, which were far more telling.
Seattle's production was directed by Bernard Uzan and featured an ensemble cast from around the world, starring Anita Rachvelishvili as Carmen, Luis Chapa as Don Jose, with an orchestra led by conductor Pier Giorgio Morandi. For more than half of the singers, "Carmen" was their Seattle Opera debut.
"Carmen" was performed at Marion Oliver McCaw Hall in the heart of downtown Seattle, just north of the Space Needle. Though the Oct. 28 showing was the troupe's fifth performance, patron's filled almost all of the hall's three decks. Both young and old could be spotted in the crowd, and some could be overheard telling friends it was their first-ever night at the opera.
McCaw Hall was inaugurated in 2003 and since has become the home to Seattle Opera as well as the Pacific Northwest Ballet (who will be performing Tchaikovsky's Nutcracker Suite beginning Nov. 25). The hall was constructed out of the remains of the original Seattle Opera House, which was built in 1962 for the Seattle World's Fair.
Clichés be damned, "Carmen" is one hell of a show. With a running time of well over two hours, it is certainly not an opera for the faint of heart, but as a first time opera-goer I was thoroughly engrossed with it, captivated by the collective talent and chemistry such a wonderful cast brought to so small a stage. If you have never seen opera before, Seattle Opera is not a bad place to start.
Tags :
entertainment
music
opera
Seattle
Theater