Puget Sound frisbee teams aim high as nationals approach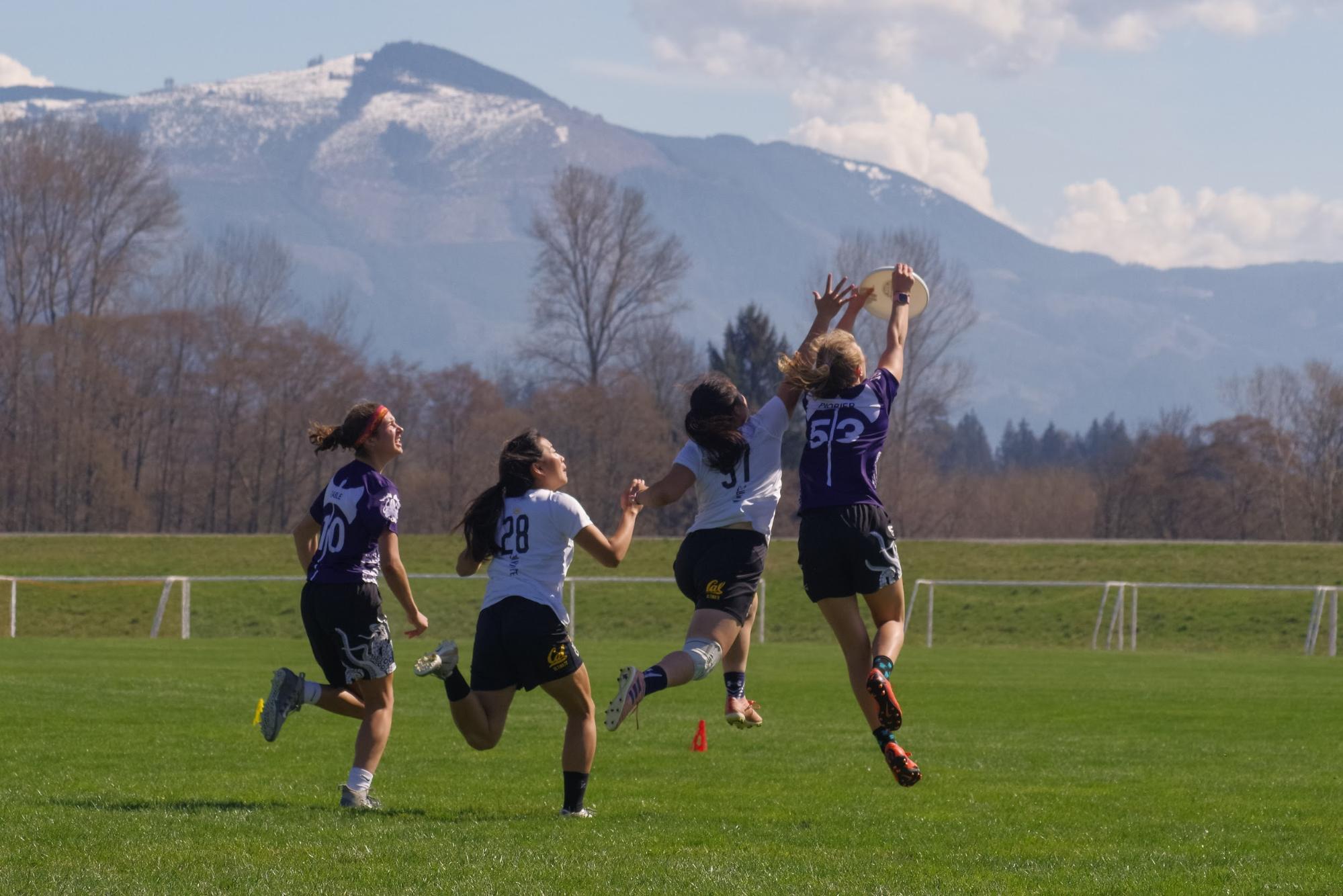 Emma Piorier catches the disc at the 2019 Northwest Challenge Tournament — Photo credit to John McMillin
Puget Sound's ultimate teams are not what you would expect from a club sport. No, this is the big leagues, where every practice matters, captains spend hours drafting plans and team members are as serious as any varsity athlete on campus.
In the past, both Puget Sound's men's team (­­­­­­­­the Postmen) and women's team (­­Clearcut) have made it to nationals, and flying cross-country for a weekend game was not unusual.
This season has been particularly good for both teams, with the Postmen winning 13 out of the last 19 games and Clearcut winning 14 out of the last 19 games.
Now everyone is focused on the conference championships at the end of April, which will determine if they qualify for the national competition.
Clearcut captain Abigail Bidegain is proud of how far her team has come in the last year.
"I think our proudest team accomplishment this semester actually was last weekend at Northwest Challenge in Burlington, WA when we won seven out of the eight games we played and finished second in the tournament. I was personally really proud of how we were able to work so hard as a team and grind out a long day of five consecutive wins," she said.
Now Bidegain is looking forward to refining the team skills before the big games at the end of the month, and Clearcut's coach Spencer Sheridan agrees.
"My proudest team accomplishment has been the emphasis that the team has put on their training this year. Seeing the growth that everyone makes over the course of the season is one of my favorite parts of coaching. Everyone has worked really hard in the gym, at practice and on their throws, and it shows," he said.
Ramsey Rossman, captain of the Postmen, has similar things to say about his team, noting that his team's camaraderie and good spirits have made him particularly proud this season.
Reflecting on a DIII Midwestern Invite in Fair Oaks, IN, he said: "Despite 30 mile-per-hour winds, rain, near-freezing temperatures and travel delays, we had a successful weekend (finishing third), and, more importantly, we had fun and came away from it closer as a team. Somehow, after enduring just about the worst conditions for ultimate, the team seemed even more excited to get back on the field. As a leader, it's hard to ask for anything more."
The team is laser-focused on what's ahead.
"Our team goal is to qualify for the DIII National tournament. We've got two weeks until the conference championship, and that's where all our focus is," Rossman said. "We played two of the three other top teams in our conference last weekend; now we get to make some adjustments in preparation to beat them when it matters."  
Both teams have been making the University proud for years and are looking forward to continuing that legacy.
"Clearcut has consistently been one of the best teams in DIII in the country. We plan on proving that again this year," Coach Sheridan said.
If you've got a little extra time and school spirit, both teams would love support in the upcoming games on April 20-21 at Heritage Park in Puyallup.
Tags :
Frisbee
nationals
sport