Increased attention to college athletes raises questions about payment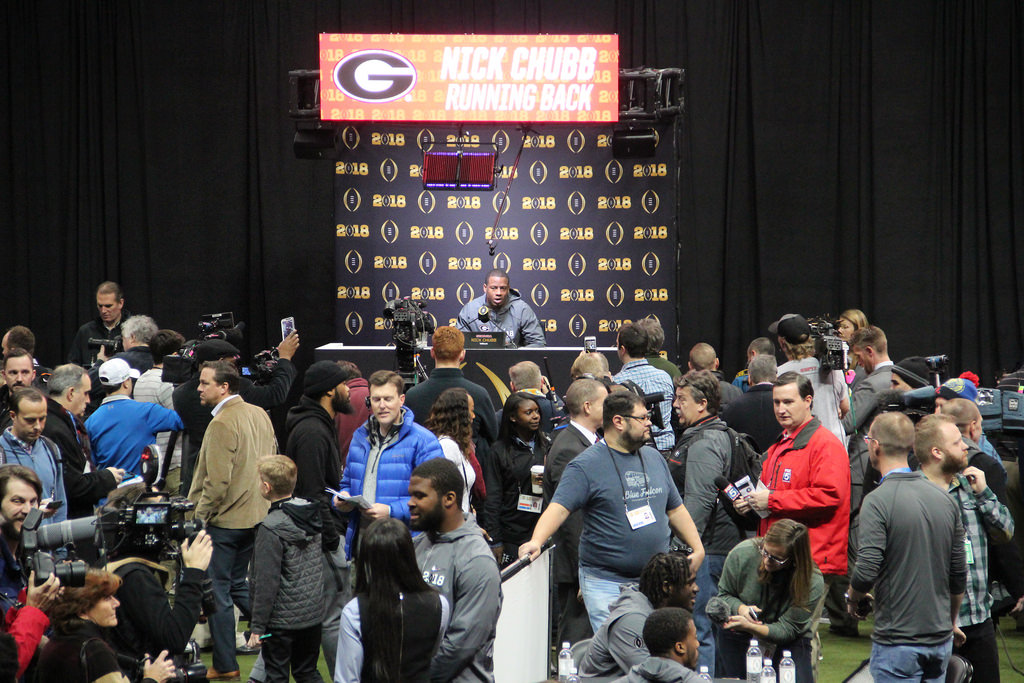 Pictured: Nick Chubb (University of Georgia) surrounded by journalists at a media day — Photo courtesy of Flickr
College sports have always been popular at top first-division schools, especially in the United States. Some people even prefer to watch and follow sports at the collegiate level over the professionals. And with so many annual tournaments, like March Madness, schools with the best athletic programs get to show their skills and compete at the highest level for colleges to participate in.
But the question has to be asked: with all the money schools make from selling out arenas, fan gear and social media presence, why don't the athletes themselves get any of the cash? After all, they're the ones the fans come to see.
Director of Athletics Communications Gregor Walz has been working here at the University for five years.
"I started working in college athletics eight or nine years ago, and once I got my foot in the door I loved it, just the dynamics of working with multiple sports," Walz said. Because he has the personal connection to each team at the school, Walz gets to watch and analyze each team's season, on and off the field.
"When I have time, I like to mess around with Photoshop, make promo videos and just keep track of the website, make sure the statistics are up to date," Walz said. Keeping track of all the moving parts of a Division III athletic program is quite the task, but Walz surely has the experience and knowledge to get the job done well.
When asked why college student athletes receive no pay, Walz said he'll never be quite sure which answer is best.
"I think I'll forever be on the fence with this issue. I feel like when it's talked about, a lot of people talk about the Zion Williamsons," Walz said.
Zion Williamson, a forward for Duke's Division I basketball team, is certainly an extreme example of a top college athlete, and was at the front of all discussions months back when his historic season started taking flight. Williamson was awarded both the National Association of Basketball Coaches player of year and the Associated Press player of the year for his high statistics in most games.
Shows like SportsCenter and College Gameday have been talking about this matter recently, and based on the general opinion, people want to see these gifted athletes receive money, but they're not quite sure how to solve the problem while keeping equity the top priority.
The problem, Walz said, is that when most people dive into the question surrounding paying college athletes, lots of fans and followers don't look at the big picture. If one athletic program decides to pay their athletes, then that school's other programs would have to figure out how to pay their athletes.
"When the topic is discussed, a lot of people cast a wide umbrella over the possibilities," Walz said.
What makes this topic of discussion go even deeper is the difference between private and public schools.
"There's private schools and state schools. So paying an athlete who plays for a public university, you're spending tax dollars on them," Walz said.
So where do we draw the line? Do schools' athletic programs decide independently on if they'll pay their athletes or not? Should it be a broad decision that stretches to each and every university, college or school? According to Walz, "There's never going to be a right answer."
Tags :
athletes
payment